Bangkok Air Talking to Airbus, Boeing, Bombardier for 20 Planes
(Bloomberg) -- Bangkok Airways Pcl will soon submit specifications for an order of 20 narrow-body planes to Airbus SE, Boeing Co. and Bombardier Inc., its President Puttipong Prasattong-Osoth said.
The carrier, which currently has 12 Airbus 319s and nine Airbus 320s, will pick one manufacturer for the order by the end of the year, Puttipong said in an interview Friday.
"The good thing is, once we change our planes to all be the same model, the cost of operation and maintenance will be lower," he said.
The full-service carrier is striving to support earnings by containing costs as oil prices climb and fierce competition limits pricing power. Shares in Thailand's airlines have struggled because of such pressures, despite the kingdom's unprecedented tourism boom of recent years. Bangkok Airways has tumbled more than 40 percent since listing in 2014.
"Every year we manage to post profits," said Puttipong. "But when it comes to the stock price, it really is a complicated mechanism -- one that we can never anticipate."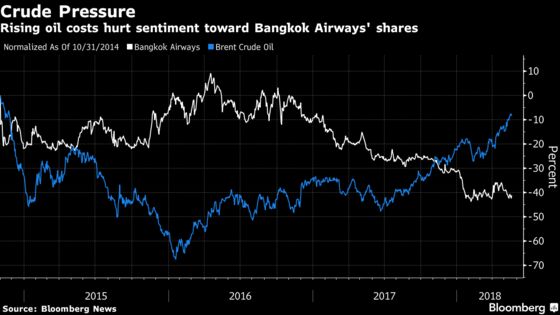 Puttipong estimated revenue will climb about 8 percent in 2018 from 28.5 billion baht ($885 million) last year. Aside from the pending order for narrow-body planes, Bangkok Airways earlier this year signed a deal to buy four ATR 72-600 turboprops to replace older versions of the plane.
Bangkok Airways could boost its 33 percent stake in Samui Airport Property Fund if the opportunity presents itself and the timing is right
The carrier plans to build a maintenance, repair and overhaul center in Sukhothai province
The airline is targeting a passenger load factor of about 70 percent for 2018
"A lot of full-service airlines are facing heavy competition in the aviation industry," said Amnart Ngosawang, an analyst at Ktb Securities (Thailand) Co. in Bangkok, adding that fuel costs have sapped sentiment toward the stock.