Abramovich Said to Face Delay in Getting U.K. Visa Renewal
(Bloomberg) -- Roman Abramovich, the Russian billionaire who owns London's Chelsea Football Club, is unable to travel to the U.K. at the moment because of delays renewing his visa, according to people familiar with the situation.
Abramovich, who didn't watch his team win the FA Cup at Wembley Stadium on Saturday, hasn't been denied a visa, but renewal is taking longer than usual, the people said, asking not to be identified discussing a private matter. Britain's Home Office, which oversees the country's immigration service, declined to comment.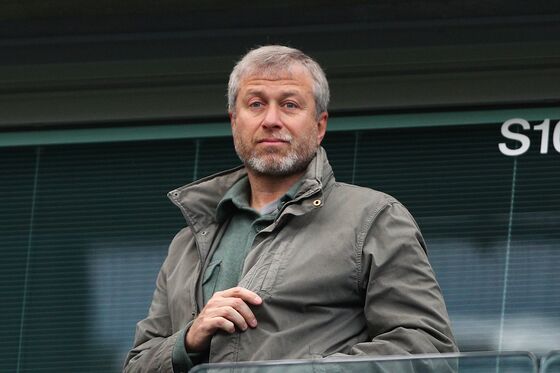 Although the reason for the delay isn't clear, the tycoon's visa trouble comes at a tense time in U.K.-Russian relations, damaged by British accusations that Moscow's security services were complicit in the poisoning of former Russian intelligence officer Sergei Skripal. The government has come under pressure to look at the influence of Russian money and business figures in the British economy.
After the Skripal poisoning, which saw Britain expel 23 diplomats, the government said it was reviewing the visas of 700 wealthy Russians who entered the country on investor visas.
James Slack, spokesman for Theresa May, declined to comment on Abramovich's specific case. He explained that back in 2014, new powers were introduced to "refuse applications where there are reasonable grounds to believe funds have been obtained illegally." This has meant that retroactive checks can be applied.
Tom Tugendhat, chairman of Parliament's Foreign Affairs Committee, declined to comment directly on Abramovich, but told the British Broadcasting Corp. that he believed the government was "taking much more seriously the threat of corruption from Russia, which is no longer just a financial crime, but is a national security issue.''
Sophie Barrett-Brown, senior partner at U.K. immigration lawyers Laura Devine Solicitors, said, "there are a lot of Russian nationals applying for extensions in the investor category who are experiencing significant delays." That marks a change, she said, as "applications for high net worth individuals are usually submitted via priority services and are dealt with very, very swiftly."
Visa processing for Russians has also been slowed by the expulsions of U.K. embassy staff in the wake of the Skripal case, according to diplomats.
Abramovich, who owes his $14 billion fortune to investments in Russian metals and oil industries, bought Chelsea in 2003 for 140 million pounds ($188 million) and is among the most prominent Russian tycoons in British life.
He invested about 700 million pounds in new player signings over the following 10 years to help the Blues become London's top team, winning four Premiership titles as well as Europe's most coveted trophy, the Champions League, in 2012.
At least nine of the 25 richest Russians on the Bloomberg Billionaires Index have assets in Britain. Alisher Usmanov, number eight on the list, holds a 30.05 percent in Arsenal soccer club. Tycoon Mikhail Fridman with his billionaire partners German Khan and Alexey Kuzmichev bought U.K.-based wellness retailer Holland & Barrett for about $2.3 billion in June 2017.