Oil Posts Sixth Straight Weekly Gain After Touching $80
(Bloomberg) -- Crude in London posted the longest stretch of weekly gains since 2011 in a market seen as being increasingly balanced as a result of OPEC's production cuts.
Both Brent and West Texas Intermediate crude slipped in Friday's trade, paring weekly gains. Global prices have been supported this week by concerns over U.S. sanctions against Iran, shrinking stockpiles and production shortfalls in Venezuela. The gap between Brent and WTI has widened with the U.S. benchmark weighed down by surging shale output.
"It's a tale of two issues," said Rob Haworth, who helps oversee $151 billion in assets at U.S. Bank Wealth Management in Seattle.
"One issue would be tightness in global oil markets and trying to decide how much of Iran comes off the market," according to Haworth. The second: "In the U.S., our production continues to grow," he said. "We're starting to reach capacity for how we get that out of the producing areas and into global hands."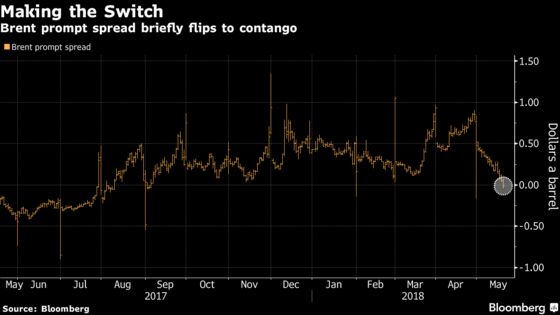 Geopolitical tensions in the Middle East have pushed crude to levels not seen for more than three years. On top of that, output cuts by OPEC have tightened global inventories. Investors now are awaiting a June meeting to find out the group's next steps, including whether supply gaps from Iranian sanctions will be filled.
The price rise this week is "a combination of incremental geopolitical premium, but more importantly, it's the demand-led economic industrial bid" at a time when we're seeing "declines in conventional assets abroad," said Chris Kettenmann, chief energy strategist at Macro Risk Advisors LLC. "Venezuela is the poster child, but you can make similar arguments from places like Angola."
Brent for July settlement fell 79 cents to settle at $78.51 a barrel on the London-based ICE Futures Europe exchange. Futures posted a sixth straight weekly gain and rose 1.8 percent for the week. The global benchmark traded at a $7.14 premium to WTI for the same month, after the spread rose to the highest since 2015 this week.
WTI for June delivery fell 21 cents to end the session at $71.28 a barrel on the New York Mercantile Exchange. Prices climbed 0.8 percent this week. Total volume traded was about 16 percent below the 100-day average.
Friday's price weakness is just due to a bit of position-adjusting and profit-taking, said James Williams, president of London, Arkansas-based energy researcher WTRG Economics. "It's just a mild correction. It's a market that's gone up a long ways."
Meanwhile, the European Union set out to identify "practical solutions" for salvaging the Iran nuclear accord within weeks, as the bloc strives to contain the fallout from President Donald Trump's decision to pull the plug on the landmark deal. Yet, according to Patrick Murphy, partner at international law firm Clyde & Co., there's little the European Union can do to prevent sanctions from curbing trade flows.
Gasoline futures fell 0.4 percent to settle at $2.2333 a gallon.
Money managers decreased bullish ICE Brent crude oil bets by 20,893 net-long positions to 548,555, the lowest level since mid-March, weekly ICE Futures Europe data on futures and options show.
A United Nations Security Council panel is asking the world's biggest oil traders to disclose the actions they are taking to stop the sale of crude oil and petroleum products to North Korea in violation of sanctions.
The oil rig count remained unchanged at 844 rigs, according to Baker Hughes data on Friday.