Growth Risks Mount in Malaysia With Economic Policy in Flux
(Bloomberg) -- Malaysia's economy grew at its slowest pace since 2016, underscoring risks that will only heighten this year as the newly installed government of Mahathir Mohamad overhauls policy.
Expansion eased to 5.4 percent in the first quarter, lower than the 5.6 percent median estimate in a Bloomberg survey, according to central bank data released on Thursday. Governor Muhammad Ibrahim said the outlook remains "favorable" even though the number came in lower than the bank's 2018 forecast range of 5.5 percent to 6 percent.
Key details of GDP report

GDP rose 1.4 percent from previous three months
Private consumption rose 6.9 percent from year ago, supported by rising wages
Exports climbed 5.8 percent
Current-account surplus widened to 4.5 percent of GDP
Mahathir, 92, moved swiftly to fulfill campaign promises after last week's election win, effectively scrapping a goods-and-services tax without announcing specific measures to recoup revenue losses. Malaysia was riding an economic boom and financial markets haven't suffered the losses of emerging-market peers recently, underpinned by strong domestic spending, an improving budget deficit and a current-account surplus.
"Going forward, second-half growth will be weighed by a high base effect, pending clarity on some of the domestic reform measures by the new government," said Julia Goh, an economist at United Overseas Bank Ltd. in Kuala Lumpur.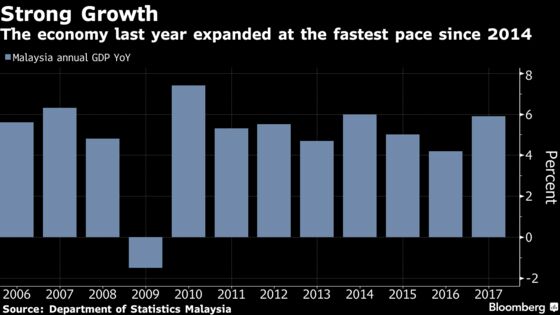 The government must still outline how it will raise enough revenue to fill the GST gap in order to keep the budget deficit under control. The Finance Ministry said on Thursday the move will be "cushioned by specific revenue and expenditures that shall be announced soon," with plans also to re-introduce a sales-and-services tax.
Click to read about Malaysia's credit ratings at risk after GST tax was removed
Adding to the uncertainty, Mahathir told reporters in Kuala Lumpur on Thursday that figures available on the government's finances may be unreliable.
The ringgit was little changed at 3.9688 against the dollar as of 5 p.m., taking its gain this year to about 2 percent.
GDP could get a boost of 0.2 to 0.4 percentage points as government policies -- such as the GST move, reintroducing fuel subsidies and raising minimum wages -- spur consumer spending, according to Oxford Economics.
The tax change will also affect inflation and the central bank may change its forecasts later this year, the governor said.
What Our Economists Say...
The slowdown in growth will likely be temporary. Household spending remained robust and is poised to strengthen further with the scrapping of GST. Investment, which stalled ahead of elections, should pickup -- buoyed by sustained strength in oil prices, less tolerance for corruption and strong onshore sentiment. 

-- Tamara Henderson, Bloomberg Economics
A revenue squeeze may prompt the government to cut back on spending, while a review of infrastructure projects could put a halt on construction, curbing growth in the economy.
"It's encouraging to see that the new government is already taking action to try and rationalize unnecessary and unproductive government expenditure," said Goh. "We think that would actually help in keeping the fiscal balance in check."