'Window Dressing' May Not Just Be for Tesla Today: Taking Stock
(Bloomberg) -- S&P 500 futures are following the European markets lower after Italy's budget deficit target sent shock waves across the country: Italian 10-year yields soared, several Italian bank shares were halted, Stoxx 600 bank index tumbling the most since May, while the euro continues to extend its drop.
It's the last trading day of the third quarter, which provides the potential for some "window dressing" -- some are already expecting to see this with Tesla, as some of the more well-known mutual funds may not exactly want people to see a long position on their books when the 13-F filings get disseminated in ~45 days.
The Kavanaugh show most definitely dominated the conversation on Thursday, though trading volumes weren't as severely impacted as many had expected. The vote is scheduled for 9:30am today, which shouldn't end up being a market-moving event, but you never really know with these things -- the full Senate is expected to vote in the coming days. PredictIt has current odds of Kavanaugh becoming the next SCOTUS justice now favored to the "yes" camp (71c yes, 29c no), which is a massive turnaround from where things stood earlier this week.
The biggest story directly involving the markets belongs to Tesla, with the stock plummeting ~13% pre-market (market cap looking like it'll drop back below GM's) after the SEC sued Musk for that harebrained "funding secured" tweet. Here's what the Street is saying:
Citi's Itay Michaeli downgrades Tesla to a sell: "Depending on the severity of the 'spiral' at this stage, and with the state of Tesla's balance sheet, the equity could end up significantly diluted -- or even at the extreme the cap structure could be completely restructured."
Loup Ventures' Gene Munster emphatically pronounces that "this is not the end of Tesla"; he says the selloff suggests investors are baking in Musk being removed as CEO and chairman, but it's an overreaction as there is a 50/50 chance Musk remains CEO and even greater odds he remains involved "somehow" with the company in any case
Cowen's Jeffrey Osborne says the company still needs to raise $2 billion in the fourth quarter, which may be more of a challenge given Musk's uncertainty; he sees potential for long-only funds to head for the exit today due to window dressing on the last trading day of the quarter
Morgan Stanley's Adam Jonas sees the lawsuit as a negative for sentiment, demand, employee morale, and potentially accesst o capital if the situation lingers in the headlines; sees potential for the board to consider a range of alternatives
RBC's Joseph Spak says a new leader focused on operating and executing the vision may be preferable from here; most investors suggest a scenario involving CTO JB Straubel, "and we don't disagree"
Canaccord Genuity's Jed Dorsheimer expects higher borrowing costs and a stock that'll remain under pressure as funds limit holdings due to the lawsuit
Bernstein's Toni Sacconaghi says a lifetime bar for Musk is "very onerous.. and has limited precedent," adding that a resolution could take years if he decides to fight, which would likely create an overhang on the stock
Nomura Instinet's Romit Shah says several positive data points from a factory tour this week reinforced belief that fundamentals are improving (with deliveries expected on Tuesday), though this will likely be overshadowed by the SEC suit
Needham's Rajvindra Gill says implications from lawsuit all but eliminate Musk's credibility as a competent CEO and sees potential for a "capitulation" in shares if long-term investors believe Musk's vision won't be carried out
New Street Research's Pierre Ferragu doesn't see material liability risks for the company and says the SEC's best interest is to settle with a 7 figure fine on Musk with him accepting controls on his public communication
Whitney Tilson blasted out an email last night calling for a 50% chance that Tesla breaks below $100 by year end: "Musk is vowing to fight, but he's obviously guilty and, mark my words, he will not be CEO of Tesla a week from now."
Something Alarming Part Deux
The big thing that I keep coming back to is the trend of troubling earnings reports and/or outlooks that have hit the tape over the past 10 days. Last week was an abomination in comparison to the beat and raises that we've become accustomed to, hence the title of this Taking Stock column exactly one week ago: "Something Alarming Happened This Week. It Matters."
So for the record, in the last two weeks we've received warnings from BMW and Ceconomy (Europe's largest electronics retailer) in addition to a laundry list of companies that have seen their stock price get hit after disappointing results and/or outlooks: FedEx, General Mills, Conagra, Carnival, Nike, Bed Bath & Beyond, Cintas, Copart, BorgWarner, CarMax, AutoZone, Thor Industries, Actuant, Apogee Enterprises, Cracker Barrel, Red Hat, Micron, Jabil, Accenture, KB Home.
Add another shrimp on the barbie with Progress Software, a smaller cap tech name which sank almost 14% in the post-market after a full-year EPS forecast range that trailed even the lowest estimate on the Street.
The list is absurd, and there are very few, if any, real bright spots to even partially offset all of these lemons. It's pretty odd how night and day this looks from last quarter, when a whopping 84% of S&P 500 companies beat on the bottom line and 72% on the top line.
And now with the quarter coming to an end, we should all be preparing for a barrage of preannouncements. But if the recent newsflow has been any indication, the longs should be watching their backs for a higher ratio of warnings versus the alternative.
We have a bit of a macro week ahead of us with the ISMs, the PMIs, auto sales, the jobs number, and plenty of Fed speak. We'll get a bit of data out of Europe as well, but not in China as their markets are closed through Oct. 7 for the holiday.
The minimal amount of earnings this week are mostly in the consumer space, from megacap Pepsi (no pot link yet) to booze bigwig Constellation Brands (definite pot link), mass merchant Costco (heck of a long-term chart on that one - see below), and hedge fund hotel Stitch Fix.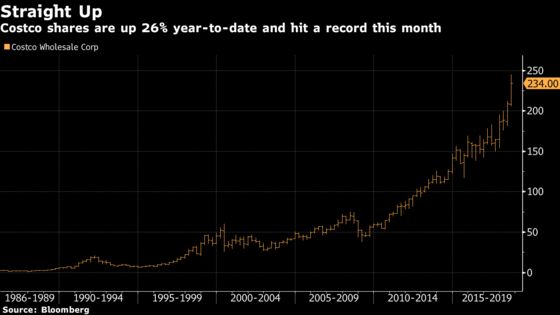 We'll also get results from Lennar, one of the largest U.S.-listed homebuilders by market cap. That space has been an absolute travesty -- the SPDR S&P Homebuilders ETF (ticker XHB) hit its longest losing streak since January 2016 while the S15HOME index closed yesterday at a 52-week low (see chart below) -- as housing data continues to come in below expectations while KB Home, which is almost one-eighth the size of Lennar, came in with an underwhelming sales outlook.
Aside from corporate earnings, there are analyst meetings from several big companies like JetBlue, Canadian Pacific, HP Inc., Workday, and Jefferies.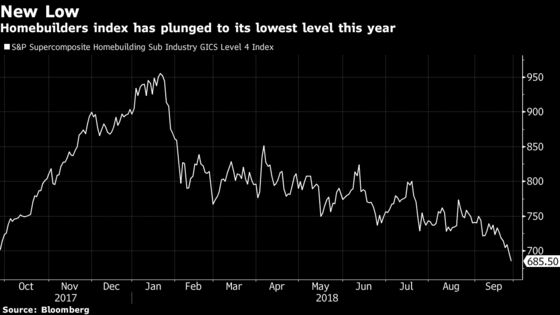 Notes From the Sell Side
Here are the biggest notes since the close that have zero to do with Tesla:
Evercore ISI's C.J. Muse is now the biggest bull on Nvidia with a monster price target raise from $300 to $400 (which is 39% above the average target on the Street, according to our data) after hosting investor meetings with management over the past three days: "We believe investors were more appreciative of Nvidia's opportunity set in creating the AI Industry standard (at least vs. last year)."
RBC's Deane Dray published a piece on why GE's stock hasn't bottomed, noting that the 9% two-week selloff "suggests that we haven't yet reached the point where incremental bad news does not make the stock go down." He reduced his price target by a couple bucks to $13 and expects management to capitulate with a guidance cut in conjunction with 3Q earnings.
Morgan Stanley put a fat Street-high price target of $41 on small-cap healthcare name Natera of $41 (nearly double what the stock closed at) on a re-rating given the genomics landscape.
Tick-by-Tick Guide to Today's Actionable Events
Today -- INSM PDUFA date for amikacin liposome inhalation suspension
Today -- ATRS last business day before PDUFA date for Xyosted
Today -- GOOGL CEO to meet with Kudlow, according to Politico
Today -- Exchanges allowed to stop participating in SEC Tick Size pilot
7:00am -- BB earnings
7:00am -- Hank Paulson on Bloomberg TV
7:15am -- MAR CEO Arne Sorenson on Bloomberg TV
8:00am -- BB earnings call
8:30am -- Personal Income/Spending, PCE
8:30am -- Fed's Barkin speaks at forum
9:30am -- Kavanaugh vote by Senate Judiciary Committee
9:45am -- Chicago PMI
10:00am -- University of Michigan Sentiment
12:00pm -- USDA quarterly grains stocks report
1:40pm -- BB CEO John Chen on Bloomberg TV
4:45pm -- Fed's Williams speaks at conference