`This Is the Uber Market': Tech IPOs Soar Past Their FAANG Peers
(Bloomberg) -- While the titans of technology are feeling the pain of a possible sector rotation, a more youthful class of stocks in the sector are beating the market at a 16-to-1 pace this year.
Successful initial public offerings by closely watched companies like Dropbox Inc. (up 43 percent through June 8) and Spotify Technology SA (up 30 percent) have helped boost excitement for U.S. tech debuts of all sizes and from all regions. And the momentum may continue into Uber Technologies Inc.'s expected offering next year.
The group's best-performing stock is Guangzhou, China-based Huya Inc., which operates a live-streaming game platform and has risen 191 percent since its May IPO. Other top performers include Internet security firm Zscaler Inc. (up 153 percent), digital subscription billing platform Zuora Inc. (up 109 percent), electronic signature firm DocuSign Inc. (up 100 percent), and Chinese video streamers iQiyi Inc. (up 82 percent) and Bilibili Inc. (up 65 percent).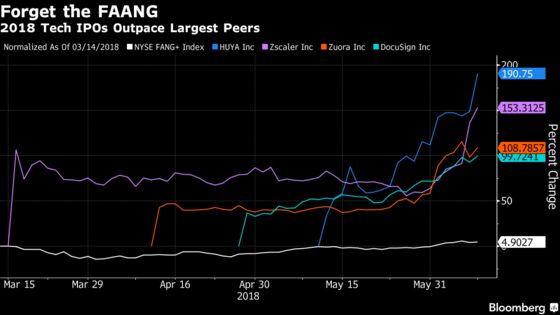 These fledgling IPOs have risen 66 percent on average, weighted by offering size, according to data compiled by Bloomberg. Listings in other sectors have returned an average of 11 percent. While a volatility bomb could rattle these relatively high-risk investments at any time, momentum could continue for another year until Uber Technologies possibly goes public, Triton Research CEO Rett Wallace said on Bloomberg TV.
"Some people think this is the Uber market, that we're just going to run until the Uber IPO happens," he said last week. "People get excited for the big ones. Alibaba did this, Snap did this. The market opens up getting ready for a big one -- and then it will change its nature."
In total, 80 percent of 2018 U.S. tech listings are trading above their respective IPO prices. "There seems to be no differentiation between the good ones and the bad ones," said Wallace, whose firm analyzes Silicon Valley companies preparing to go public. The deals have raised about $8 billion so far this year.
While Uber looms over the market, other tech companies are looking to capitalize on the rampant buying right now. Web-based sales tax management company Avalara Inc. is scheduled to price its IPO this week, while financial planning software maker Adaptive Insights Inc. had expected to do the same before it was unexpectedly bought by Workday Inc. for $1.55 billion on Monday.
Americas ECM Weekly Agenda
Launched Equity Offerings
Spinoff Watch
Asia ECM Weekly Agenda
EU ECM Watch/Agenda
All data is according to Bloomberg data at IPO