'Spider-Man' Is Expected to End Two-Year Stretch of Covid-Era Duds
(Bloomberg) -- "Spider-Man: No Way Home" is getting the kind of hype that makes it seem like the good old days for movies -- at least for a week.
Forecasters expect the film from Sony Group Corp. and Walt Disney Co.'s Marvel division to gross more than $190 million over the weekend in North America, and at least one thinks receipts could top $200 million. Sony itself predicts $130 million, which would still make it far and away the best debut of the pandemic.
"This is one of the rare movies where it's obviously going to be massive," said Shawn Robbins, chief analyst at forecaster Boxoffice Pro.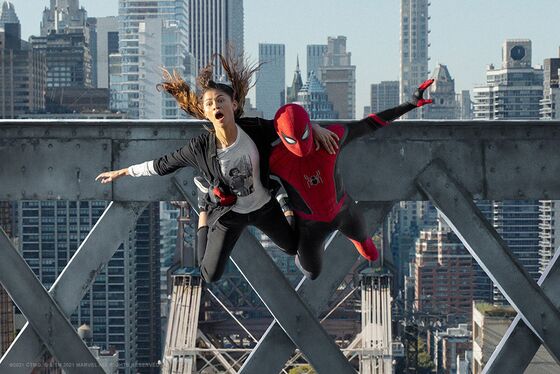 If it delivers, "No Way Home" will be the first film to generate pre-pandemic-like results since the coronavirus crippled the movie business almost two years ago. It would prove that Hollywood can pull fans of all ages back to theaters, even with the omicron variant raising fresh fears. 
The movie industry's recovery from the 2020 shutdown has been choppy. Few films have managed to achieve broad appeal, virus anxiety remains high in some places and strong reviews haven't prevented flops.
Theaters had a robust October, but sales slowed in November. And December hasn't been great: The well-received "West Side Story" remake from Steven Spielberg disappointed in its opening last weekend. This year's biggest domestic picture -- Marvel's "Shang-Chi and the Legend of the Ten Rings" -- has brought in $244.5 million in ticket sales, a fraction of what big movies used to ring up.
"No Way Home" is the third film in the Spider-Man series starring Tom Holland and directed by Jon Watts. In this installment, Spider-Man's secret identity is revealed, jeopardizing those close to him. Another Marvel character, Doctor Strange, tries to help him reestablish his alter ego, but his spell ends up releasing mighty villains. The film also stars Zendaya, Benedict Cumberbatch, Jon Favreau and Marisa Tomei.
The theatrical industry is hoping "No Way Home" will be more than a one-off. Like nearly all Marvel films, the picture doubles as a cross-marketing tool for future fare. A new Doctor Strange installment is one of a number of superhero pictures on Disney's 2022 slate.
Advance sales have been the strongest of the pandemic. The ticket site Fandango said "No Way Home" topped the year's previous winner for presales, Marvel's "Black Widow," in just two hours. Reviews have also been great, with 97% of critics recommending the picture, according to the website Rotten Tomatoes.
And "No Way Home," which is playing exclusively in theaters, is also driving more mentions and conversations on social media than any other pandemic-era release, according to Robbins.
"It's not even a competition," he said.
All of that shows the new Spider-Man movie is attracting a wide swath of the public, including kids out of school for the holidays. The critically praised "West Side Story" remake appealed largely to an older audience that isn't rushing to theaters during the pandemic.
"This movie has all the elements," said Geetha Ranganathan, an analyst at Bloomberg Intelligence. "It's been awhile since we had a 'Spider-Man' movie, it has all the cross-over characters, it's coming out at the right time and vaccinations rates are going up among younger kids."