'Sicklicals' Warned Us There'd Be Days Like These: Taking Stock
(Bloomberg) -- The overnight selling in the S&P 500 futures did not get bought, like they did on Monday, and we're now looking to test the Oct. 11 low of 2,712 in addition to opening further below the 200-day moving average on the cash index.
The sea of red is global, with Europe's Stoxx 600 crumbling more than 1 percent -- ugly forecasts from several tech names (Apple supplier ams AG -27%, computer-services company Atos -22%, Ingenico down as much as 4.5% at one point), a whiff from a midcap defense name (Saab -13%), and French auto maker Renault slashing its China growth forecast (shares fell as much as 5.3%)-- and China reversing a massive chunk of yesterday's gain, which may make many assume that the two-day bounce was a "dead cat" one and nothing more.
The "Sicklicals" Warned Us
Some of the most out of favor sectors in this market are on deck with earnings catalysts this week that could either offer respite from the aggressive selling or extend their respective routs even further e.g. the homebuilders (PulteGroup just released numbers), the autos (Ford reports Wednesday), the machinery names (Caterpillar is coming up in minutes), and the semiconductors (Texas Instruments hits after the bell).
The one characteristic that ties these spiraling groups together is the market's stamp that they are all considered cyclical in nature. They're expected to be first to rally when the economy is on the upswing and they're expected to be first to fall apart when the cycle appears to have peaked.
The recent trading action showing these groups heavily underperforming the broader indices, some of which was set off by a storm of underwhelming earnings and preannouncements (see the Oct. 10 Taking Stock column titled "Inside the Unwind That Bulldozed Cyclicals Traders"), suggests many investors are betting on the latter scenario unfurling before our eyes. The MSCI USA Cyclical Sectors-Defensive Sectors Return Spread Index, or MXCXDRN, has fallen for seven straight weeks and just last week gave up all of its year-to-date gains; it is now down 0.2% in 2018 versus a rise of more than 3% for the S&P 500.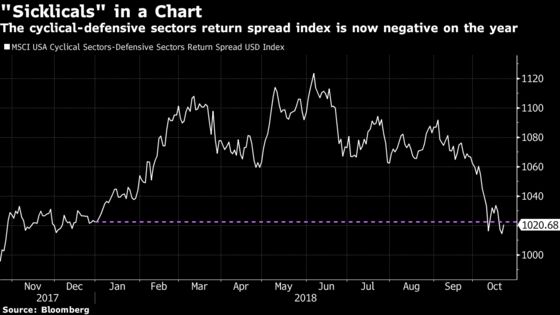 Diving deeper, the homebuilder ETF XHB has now fallen 22 of the last 24 sessions (down ~11% just in the past two weeks) while the S&P 500 Auto sector is down almost 30% from its peak in June. United Rentals' wipeout in response to a beat-and-raise quarter tells you all you need to know about what machinery bellwether Caterpillar needs to report, and say ("high water mark" would obviously be a travesty if we heard that again), to trade higher, while the semiconductors have been a trap for months at this point.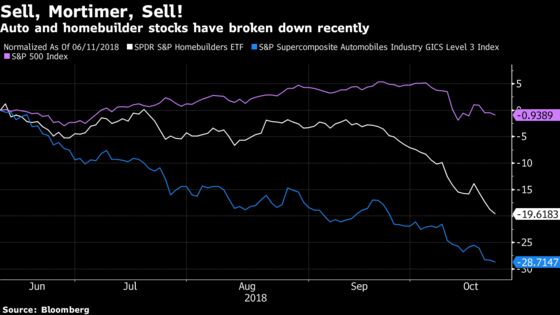 The nine-and-a-half year charts of the individual groups may still seem somewhat intact, but a look at the 52-weeker suggests something else is at work here. Basically, these sectors all look sick, hence the term "sicklicals" -- I wish I could take credit for the term, but hat tip to Evercore ISI chart phenom Rich Ross for introducing it in a technical analysis note Monday.
Buyers of these "sicklicals" (not a terrible name for a punk band, but I digress) are nowhere to be found at the moment as they await an all-clear signal -- perhaps an earnings beat, a much better-than-expected qualitative outlook, a breather and/or reversal in bond yields, stronger macro signals outside of the U.S. (something that is tough to find when the U.S. seems like the only market that has held up if you discount all of October) -- but eventually these sectors get so oversold that a bounce, albeit potentially brief, should surface at some point. That is, unless we're nowhere near capitulation yet and a world of pain is upon us when some of the companies throw the kitchen sink at the Street.
Back to Ross's note, I'll give him his due given he was the one to coin the term. Here's his argument after diving into the charts: "While dismayed by the deterioration across Cyclicals, the macro technical backdrop does not display the same degree of dread, and I remain very constructive on Tech/Growth/Mo and believe that the setup is there for China/EM to inflect higher providing critical support for those sickly Cyclicals."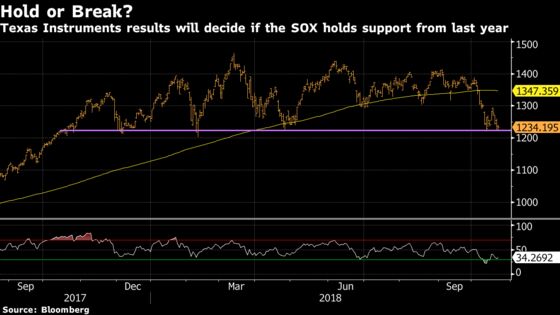 Homebuilders as the Street digests PulteGroup's report; so far there isn't much of an indication of how this one will trade as of yet
Industrials with United Tech ticking up in the pre-market after a beat-and-raise quarter
Frack sand after a miss from U.S. Silica, one day after peer Hi-Crush slashed its quarterly distribution
Software sector with two positive earnings-related news from last night, with electronic design automation name Cadence Design ripping ~11% on a big beat (JPMorgan taking the opportunity today to upgrade Cadence and peer Synopsys to neutrals) and SS&C Technologies' preliminary results sending shares up more than 7%
Health care after Trump told a rally that his administration has taken "bold action" to slash prescription drug prices, soon to be completed: "Drug prices will soon be plunging. Watch."
Pot stocks given yesterday's thrashing, a positive note from Cowen after "a trip to the (online) cannabis store," and as Canada's Aurora Cannabis (~$8.4 billion market cap) will begin trading on the NYSE under ticker "ACB"
Sectors that may move ahead of earnings later this morning include heavy machinery (Caterpillar), truck machinery (Paccar), defense (Lockheed Martin), telecom (Verizon), restaurants (McDonald's)
Sectors that may move ahead of earnings tonight include the semis (Texas Instruments), networking (Juniper), P&C insurers (Chubb), staffing (Robert Half), natgas-levered E&Ps (Range Resources)
Notes From the Sell Side
Speaking of the "sicklicals," Citi has a big call on GM where they see the potential for management to unlock "billions in value" with shares potentially quadrupling -- they give a scenario range of $76-$134 per share, which is well above Monday's close of $31.34. That said, the analysts remain anxious heading into 3Q results, though they say consensus has sufficiently come down while modest China/FX downside likely wouldn't change the thesis.
Within the auto suppliers, another group that's looked sick lately, BofAML is upgrading both BorgWarner and Delphi Tech to neutral on takeout potential after Fiat announced yesterday it would sell its Magneti Marelli unit at a "surprising premium."
Staying with the theme, Barclays' semiconductors earnings preview includes upgrades of NXP Semi to overweight ("with EPS likely moving higher with the buyback") and AMD to equal-weight ahead of its 7nm launch; they note that the sector continues to underperform the broader markets "with many pointing to a cyclical correction but we actually see the increasing likelihood of a trade war as the real issue. This leaves a sloppy set-up into earnings as we actually believe that fundamentals aren't that bad for most of the names."
But Susquehanna is going the other way on the chip stocks and other parts of the tech space by downgrading semi cap equipment, memory/storage, and enterprise hardware: "Recent checks suggest Cloud and Enterprise spending may be entering a downturn rather than simply a digestion period which we previously anticipated." Applied Materials, Lam Research, ASML, Micron, and Seagate were all downgraded, among other moves in the sub-groups mentioned.
Tick-by-Tick Guide to Today's Actionable Events
Today -- Saudi Arabia's three-day Future Investment Initiative begins
Today -- IPO lockup expiry: Ceridian HCM (CDAY), NLight (LASR)
7:00am -- JBLU, PNR earnings
7:15am -- ATI earnings
7:18am -- GLW earnings (roughly)
7:30am -- CAT, MMM, LMT, HBAN, VZ, NEE earnings
7:58am -- MCD earnings
8:00am -- PCAR earnings
8:00am -- CIT, BIIB earnings call
8:30am -- UTX, PHM, VZ earnings call
9:00am -- VAR analyst meeting
9:00am -- MMM, HOG earnings call
9:30am -- Fed's Kashkari speaks at childhood development conference
10:00am -- Richmond Fed, European Consumer Confidence
11:00am -- CAT, LMT, MCD, RF earnings call
12:00pm -- PRTK investor day
1:30pm -- Fed's Bostic speaks on economy and monetary policy
2:15pm -- Fed's Kaplan speaks at economic development event
4:00pm -- NTAP technology sessions webcast for analysts
4:01pm -- TXN, IRBT, CSGP, CNI earnings
4:05pm -- COF (roughly), CB, ILMN earnings
4:09pm -- VAR earnings
4:15pm -- JNPR, TSS, RHI, AMP, EW earnings
4:30pm -- API oil inventories
4:30pm -- MKSI earnings
4:30pm -- TXN earnings call
4:40pm -- AMTD CEO Tim Hockey on Bloomberg TV
5:00pm -- RRC earnings (roughly)
5:00pm -- JNPR earnings call
5:02pm -- TER earnings
6:00pm -- VMI earnings (roughly)
8:00pm -- Fed's George takes part in payment system conference
8:09pm -- World Series Game 1: Dodgers at Red Sox
Tonight -- IPOs to price: Alzheon (ALZH)