'Baby Shark' FAANG Member Waits With Bated Breath: Taking Stock
(Bloomberg) -- S&P futures appear to be broadly shrugging off a mini flash crash in Hong Kong that saw some stocks drop more than 75%, the second flash in as many weeks, though the last one was contained within the currency markets. Instead, it's more likely that the 11 handle dip we're seeing early is linked to a continuance from the bombshell that crushed the pop in the S&P in the last half-hour of trading Wednesday.
New reports of a Huawei probe (watch NPTN, LITE, IPHI on their exposure as they dumped hard the last time there was a flare up) served as a stark reminder for the complacent that U.S.-Sino tensions can flare at any time and are a cloud over whatever market optimism we'd like to take away from 2019's early market bounce. The Beige Book commentary was also timely in the early afternoon, whereby mentions of "elevated trade and political uncertainty," clocked in as a worry, alongside tariffs and rising interest rates.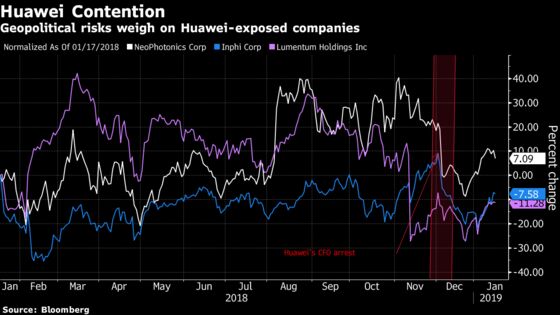 Poor results from Taiwan Semiconductor Manufacturing Co., Apple's main chipmaker, too, will likely weigh ahead of Thursday's session after the latter (together with major banks) kept the S&P from going red in what would have only been the fourth time this year.
Apple was near unchanged in the post market after Bloomberg's reporting (now down nearly 1 percent) that the iPhone maker was cutting back on hiring for some divisions due to lagging iPhone sales, yet another effect from its shocking forecast cut just over two weeks ago. It seemed like only a matter of time before another shoe dropped after Wednesday's Taking Stock flagged Apple's near recovery of all its pre-announcement losses.
The bulls will also have to contend with the technical pressure of coming face to face with the 50-DMA, just 10 handles above where the S&P 500 closed Wednesday. They'll need a break higher to extend the ecstasy of the recent rebound.
This early into earnings season (just under 10% of the S&P 500 has reported) we keep jockeying from the decidedly "old" economy (read: transportation, commodities) to the "new" (read: finance, tech), which makes it hard to get that solid pulse of how the season will unfold.
It's just the second full week of trading into 2019, and for all the hand wringing about the souring economy late last year, results are showing growth in both the top line and bottom line (7% and 19% respectively, according to Bloomberg data). The Beige book -- one of the few fresh data points being released in light of the Government shutdown -- showed 2/3 of districts with "modest to moderate growth", small consolation for the bulls that nudged the S&P up a few handles.
But despite the economic signals, and whatever the Philly Fed business outlook describes later today, the best performing S&P member over the past month will set the tone for earnings season. Though Netflix's 52 percent "surge," as Canaccord put it, was dampened slightly Wednesday as holders likely took some chips off the table, the options may be setting up for a more bullish expectation, as my colleague Gregory Calderone wrote. If the potential 'Baby Shark' content carrier and FAANG member delivers (with their forecast likely taking the not- so- recently coincidental price boost into effect), tech and communications stand a chance to take leadership (unlike late 2018).
But outside team planning and project management firm Atlassian's earnings (only $4 from its all time highs), Thursday's focus will still be all...
If the bulls were worried about the banking index's rally getting overextended, Wednesday only added fuel to the fire, with Goldman Sachs notching its best day since March 2009 -- the same month the SPX nipped the ominous 666 and never looked back. Goldman's rally is a far cry from that record losing streak set back in September.
Only two members of the S&P 500 financials ended in the red Wednesday, and ultimately it will be an expectations game on how the rest of the Thursday's session turns out given Goldman's competitor, Morgan Stanley just reported results that are disappointing -- its already given back its early gains and is now down 3.2%. Shares had risen nearly 4% Wednesday in sympathy with Goldman's results that at least partly benefited from downwardly adjusted estimates that preceded its results. Morgan Stanley, too, saw their adjusted EPS expectations come in markedly ahead of earnings.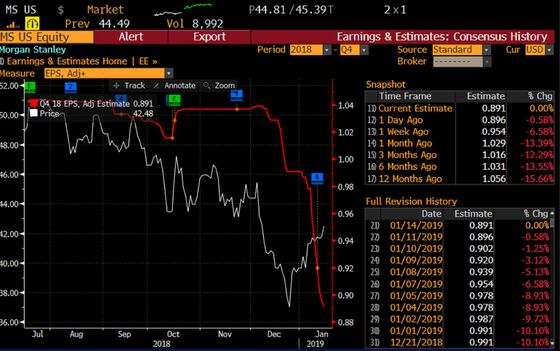 Other sectors in focus today will include the chemical names (HB Fuller and PPG Industries both missed, with the former down 10% and later down 2%). This follows the Sherwin-Williams' warning on Tuesday that took down most of the home improvement sector. HB Fuller, however, counts the majority of its revenue outside the Americas, according to data compiled by Bloomberg.
Rails like Union Pacific and Norfolk Southern will also be watched after CSX's results left much to be desired. Pricing was strong, though shares are off 2% in the early going after its operating ratio declined q/q.
The Paper and Packaging segment got a fresh sector initiation at Morgan Stanley, with Ball Corp. cited as having some of the strongest growth prospects, analyst Neel Kumar wrote. The industry is expected to show top-line growth and will likely outperform in the late-cycle environment.
And a few analysts are out on Cars.com after the board approved a consideration of a"broad range" of alternatives including a possible sale. Barrington analyst Gary Prestopino sees its "ultimate value" nearing $40-45/share as a result of the process. Benchmark's Daniel Kurnos sees the potential value in a sale in the high $20s or low $30s with a limited pool of buyers given the company's lack of growth.
Tick-by-Tick Guide to Today's Actionable Events
Taiwan Semi, MS, BBT, FAST, KEY, MTB, PPG
Today -- FDA meeting to discuss LXRX/Sanofi's sotagliflozin
Today -- ASCO GI symposium with data from MGNX, MRK, and AZN
8:00am -- BBT earnings
8:00am -- MS earnings call
8:30am -- Philadelphia Fed, Housing Starts, Initial Jobless Claims
8:30am -- DPZ investor day
9:00am -- KEY earnings call
9:45am -- Bloomberg Consumer Comfort
10:00am -- FAST earnings call
10:30am -- EIA natgas storage
10:45am -- Fed's Quarles speaks at insurance industry forum
11:00am -- MTB earnings call
2:00pm -- PPG earnings call
4:01pm -- OZK, PBCT earnings
4:05pm -- NFLX, TEAM, AXP, JBHT (roughly) earnings
4:30pm -- PRGS earnings
4:45pm -- MNST investor meeting
5:00pm -- BEDU earnings
5:00pm -- AXP, JBHT earnings call
6:00pm -- NFLX earnings call
6:30pm -- Rio Tinto quarterly sales (roughly)