'President T' Could Easily Derail the Whole Thing: Taking Stock
(Bloomberg) -- The combination of Salesforce's blowout, which was not the death knell that some may have prognosticated, and Powell walking back the "long way from neutral" remark took the market and anything remotely considered high beta through the roof.
At the end of the day, momentum, if you go by the $9.4 billion iShares Edge MSCI USA Momentum ETF, or MTUM, actually had its best day in more than three years. Growth meanwhile had its best session in over six months, if you go by the $21.2 billion iShares S&P 500 Growth ETF.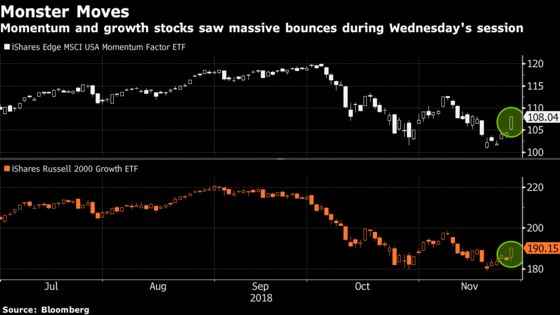 The two bits of news also sent shivers through the spines of the shorts, who were either hoping for an extremely rare misstep from one of the most important growthy companies in the world or a more stubborn reaction from the Fed Chair as he continues to take jabs from "President T."
Things look worse for said shorts if the market continues to view Powell's comments as a dovish signal (some are skeptical about that, like SocGen, who said Powell was just correcting a "rookie mistake" from last month), especially considering that the nearly 10-year bull-market rally came to an abrupt halt almost immediately after Powell made those hawkish comments last month.
We may know soon enough if those choice words from early October were the main reason for the meltdown in stocks i.e. if the market positively inflects for days on end and longs begin rule the tape, get ready for more traders to pound the Santa Claus Rally thesis ad nauseam, which doesn't look too far-fetched given that the S&P 500 has jumped ~4% the second that the tryptophan effects fully wore off.
Bond markets may have been smarter than equities in this instance, as my colleague John Authers pointed out last night when observing the recent vacillations of the 10-year yield (and weaving in a fantastic brontosaurus analogy to boot!). This may underline that we have a ways to go before the S&P 500 makes its way back to levels achieved before Powell's Oct. 3 speech (nearly 200 handles, if we want to get technical).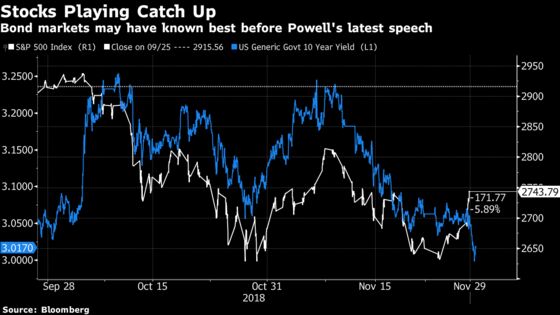 The "sicklicals" may be some of the best indicators, especially the homebuilders -- the S&P Supercomposite Homebuilding Index, or S15HOME, has already gone streaking, rising eight sessions in a row for its longest run of gains in over a year and topped off with a predictable Powell-fueled surge on Wednesday.
That follows a month of hell (from mid-September to mid-October), when pretty much any related indices or ETFs saw virtually nothing but downticks every day, plus the continued barrage of weak housing data points hasn't stopped, from new home sales to housing starts and multiple price index metrics.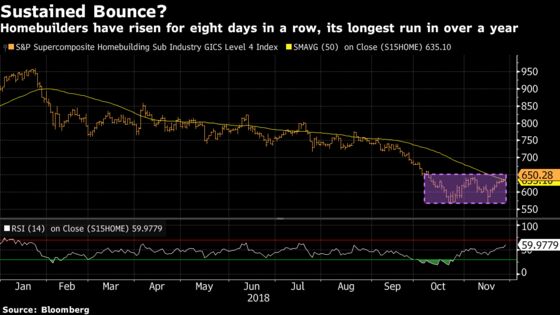 Derailing the Whole Thing
Of course, Trump could easily derail the whole thing if he follows through with some of his recent threats to spice up the trade war -- food for thought with the commander in chief jetting off shortly for Buenos Aires for the G-20 meeting, and with a report coming out of the South China Morning Post yesterday that talked about Xi potentially offering only a "one-shot deal" and one this morning about the Trump-Xi dinner is unlikely to produce a joint statement.
Any negative news on the European banks is never a good thing for the tape, and the raid on Deutsche bank (down as much as 4.9% overseas) won't help sentiment in the near term. There was a time that the U.S. stock market was trading almost in lockstep with every drop in the German bank's shares, so this is clearly a development to watch if the slide continues; note that Deutsche's market value has almost been halved just this year.
And there's still plenty of trepidation from the equity strategists who've been more right than wrong over the past few months. RBC's Lori Calvasina is out with her 2019 outlook note today which still waves the caution flag. She trims her 2019 EPS forecast to $171 from $173, argues that only one of the six drivers that she tracks for the S&P is positive (deals & cash deployment), notes that there still aren't signs of capitulation (U.S. equities "don't look oversold yet either as the 2015-2016 lows are still out of reach"), upgrades consumer staples, and says that it's still too early to get back into the tech/communication services sectors.
Rate-sensitive sectors, like the homebuilders mentioned above, the banks, or the defensives (utilities, REITs, consumer staples), as the 10-year yield briefly slipped below 3% for the first time in months
Software sector, especially those tied to the cloud, after positive reactions to Box and Veeva earnings (following in the footsteps of Salesforce and Nutanix), and ahead of earnings from VMware, Workday, Splunk, Palo Alto, and Zuora
Rental cars after Sixt SE denied interest in a takeover of Hertz, which surged more 7% on the speculation yesterday
Gun stocks may move on a report that the Trump administration may announce a bump stock ban sale in the coming days
Industrials with several majors presenting at Credit Suisse today, especially Caterpillar, Cummins and Union Pacific
Gene editing majors CRISPR and Editas ahead of the Barclays summit, especially with the industry coming under greater scrutiny on the recent China baby news
Not a ton of major calls out there today, so here's a few quick hits:
Morgan Stanley upgrades McDonald's to an overweight on the potential long-term benefits of U.S. store remodeling; Citi raises PPG to a buy on improving raw materials and consolidation optionality; Craig-Hallum upgrades Zillow to a buy as it sees new seller lead generation business may drive $1 billion in revenue upside by 2021; and Gordon Haskett's John Inch is smacking GE yet again, calling a health-care IPO the "last bullet" the company may have left to swing market sentiment more positively.
Tick-by-Tick Guide to Today's Actionable Events
Today -- Sohn London with speakers from Lansdowne, Schroder, Oz Management, and Albert Bridge Capital
Today -- Deutsche Bank hosts two-day gaming, lodging, leisure and restaurants 1x1 conference with CZR, HLT, IGT, MGM, VAC, WYND, WYNN among others
Today -- TROX hosts investor meeting
7:00am -- PDCO earnings
7:30am -- DLTR, ANF earnings
8:00am -- DGX investor day
8:00am -- CPB annual meeting (though already reached agreement with Third Point)
8:30am -- PCE Core, Personal Income/Spending, Jobless Claims
8:45am -- CMI, NOC at Credit Suisse Industrials conference
9:15am -- Omega Advisors' Leon Cooperman on Bloomberg TV
9:30am -- UNP at Credit Suisse Industrials conference
9:45am -- Bloomberg Consumer Comfort
10:00am -- Pending Home Sales
10:30am -- EIA natgas storage
11:00am -- CME extraordinary shareholders meeting
12:00pm -- B2Gold investor day
1:15pm -- EDIT at Barclays gene editing & gene therapy summit
1:25pm -- XOM CEO Darren Woods on Bloomberg TV
2:00pm -- FOMC Minutes
2:00pm -- Fed's Evans speaks on panel at Boston Fed conference
2:00pm -- CAT at Credit Suisse Industrials conference
3:05pm -- Fed's Kaplan speaks at Boston Fed conference
3:10pm -- RSG CEO Don Slager on Bloomberg TV
4:00pm -- DVMT earnings (timing uncertain)
4:00pm -- T analyst meeting
4:00pm -- CRSP at Barclays gene editing & gene therapy summit
4:02pm -- WDAY, SPLK earnings
4:05pm -- HPQ, AMBA, ZUO, GME, AMSWA earnings
4:10pm -- AVAV earnings
4:15pm -- VMW, PANW, YEXT, PVH earnings
4:30pm -- WDAY, SPLK, PANW earnings call
5:00pm -- PAGS earnings (roughly)
5:00pm -- HPQ, VMW, ZUO, GME earnings call
6:00pm -- DVMT earnings call
8:00pm -- China PMIs
8:20pm -- Saints (-7.5) at Cowboys