'Merger Monday' Lives Up to Its Name With $40 Billion in Deals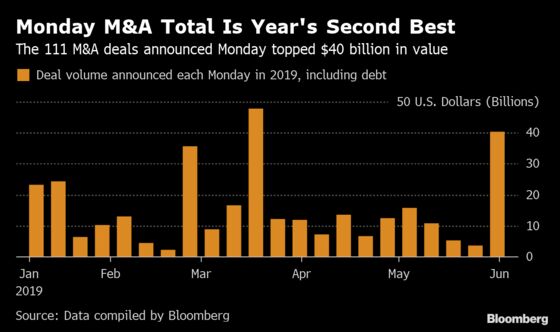 (Bloomberg) -- It's been a while since dealmaking activity at the start of the week was busy enough to merit the use of a Wall Street cliche: Merger Monday.
A flurry of deals made the first Monday of June the second biggest for mergers and acquisitions this year, according to data compiled by Bloomberg. More than $40 billion of transactions had been announced by 3 p.m. in New York, according to data compiled by Bloomberg -- a tally that could rise if additional deals come later in the day. That's second only to March 18, when Fidelity National Information Services Inc. announced the acquisition of Worldpay Inc. for about $41 billion, including debt.
Blackstone Group LP's $18.7 billion bet on warehouses owned by Singapore's GLP Pte led the roster of multibillion-dollar acquisitions making up the total. Infineon Technologies AG's $9.4 billion deal to buy Cypress Semiconductor Corp., JPMorgan Chase & Co.'s $2.78 billion purchase of El Paso Electric Co. and Hospitality Properties Trust buying Spirit MTA REIT's rental real estate portfolio for $2.4 billion also all clocked in at more than $1 billion.
Of the more than $1.24 trillion in deals this year, about 27% were announced on Mondays.