'Mad Dog' Goes Silent With Delta's Retirement of Workhorse Jet
(Bloomberg) -- The coronavirus crisis is speeding the end of an era in U.S. aviation with Delta Air Lines Inc.'s plan to retire its remaining two McDonnell Douglas models by the end of June.
Delta is the last major carrier to fly the MD-80 and MD-90 aircraft, which were developed before Boeing Co. acquired McDonnell Douglas Corp. in 1997.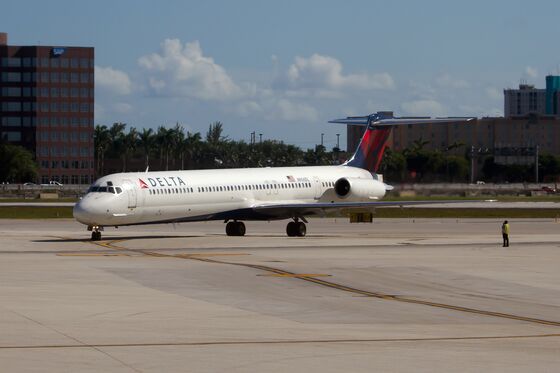 The MD-80 earned the nickname "Mad Dog" among pilots because of the unmistakable -- and loud -- growl of its Pratt & Whitney JT8D engines. Some pilots said the MD-80 also had a tendency to lurch around like a "scalded, mad dog" when it touched down on a slick runway, said aviation consultant Bob Mann. The later MD-90 model used a different, quieter engine model.
Delta had 76 of the models in February plying mainly shorter routes between Atlanta and destinations such as Columbus, Ohio, and Pittsburgh, Pennsylvania. The airline had planned to retire its 47 MD-80s by year's end and the MD-90s at the end of 2022, but the steep decline in passenger traffic pushed those plans forward. Delta described the aircraft Thursday as "workhorses" across its domestic network. The carrier has parked more than 600 aircraft over the past two months as the pandemic all but killed demand for air travel.
The MD-80 first flew in 1983 with American Airlines Group Inc. Delta was the launch customer for the slightly longer MD-90, which began commercial service in 1995. Both were derived from the 1960s-era DC-9, one of McDonnell Douglas's top sellers.
American -- once the largest "Mad Dog" operator -- flew its last MD-80 flight in September, from Dallas to Chicago, before retiring the last plane in the New Mexico desert.
As of Thursday, there were 78 MD-80 aircraft in passenger service around the world, including 23 still flying at Delta, according to Cirium, an aviation data and research firm.