'In the Clear' With October Out of the Way? Hardly: Taking Stock
(Bloomberg) -- Good riddance to October.
At least that's what the longs are saying after one of the worst months of this bull market, which even included a 108-handle reversal from Monday afternoon's low that popped the S&P 500 above the high end of its recent trend channel. Follow-through looks likely this morning with the futures up another ~12 points.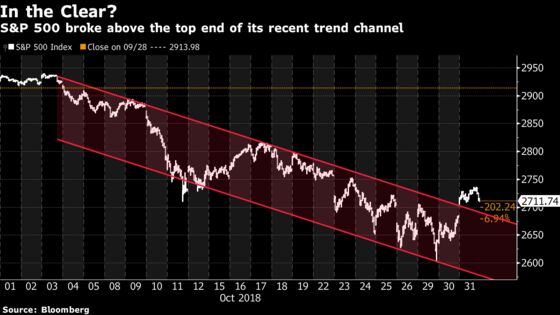 And so what's the feeling now? Month over, Facebook wasn't a travesty, tech led the tape for the first time in seemingly forever, the "sicklicals" are in the midst of being resuscitated (especially the homebuilders and the autos), more rumblings of another tax cut, and earnings as a whole coming in stronger than expected: Of the two-thirds of companies in the S&P 500 that have already reported, more than 80% beat on EPS, which is practically in line with the prior quarter.
So are we "in the clear"?
Hardly. The breadth of the tape wasn't exactly the most reassuring aspect of Wednesday's rally, with only 301 advancers vs 192 decliners in the S&P 500 on a day when the index climbed 1.1%. In a nutshell, megacaps were responsible for today's rally (much of this thanks to Facebook-induced spark -- GM surged >9%, Netflix soared almost 6%, while Amazon, Alphabet, Paypal, Micron and Nvidia all gained ~4%), but clearly the lesser caps didn't get the memo.
As Jonathan Krinsky of Bay Crest Partners points out, this was the worst breadth seen for a day when the SPX rose at least 1% since May 2009: "Today's internals were clearly much weaker than the indices showed. While historical precedence has been mixed over the following few days, this type of action is more prevalent in weak, or weakening trends rather than strong ones."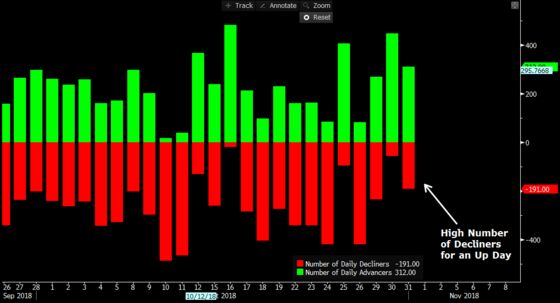 Plus we still have to get through earnings from Apple (see our preview), which was holding on to its trillion-dollar market cap status for dear life earlier this week. Options are implying a nearly 6% move after the print, which should be a more meaningful read-across to the tech supply chain and the broader market than Facebook, whose company-specific issues have left its stock in the doghouse for months.
We also have the jobs number tomorrow coming on the heels of heightened uncertainty of how the Fed wants to play its hand in regards to the current tightening cycle.
We also have midterm elections next week, which could always throw a wrench into things. Trump warned the masses on Tuesday that "if you want your stocks to go down, I strongly suggest voting Democrat," and now he's predicting a GOP win in the Senate and a strong showing in the House: "I think the blue wave is dead."
There's also consistent waves of anxiety over the potential for another round of tariffs against China to add the slew of items on the "Wall of Worry" list that are keeping the bulls up at night.
What we really need to see is a reversal of the troubling rotation into defensive sectors like the utilities, consumer staples, and the REITs (see the month-to-date rundown below) that we saw in October. One influential voice for many years in the utilities is Wolfe Research's Steve Fleishman, who is telling clients in a note today to fade the rally in the sector in a note titled "Nightmare on Wall Street," citing elevated bond yields and the relative valuation of the sector on both a P/E and yield basis.
If we can do that and also firmly hold support at 2,600 on the S&P 500, then the "in the clear" light at the end of the tunnel will start to appear much closer than it does right now.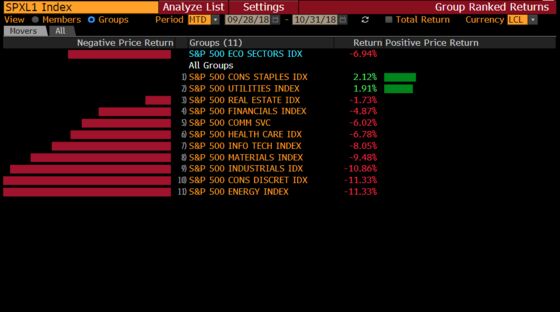 Semiconductors after better-than-expected results from NXP Semi (shares indicated up $4-$5) as well as FormFactor and Apple supplier Qorvo (both are up ~5%-6%)
Wearables on Fitbit's ~9% positive reaction to a third-quarter beat
Exploration and production companies as M&A in the space continues to heat up, with Encana buying Newfield in a deal valued at ~$5.5 billion following Chesapeake Energy's $2.1 billion purchase of WildHorse Resource earlier this week
Chemical stocks with DowDuPont climbing close to 4% on a beat and announcements surrounding its cost synergy target and buyback program
Payment companies following weak results from Fiserv, which initially tanked ~10% after the bell
Protein names after Pilgrim's Pride's quarterly EPS missed the lowest estimate
Life science tools stocks with PerkinElmer plunging ~7% on a bad miss
Logistics/truckers may be weak after XPO Logistics cut its outlook
Nitrogen-exposed fertilizers might catch a bid following a beat from CF Industries; Nutrien and Mosaic report on Monday
Sectors that may move with earnings over the next ~24 hours include all of tech (Apple), the BATs (Alibaba), media (CBS), telecom (Motorola Solutions), optical networking (Lumentum), wearables (GoPro), money transfer (Western Union), coffee (Starbucks), packaged food (Kraft Heinz), natural grocers (Sprouts Farmers), weight management (Weight Watchers), titanium dioxide (Chemours), and steel (U.S. Steel)
Notes From the Sell Side
Not a ton of major calls today as analysts scramble to publish reviews from the recent deluge of earnings.
The few that stuck out: Credit Suisse upgrading a "widely out of favor" refiner in Valero ("Be Greedy When Others Are Fearful" is the title of the note), noting that the group tends to recover almost all losses in major pullbacks ~3 months after equities bottom; Longbow removing its buy rating on auto parts name Autoliv after its recent run-up after earnings, which featured a miss and a guidance cut; and Wedbush upgrading former momentum darling Roku to an outperform after its near 30% pullback from its peak on the first day of October.
Tick-by-Tick Guide to Today's Actionable Events
Today -- Monthly auto sales
Today -- American Society of Hematology (ASH) meeting abstracts; watch AMGN, BLUE, ONCE, SGMO, INCY, and others
7:00am -- SPOT, W, TREE, AMCX, TEVA, CCOI, BCE, TPX, SEE, ZTS earnings
7:30am -- PH, MSG, SSYS, VECO earnings
8:00am -- BoE rate decision
8:00am -- LITE earnings
8:00am -- DWDP, SPOT, W, NXPI, TEVA earnings call
8:00am -- BlackRock CEO Laurence Fink, GM CEO Mary Barra and former Microsoft CEO Steve Ballmer at New York Times DealBook forum
8:30am -- Nonfarm Productivity, Initial Jobless Claims
8:30am -- CI earnings call
9:00am -- SFM earnings
9:30am -- IPOs to start trading post-open: Axonics Modulation Technologies (AXNX)
9:30am -- Kudlow at Washington Post's The State of Small Business
9:45am -- Markit Manufacturing PMI, Bloomberg Consumer Comfort
10:00am -- ISM Manufacturing, Construction Spending
10:30am -- EIA natgas storage
10:50am -- Wyndham Destinations CEO Michael Brown on Bloomberg TV
12:10pm -- Merck CEO Kenneth Frazier at DealBook forum
1:30pm -- PGR investor event
2:55pm -- Google CEO Sundar Pichai, Snap CEO Evan Spiegel, Goldman's Lloyd Blankfein and Peter Thiel at DealBook forum
4:00pm -- WU, CRUS (roughly) earnings
4:01pm -- MELI, ATHN, MDRX earnings
4:05pm -- CBS, GPRO, SBUX, KHC, SHAK, SYMC, ACIA (roughly), ANET earnings
4:10pm -- MSI, OLED (roughly) earnings
4:15pm -- TDC, MET, WTW, CC, EOG earnings
4:20pm -- LYV (roughly), X (roughly) earnings
4:30pm -- AAPL, HST earnings
4:30pm -- CBS earnings call
5:00pm -- AAPL, GPRO, SYMC, SBUX, KHC, WTW earnings call
6:30pm -- Trump hosts MAGA rally in Columbia, Missouri
8:20pm -- Raiders at Niners (-2.5)