'Free Money' Vanishes, So Top U.S. Auto Dealer Bets on Used Cars
(Bloomberg) -- Rising interest rates are leading more American consumers to balk at buying costly new cars, leading the biggest U.S. auto dealer to wager more on used vehicles.
AutoNation Inc. said Tuesday that it's investing $50 million in Vroom Inc., an online buyer and seller of used cars that offers no-haggle pricing and home delivery. AutoNation disclosed the deal along with the news of its steepest drop in quarterly new-vehicle sales in nine years, which sent shares sliding.
"You have a consumer that's basically had free money for eight years," Mike Jackson, AutoNation's CEO, said in a phone interview. "There's a cost related to financing that they have to adjust to. We're going through that adjustment period. How that shows up in behavior is they're looking at more affordable alternatives."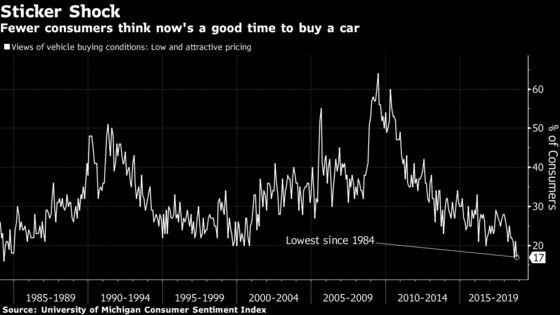 AutoNation's new-vehicle retail sales fell 8.1 percent in the three months that ended in September, the biggest decline since the fourth quarter of 2009. That was the year that industrywide deliveries slumped to the lowest in almost three decades.
The Fort Lauderdale, Florida-based company's shares fell as much as 8.9 percent and traded down 7.8 percent to $38.90 as of 10:32 a.m. in New York.
The Federal Reserve has raised rates three times this year. Officials have signaled one additional hike in 2018, followed by three more next year. Car loans already are costlier than they've been in almost a decade, according to auto market researcher Edmunds, as the availability of zero-percent loans that spurred demand for years dries up.
Jackson, 69, saw this coming. Two years ago, as new-vehicle demand started to stagnate, AutoNation said it would open standalone used-car outlets with no-haggle pricing. Expenses linked to that plan will dissipate next year, while the retailer will benefit from boosts to revenue and gross profit, he said.
"We concluded several years ago that free money would inevitably end," Jackson said. "Affordability would become an issue -- particularly around new vehicles -- and we better have created new capabilities for the company to deal with the double whammy of rising rates, both for us and for our consumers."