'Foreboding' Confidence Gap May Actually Bode Well, Tom Lee Says
(Bloomberg) -- On the surface, it might seem like a bad thing for markets that consumers' confidence about the future isn't nearly as good as it is about the present.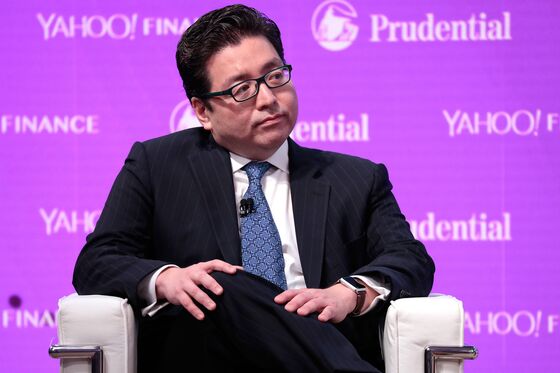 But Tom Lee, head of research at Fundstrat Global Advisors, sees it as an opportunity for improvement, and recommends overweighting value stocks as well as watching for the long end of the yield curve to steepen.
Future expectations are poised to increase because measures of income and household leverage are currently quite low, Lee said in a note dated Sept. 28. The correlation of consumer confidence with the spread between 10-year and 30-year Treasury yields indicates it's likely the yield curve steepens in 2019, he added, putting the chances at 55 percent.
The difference between consumers' confidence about the future and the present "could be quite foreboding as this is typically seen late cycle," Lee wrote. But future expectations might be boosted as key measures like anticipated income increase, "thus reducing the negative spread."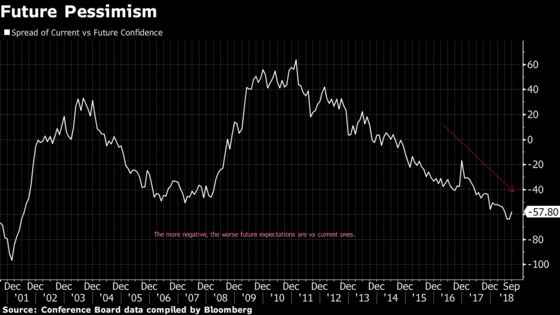 The best-performing stock sectors during such periods of "negative" future-versus-present spreads are energy, financials, materials, telecommunications and industrials -- "all value sectors," Lee said.
He recommends 15 stocks from those groups as a bet on this phenomenon: Lockheed Martin Corp., Emerson Electric Co., Honeywell International Inc., LyondellBasell Industries NV, Air Products & Chemicals Inc., Nucor Corp., Chevron Corp., Occidental Petroleum Corp., Exxon Mobil Corp., State Street Corp., Capital One Financial Corp., Everest Re Group Ltd., 3M Co., BlackRock Inc. and Verizon Communications Inc.
Goldman Sachs Group Inc. economists led by Jan Hatzius are also watching consumer confidence measures closely as a gauge of the economy's strength.
The U.S. economic expansion still appears to be in "mid-cycle" even though it's the second-longest in history, the Goldman economists wrote. But they think it's quite close to a move into the late cycle. "A further rise in optimism could lift measures of confidence and asset valuations, which have been highly correlated," and facilitate a push into late-cycle mode, they wrote in a Sept. 29 note.
"The financial system and the economy have spent a long time climbing out of a deep hole," the Goldman economists wrote. "Structurally, with inflation now better anchored than in past cycles, Fed officials are now likely better placed to lift policy rates at a gradual pace, and maybe even achieve the first successful U.S. soft landing from below."
For Lee, the main risk to his idea of increased future confidence lies in emerging-market equity under-performance, which he believes is signaling either a debt crisis or global recession, and would likely weaken U.S. business and household confidence.
But Lee, a noted cryptocurrency bull whose year-end target on the S&P 500 of 3,025 implies a 3.8 percent gain by Dec. 31, is optimistic here as well.
"Future confidence has room to rise, thus reducing the negative spread and hence, the long-term yield curve would steepen," Lee wrote. "Bottom line: overweight value."