'F' Is For? This ETF Is Named After FANGs and Holds No Facebook
(Bloomberg) -- What's in a name?
When hearing the acronym FANG, four technology stocks come to mind: Facebook Inc., Amazon.com. Inc., Netflix Inc., and Alphabet Inc.'s Google.
Strangely -- and luckily, today -- that's not the case for an actively managed exchange-traded fund aiming to give investors exposure to "the FANG investment theme." The theory behind AdvisorShares' New Tech and Media ETF, known by its ticker FNG, is "that high-performing technology and media leaders, popularly characterized as 'FANG,' will continue to provide superior long-term performance," according to the company's website.
And yet, if you drill down into FNG's holdings today, you won't find a single share of Facebook.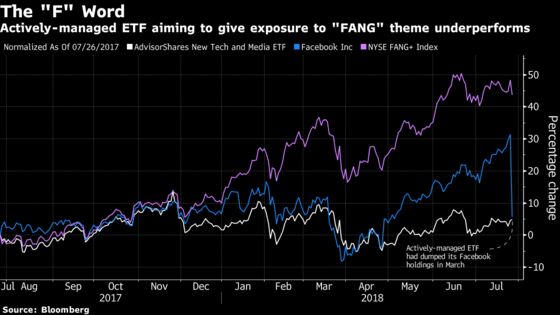 That's a relief for investors, after the social media giant plunged as much as 20 percent Thursday. The lurch wiped out more than $120 billion in market value, marking the largest ever loss of value in one day for a U.S.-traded company, after the company's chief financial officer signaled that the second-quarter miss on revenue -- the first miss since 2015 -- was actually part of a longer-term slowdown in growth rates.
The company also said that it would have to spend more to experiment with new business models, as well as invest in solving its problems over data privacy and fake news. That will threaten the company's profits over time.
The portfolio management team behind the ETF began dumping its Facebook exposure in March when the Cambridge Analytica scandal hit, which revealed the company failed to safeguard private data, according to Scott Freeze, chief investment officer of Sabretooth Advisors, FNG's portfolio manager. Such flexibility is the main advantage for actively managed ETFs, because index-based funds don't have the power to make adjustments on any given day, he said.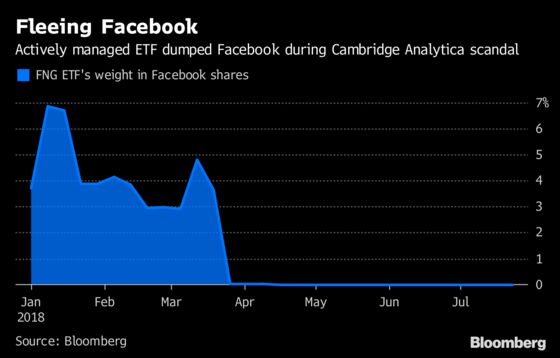 "The index funds can't say, 'Facebook is tanking and it looks bad going forward, so let's just change the holdings and get rid of Facebook. They can't do that," according to Freeze. "So those investors are stuck with whatever that index holds."
It's not the first time adjustments to FNG's holdings were affected by earnings. Earlier this year, FNG unloaded its Apple position, which had accounted for almost 4 percent of the fund at one point, right before the tech giant posted earnings that showed a growing services business and featured a bullish revenue forecast. Additionally, the fund didn't hold any Google stock between May 24 and July 16.
So for some, the FNG ticker is misleading.
"Tickers matter and this would probably lead any normal person to believe it holds Facebook. F is the first letter," Bloomberg Intelligence analyst Eric Balchunas said. "What if Facebook surged 20 percent, and you bought this, and realized it didn't hold Facebook? You'd likely get pretty upset about it."
Longer term, deviations like this have hurt more than helped. FNG has returned about 4.6 percent in the past year, significantly lower than both the NYSE FANG Index's 44 percent rally, and Facebook's 5.9 percent climb.
Another test is coming soon. As of today, the ETF has a chunky 7 percent weight in Amazon shares, making the e-commerce giant its second-largest holding. With the company reporting earnings after the market close today, FNG's portfolio manager Freeze wouldn't reveal exactly how that Amazon exposure may be fine-tuned today.
But he did say, "I wholly expect a huge beat and for Amazon to be trading at $2,000 per share tomorrow morning."