Stock-Market Vigilantes Show Trump Who's Boss
(Bloomberg) -- The "Dow vigilantes" are back.
At least, that's what some say is the force behind the sudden truce in Donald Trump's trade war with China and Jerome Powell's dovish turn.
It's not hard to see why. Since October, roughly $2.5 trillion has been lopped off the U.S. stock market as investors questioned the wisdom of the rising trade tensions between the U.S. and China as well as the Federal Reserve's intention to keep raising interest rates until it slows the economy. The Dow Jones Industrial Average, long the yardstick of Trump's own success, tumbled while the broader S&P 500 Index fell into a correction.
But in rapid succession in the past week, both Trump and Powell changed tack as the markets "demanded" a deal, according to Greg Valliere, chief global strategist at Horizon Investments.
"The Dow vigilantes have managed to get both a Powell put and a Trump put for the market," said Ed Yardeni, lead strategist at his namesake research firm. "Jerome Powell turned into Santa Claus last Wednesday, markets certainly reacted joyously to his hints that Fed tightening would occur at an even more gradual pace. So if Jerome Powell is Santa Claus, then the two elves are President Trump and President Xi."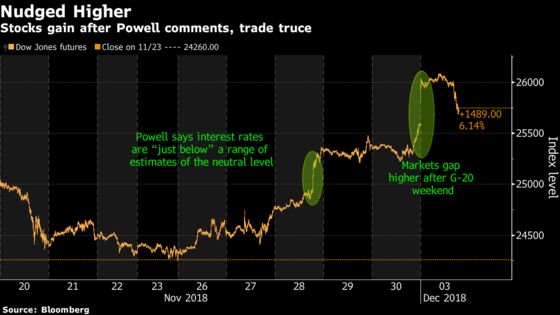 It's not the first time Yardeni has invoked an equity-market version of the phrase he coined in 1983 in reference to bond traders who signaled disapproval of monetary or fiscal policies by dumping debt. The strategist said in March that Dow vigilantes pouring out of stocks were signaling their disapproval of tariffs on steel and aluminum as Trump ratcheted up his trade war with China.
The S&P 500 has rallied more than 6 percent since tumbling into a correction at the end of November, spurred higher by Powell's dovish pivot on the path of interest rates. Trump had expressed his displeasure with the Fed chairman, citing stock-market weakness among his complaints. The equity benchmark surged as much as 1.5 percent Monday after the president agreed to put his trade dispute with China on hold after a G-20 meeting.
For Trump, who has used the market as a barometer of his success, the six-week sell-off likely played a role in his decision to ease up on the trade front. He's tweeted about the financial markets nearly three dozen times, often taking credit for market gains.
"Trump will do whatever it takes to keep the financial markets happy," Horizon's Valliere said. "One could argue that both Trump and Jay Powell got their marching orders this fall and they complied in the last two weeks by saying what the markets wanted to hear."
The trade tensions had help in rattling investors in the past six weeks, with concern mounting that global growth is slowing at the same time central banks pull back support. Hedge funds turned cautious on the biggest technology names that have led the record bull run, and retail investors raised cash at the fastest pace in three years.
Taken together, an equity market that had been setting records under Trump suddenly was negative for 2018 with little sign of where the next catalyst would come from. The G-20 offered Trump a chance to provide a jolt.
"There's two things driving Trump -- one is the stock market and the other is the self-imposed tariff timetable," said Kim Forrest, senior portfolio manager at Fort Pitt Capital. "If everybody would've walked away, the market would be down big time."