'Death by Amazon' Gauge Exposes the Gulf Between Retail ETFs
(Bloomberg) -- Measuring the impact of Amazon.com Inc. on exchange-traded funds just got easier, thanks to a new "Death By Amazon" gauge from CFRA Research.
Retailers at risk from the Seattle-based company's expansion underperformed the S&P 500 Index by more than 10 percentage points in the year through April 25, according to the benchmark. The equally-weighted portfolio, which includes Barnes & Noble Inc., Office Depot Inc. and Williams-Sonoma Inc., returned 5.9 percent for the period, lagging Amazon's 27 percent gain.
While CFRA's index is not designed to be investible -- it was the focus of a report this week -- the gauge highlights the importance of knowing what an ETF actually owns. While some funds are set to benefit from Amazon's successes, others are heavily exposed to firms that the retail giant is slowly killing.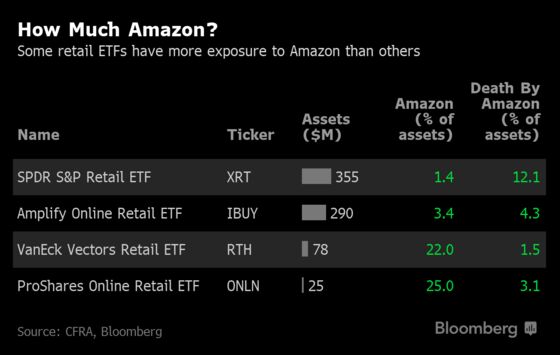 "Amazon's relatively strong stock performance, driven by its market-share gains across various retail channels, has provided a boost to retail ETFs that hold hefty stakes," said Todd Rosenbluth, director of ETF research at CFRA. "We think this will persist."
Over a one-year period, Amazon outperformed CFRA's gauge by about 57 percentage points; over a three-year period, that advantage widened to 238 percentage points, Rosenbluth wrote in the report. CFRA's index slumped over both timeframes.
The largest retail ETF -- the SPDR S&P Retail ETF, known as XRT -- is most exposed to companies that will suffer from Amazon's expansion, according to CFRA. It's climbed about 9 percent this year. By contrast, the $25 million ProShares Online Retail ETF, which has more than 20 percent of its assets in Amazon, has added about 30 percent.
The idea that online retailers are winning at the expense of traditional brick-and-mortar shops has already inspired several ETFs, but investors have largely steered clear. The ProShares Decline of the Retail Store ETF, which trades as EMTY, has scooped up just $5 million since it started trading in November 2017.
Many traders instead opt to go long Amazon and short State Street Corp.'s XRT, according to Bloomberg Intelligence analyst Eric Balchunas.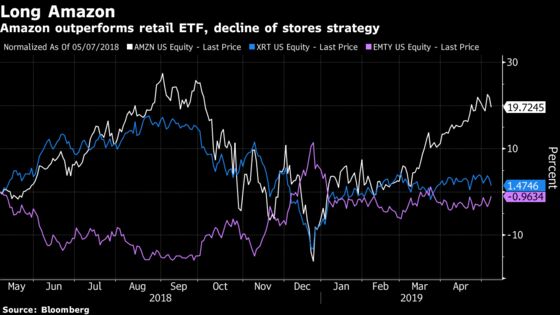 "XRT short-interest is still massive, and that could be a way to best isolate the trade," he said. "For most of the trading crowd, that's the way to do it."