`Best Time' to Buy EM Since Taper Tantrum Lures Matthews Asia
(Bloomberg) -- Not since the selloff of 2013 have developing-world bonds looked so attractive for long-term investors, according to Matthews Asia fixed-income head Teresa Kong.
"As long as you have a five-year investment horizon, we think this is the best time to get into emerging-market debt since the taper tantrum from a credit perspective," said Kong, 46, who began seeing opportunities since mid-June. The veteran money manager's top fund -- the $134-million Matthews Asia Strategic Income Fund -- has gained an average of 4.1 percent annually since its inception in November 2011, more than double the gain of its benchmark.
It's been quite a ride for developing-nation assets this year as heightening trade tension between the U.S. and China and a stronger dollar reduced the appetite for riskier bets. More recently, investors including Franklin Templeton say the worst may be over. Emerging-market dollar bond yields rose 75 basis points during this year's second quarter, marking the biggest increase since the second quarter of 2013. Kong, who is based in San Francisco and focuses on Asia, says she favors hard-currency debt and convertible bonds.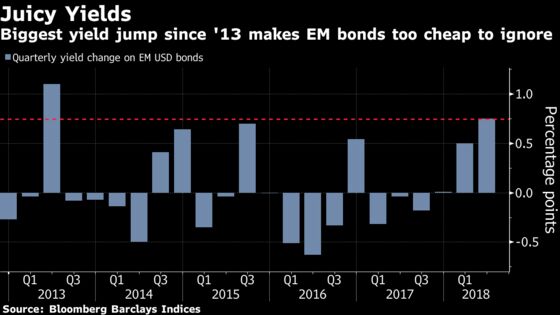 Kong has worked in emerging markets since her first job out of Stanford University 23 years ago, when she joined JPMorgan's Latin America capital markets group. She also founded Barclays Global Investors' fixed income emerging markets group and worked on building EMB, Blackrock's iShares emerging-market bond ETF.
Here's what else she had to say about Asia assets, trade and China:
What opportunities are you seeing in Asian markets?
"I'm seeing a lot of dollar bills on the ground for 80 cents," said Kong. "If I have a high conviction that the company won't default, I'm going to pick up the dollar for 80 cents all day long"
Buying dollar-denominated bonds, specifically high-yield in China and Indonesia
Sees convertible bonds of Chinese companies trading below bond floor: "We're buying the bond, capturing a credit spread higher than we would get in a plain vanilla bond and getting the equity upside for free"
What about local currency bonds?
Strong dollar makes it much harder to have a differentiated view in local currencies
Likes certain currencies more than others based on underlying fundamentals, such as Thai baht and South Korean won, that still have strong current-account balances
Ultimate direction of Chinese yuan will be based on how many doors are opened for foreign capital to come in; as Chinese investors seek overseas opportunities, inflows may increase
Has reduced exposure overall to yuan as Chinese interest rates and credit spreads have come down; more cautious about currencies as a whole
How has the trade war affected your view of the region?
Inflationary to U.S. and deflationary in China; most tariffs will be borne by U.S. consumers. If growth rate of Chinese production slows, it will have be deflationary
Chinese interest rates to be relatively stable while rest of world's rates mostly rise
Has yuan weakness taken a toll on your funds?
China will be a key driver of long-term growth in Asia; nation has made many investments in Asian countries such as Vietnam, Malaysia and Indonesia
Has RMB exposure in some of her funds; drop in RMB, especially in latter half of June and July, hurt short-term performance
"We actually came out fine with our local currency exposure in China, despite the recent depreciation, because we initiated those positions in mid-last year and captured the price gain from fall in interest rates and spreads"