'Art of the Deal' May Have Just Saved This Market: Taking Stock
(Bloomberg) -- It's an amazing coincidence.
On the same day the world's largest company issues its biggest disappointment in years -- Apple sank as much as 7.7 percent post-market and threatened to take the whole stock market down with it -- President Trump, who appears to care deeply about the daily jolts in the tape (and also held several meetings with Tim Cook this year) does an about-face on China.
It was just days ago that Trump looked like he was planning to go for the jugular with another round of hard-hitting tariffs, but apparently he's now looking to make that deal (I guess the "art" that has come with it has gone on long enough) -- according to our reporting, Trump is looking to reach an agreement with China's Xi at the G-20 summit later this month and has asked U.S. officials to start drafting potential terms.
And so markets are responding properly, from equities (S&P futures up 21 handles, Europe's Stoxx 600 +1%, Shanghai composite closed up almost 3%) to currencies, with the yuan looking at its biggest two-day gain in nine months and the dollar erasing its weekly gain thanks to an unwind of risk-sensitive positions.
This is a huge 180-degree shift from how many would have expected things to turn out the second Apple came out with its print and dropped the hammer that it would end the process of disclosing unit sales in fiscal 2019. The probability that the U.S. market would tank, taking a very fragile tech tape with it, was high (the QQQs were down 1.5% at one point last night). The odds that this would have spilled over into Europe and Asia, considering how influential Apple is on the global supply chain, was also high.
The timing of this supposed changed tune from Trump is also interesting in that it comes just days before the midterms, and at a time when pundits and oddsmakers are baking in the Dems taking the House, which would appear to be an unacceptable outcome for this commander in chief.
So while Apple's miss may be offset today, and apparently Alibaba's too, as that stock is higher despite a whiff and a cut to the outlook, it'll really be the next four sessions (jobs number, more information on a potential trade war deal, and the midterms on Tuesday) that'll truly decide if this bounce has legs, or whether we are all just biding our time before the tech meltdown resumes and takes the market down with it.
Just to keep things real, I'd note that it's not like Facebook had some sort of out-of-this-world print on Tuesday that signaled an "all clear" message to the bulls who've been waiting a month to buy the dip. It was a better than feared report for a company in the midst of an identity crisis that's experienced scandal after scandal in 2018 and whose stock has seen more than one downward tailspin just in the past eight months.
And it's not like Apple was the only tech company whose disappointing results has helped eradicate whatever shine Facebook's results emitted. Just yesterday morning we saw earnings-fueled selloffs in two hedge fund hotels, with music streaming giant Spotify falling almost 6% (came close to hitting the reference price of $132 from its unusual direct listing in April) and e-commerce name Wayfair cratering more than 18% at one point during the session.
Even one of Apple's suppliers, Universal Display, collapsed by almost 30% last night after issuing a revenue forecast that came nowhere near what the sell-side was expecting. This comment from management in the statement said it all: "The magnitude of the second-half pick-up in our material sales is not shaping up to the degree that we had earlier forecasted."
So between those other missteps and the optics of Apple both scrapping its plan to report unit data as well as potentially losing its trillion-dollar market cap status (see this past Tuesday's Taking Stock, titled "How $1 Trillion May End Up Being a Sign of the Top," for more on that topic), the tech longs should have been bracing themselves for a world of pain today.
But obviously that doesn't look to be happening anymore given the outside factors mentioned above. The QQQs (where Apple has the heaviest weighting) are now HIGHER pre-market, and at a heck of a time when the ETF and the S&P 500 Info Tech index just recoiled to the 200-day moving average.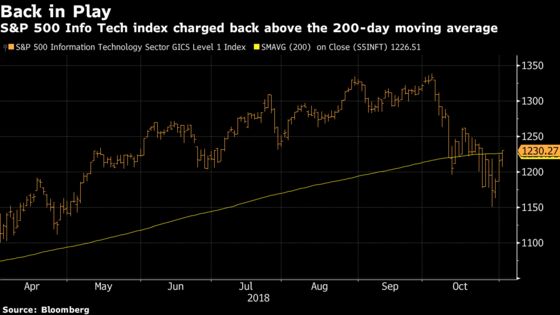 There is a fair question to ask about how much of the recovery this week can be attributed to short covering versus actual buying. Traders placed sizable short bets on the SPY and QQQ during the month of October and there's reason to believe that the whiplash bounce in the tape over the past three days may just be an unwind of these positions.
But Goldman Points Out...
Goldman's portfolio strategy team published a note last night that says allocation to equities is at its highest since the Tech bubble: 44% of total financial assets among by households, mutual funds, pension funds, and foreign investors vs debt at a below-average 25% and cash at an all-time low 12%. "A flattening yield curve, modest equity market outperformance vs. bonds and cash, and low current cash balances should continue to support risk-averse asset rotations next year," the strategists concluded.
Those numbers are pretty staggering, and a tough pill to swallow if you don't really believe what's behind the recent rally. I personally don't know how you get long anything in this market and keep a cool head just days before the midterms given the continuous shocks to the political system that we've seen not just domestically but throughout the world. If the outcome from Tuesday's elections doesn't suit Trump, who knows what kind of outbursts, personnel firings, and ramifications may take place shortly thereafter.
The two heaviest weeks of earnings are over and done with, though we're still awaiting some big reports in media (Disney, News Corp., Fox, Dish), Internet (Booking, Yelp, Match, Groupon, Etsy), video games (both Activision and Take-Two), one semiconductor behemoth (Qualcomm), a smattering of beaten-down momentum stocks (Square, Roku, Dropbox), and of course, Berkshire Hathaway, which will tip things off tomorrow morning.
Leaving aside the corporate stuff brings us to the midterm elections, where the base case remains a split with the Dems taking a slight majority in the House. The fact that this hits within the main four-week window of earnings, when the investing community is busy tweaking their financial models for metric variables and growth outlooks, makes me think that there is still plenty of positioning to be done and nothing is truly baked into this market -- net net, expect volatility even if the base case scenario plays out.
Incremental information in regards to the U.S.-China negotiations are crucial at this point in time. China's Xi will be addressing his country's first International Import Expo on Monday, which could change things immensely if his tone or language is deemed calming or harsh towards the U.S.
The Fed is expected to leave the main interest rate unchanged at their penultimate meeting for the year; the bigger question will be whether they acknowledge the mini-rout in stocks in the statement or not.
And lastly, Bloomberg LP founder Michael Bloomberg hosts the New Economy Forum in Singapore, where more than 400 world and business leaders will gather for two days. Speakers include Christine Lagarde, Janet Yellen, Gary Cohn, new Goldman CEO David Solomon, as well as chief executives from Exxon Mobil, 3M, FedEx, and BlackRock.
Tech should have been under pressure on Apple as well as earnings blowups in one of the company's suppliers, Universal Display (plunging almost 30%), and wearables name GoPro (tanking ~13%), but all bets are off now with the new news on the trade war front
There is potential for outperformance in a couple of tech areas, like in networking where Arista surged 9% on a beat and the opticals with Acacia up ~8% on a strong outlook
Coffee-related names with Starbucks surging >9% on a beat and better than feared comps growth in China
Packaged food may underperform after Kraft Heinz sank >7% on an EPS miss, which follows disappointments this week from Kellogg, B&G Foods, John B. Sanfilippo
Heavy machinery and engineering & construction stocks may be weak after disappointments from Terex (shares down >4%) and Fluor (shares -3%), respectively
Titanium dioxide peers, like Tronox and Venator, after Chemours tumbles ~8% on weaker numbers and talk of customer inventory destocking and high raw material costs
Sectors that may move with earnings later this morning include the integrated oil majors (Exxon and Chevron), auto parts (American Axle), and memory storage (Seagate, after Western Digital's monster miss last week)
Notes From the Sell Side
BofAML is the sole firm to change its rating on Apple, so far. Analyst Wamsi Mohan downgraded the stock to a neutral on an accumulation of near-term headwinds, such as iPhone unit pressure from weakening emerging markets, iPhone unit elasticity given significant step ups in ASPs, deceleration in Services given weakening app store trends, and expectations of supply chain orders cuts over the next few months, among other reasons.
Citi is making some changes in the banks after embedding a higher cost of equity for the group (upgrading Wells Fargo and Comerica, downgrading U.S. Bancorp) and also slashing estimates across its transports coverage (and downgrading UPS to a neutral) to re-set 2019 expectations for the potential of a broader volume slowdown, "which seems possible post year end."
UBS upgrades Michael Kors to a buy ahead of a likely earnings beat next week ("we forecast an 8% 5-yr. EPS CAGR, but estimate the stock is pricing in just 3%"), adding that proprietary data suggests Michael Kors, Jimmy Choo, and Versace brands are much stronger than the market appreciates.
Tick-by-Tick Guide to Today's Actionable Events
Today -- EU bank stress tests are expected to be published
Today -- TRVN Pdufa for oliceridine NDA
7:00am -- BABA (roughly), DUK, ENB earnings
7:30am -- FNMA, CBOE earnings
7:30am -- BABA earnings call
7:40am -- ABBV earnings (roughly)
8:00am -- AXL, XOM earnings
8:01am -- STX earnings
8:10am -- KNL CEO Andrew Cogan on Bloomberg TV
8:30am -- Nonfarm Payrolls, Unemployment Rate, Trade Balance
8:30am -- CVX earnings
8:30am -- TEX earnings call
8:40am -- USCR CEO Bill Sandbrook on Bloomberg TV
9:00am -- STX, ABBV earnings call
9:20am -- Alibaba Vice Chairman Joe Tsai on Bloomberg TV
9:30am -- XOM earnings call
10:00am -- Durable Goods, Factory Orders
10:00am -- AXL earnings call
10:30am -- GoPro CEO Nick Woodman on Bloomberg TV
11:00am -- CVX earnings call
2:30pm -- Kohl's CEO Michelle Gass on Bloomberg TV