$85 Oil Opens Chasm Between Emerging-Market Winners, Losers
(Bloomberg) -- Oil prices have been creeping upwards for more than a year, quietly gaining ground as emerging-market investors fretted about trade and the end of cheap money. But now that crude is near the highest in four years, it's suddenly a hot topic.
For energy importers, the squeeze in supply is stoking inflation, while climbing U.S. rates lure funds from their markets. Countries that control the pumps can use the extra cash to inoculate their economies against future fallout from Washington's trade war with China and offset the tight domestic policy needed to keep investors keen when Treasury yields are at a seven-year high.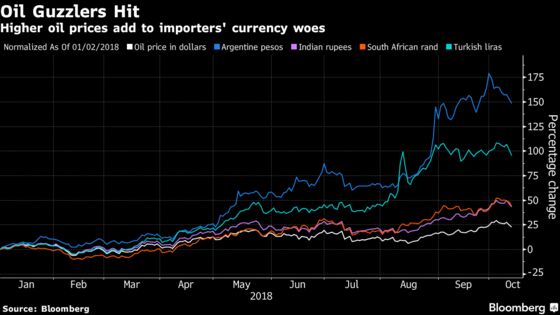 Whether crude hits $91 per barrel, as Citigroup Inc. says it may, or if it breaches $100, as other major oil traders suggest, no nation's relationship to the rally is the same. What the countries all have in common are the trade-war shock waves they face, which have buffeted the outlook for global growth and provide plenty of scope for mishaps.
Brent crude was little changed at $80.27 per barrel after trading above $85 earlier in the week. After six days of declines, developing-nation stocks climbed on Friday and currencies headed for a weekly advance.
Here's what the view of the highest crude price in four years looks like from 14 countries across emerging markets:
The Middle East's biggest economy has to import almost all of its oil
A currency rout, inflation at a pace of almost 25 percent, and a president who thinks high interest rates are the wrong way to tackle price growth, make for an unenviable mix
The real policy rate -- the benchmark rate adjusted for inflation -- fell back below zero after a surge in inflation in September; the price of crude has more than doubled in lira terms this year
Oil is the weightiest import item for the world's sixth-biggest economy, putting India among the most oil-vulnerable emerging markets, according to Bloomberg Economics data
The rupee's plunge so far this year has made it the worst performer among its major Asian peers with a 13 percent slump
The central bank this month removed a $750-million cap on state-run refiners for borrowing overseas in a bid to provide some relief for the rupee as the companies scramble for dollars to pay for crude
Southeast Asia's biggest economy is a net importer of fuel, but five interest-rate hikes for a total of 150 basis points has kept inflation within the central bank's target range and eased the rupiah's retreat
The government has attempted to stem the reliance on foreign fuel, imposing import curbs and delaying some infrastructure projects
Still, the currency is down about 11 percent this year and central bankers acknowledge there's more work to do to prevent capital flight amid mounting global risks
Rice shortages, particularly after the latest natural disasters across Southeast Asia, are fanning inflation, which has quickened every month this year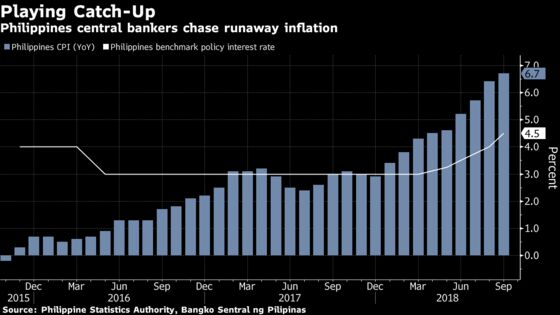 Of Southeast Asia's major economies, the nation has the strongest correlation between oil and inflation for the 12 months through August, according to calculations by Bloomberg Economics' Tamara Henderson
A fourth interest-rate hike this year put the benchmark at 4.5 percent
A strong correlation between Brent crude and Thai CPI suggests this relatively unscathed market could be at risk
The Bank of Thailand hasn't moved rates since 2015 and has produced both hawkish and dovish rhetoric this year; now that the baht is weaker in the year against the dollar, oil could give a fresh push toward tightening
Usually, this Latin American oil importer would shrug off rising prices because it's a major copper exporter. The U.S.-China trade war upset that balance
Still, fiscal accounts remain healthy and, so far, inflation is under control
The nation imports most of its oil and benchmarks gasoline prices against Brent crude; the rise in prices together with a weakening currency may push inflation above the 6 percent upper limit of the central bank's target range, Deputy Governor Daniel Mminele warned last week
That would make a rate increase as soon November almost inevitable, even with the economy in recession, according to Rand Merchant Bank
The world's largest oil exporter has emerged as a haven amid this year's emerging-market rout with the correlation between stocks and Brent at the strongest in 15 months
The government announced plans this month to increase spending in 2019 more than initially forecast
But Brent is still below $88 a barrel, the price the biggest Arab economy needs to balance its budget this year and the kingdom is pursuing multi-billion dollar plans to wean itself from oil
Crude is higher than the so-called breakeven prices for Kuwait, Oman, Qatar and United Arab Emirates, but Bahrain, which is getting $10 billion in aid from its Gulf allies, needs crude at $113 a barrel this year to balance its budget
The net energy exporter is getting a boost from higher oil even as economists and investors question the new government's budgeting
The nation's prized palm oil exports are also being helped by the growing price of crude, which increases the demand for biofuel
The OPEC member stands to gain from the oil rally after international reserves fell to their lowest in seven months amid the emerging-market rout
If central bank Governor Godwin Emefiele's prediction this month is accurate and Brent stays above $80 a barrel for the rest of the year, it will help keep the naira stable and curb inflation currently running at about 11 percent
While the currency of this top-10 oil exporter typically rises with crude, the real slid this year amid a corruption scandal and the most polarizing presidential election in decades
Investors are hoping the correlation will return on positive sentiment after investor favorite Jair Bolsonaro took a commanding lead in the first round of the vote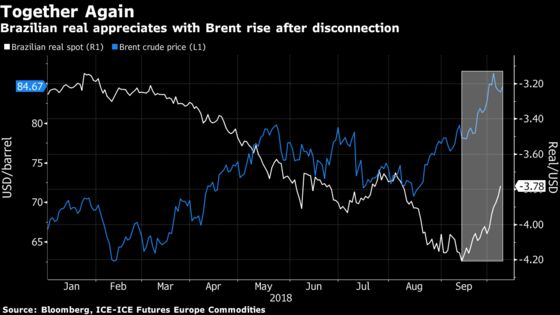 Argentina's sizable oil and gas reserves are overshadowed these days by stumbling growth and runaway inflation
The country last month announced it's planning to cut subsidies for some producers of natural gas in a bid to balance the budget
Despite being an oil producer, Mexico has had to import refined products, and higher prices are hurting external accounts
Carlos Trevino, CEO of state-owned oil firm Pemex, recently said a string of production declines show no signs of abating this year and that it will miss targets "considerably"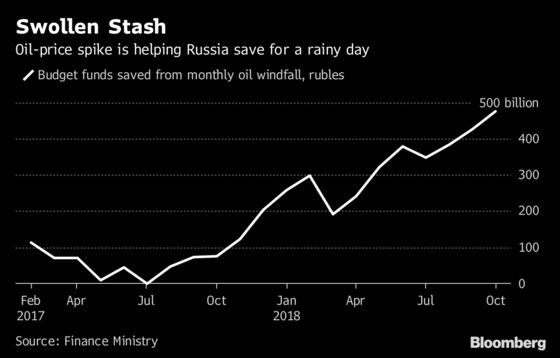 The budget of the world's top energy exporter is fortified by higher oil prices, but there's little trickle-through to consumers, the main economic-growth driver, who are being hit by shrinking incomes and quickening inflation
Still, officials are running a tight ship: the Finance Ministry saves oil revenue above $40 per barrel and the central bank increased the key interest rate for the first time in four years
While the possibility of U.S. sanctions is lifting borrowing costs, Russia's strong balance sheet means it has no urgent need to tap the market