Will Putin's Empire Strike Out?
(Bloomberg Businessweek) -- In the fall of 1991, as republics from Armenia to Ukraine were declaring independence from the Soviet empire, an adviser to Mikhail Gorbachev tried to persuade him to adopt the approach of his rival Boris Yeltsin, president of what was still called the Russian Soviet Federative Socialist Republic: Let them go. "Once Russia revives, they will come back," the adviser wrote in a memo. Yeltsin assumed it would take 20 years to rebuild Russia's traditional sphere of influence. So, 27 years later and with elections looming in two of the 15 ex-Soviet republics—Moldova and Ukraine—is Russia winning?
The answer has important geopolitical implications. If there's one thing hawks in Washington and Moscow can agree on, it's that without an economic and security zone that to some degree matches the territories of both the Soviet and czarist empires, Russia—an energy and nuclear superpower built on weak demographic underpinnings—will struggle to compete in a new multipolar world order with its main rivals: China, the U.S., and the European Union.
Yeltsin's successor, Vladimir Putin, has been able to forge a strong Russian nation-state, boosted by such bold moves as the annexation of Crimea, according to Harvard historian Serhii Plokhy. The memo to Gorbachev from Georgi Shakhnazarov was excerpted in Plokhy's book The Last Empire: The Final Days of the Soviet Union. Yet Putin's success in nation building may have come at a cost, scaring away other former Soviet states and hindering his project of rebuilding the sphere of influence. "I think he is losing on the post-Soviet space," says Plokhy, director of Harvard's Ukrainian Research Institute. "He's trying to do both things at once, and they are contradictory."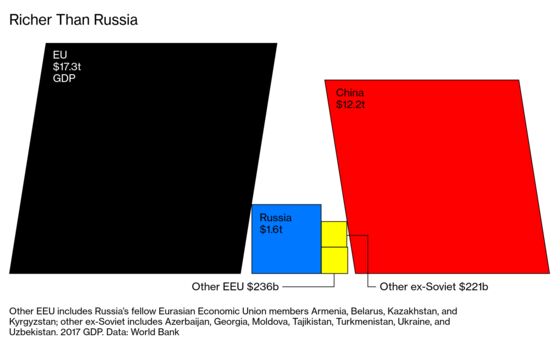 Russia has tried enticing or coercing its neighbors in many ways: offering subsidized gas, buying strategic infrastructure, imposing trade and energy embargoes, meddling in elections, and using military force. The results are mixed at best. Russia and four ex-republics have joined an EU look-alike, the EEU, or Eurasian Economic Union. But the three Baltic states, always special cases, joined NATO and the EU long ago. Of the remaining seven, some look beyond reach. Putin won Crimea for Russia, and Russian troops occupy the breakaway regions of Transnistria in Moldova and Abkhazia and South Ossetia in Georgia—but he arguably lost the chance for strategic integration with at least two of those countries as a result.
Much depends on what Putin in fact wants to achieve. Fyodor Lukyanov, who heads the Council on Foreign and Defense Policy in Moscow, says Russia no longer sees its "near abroad" as a single space. Lithuania, Armenia, and Uzbekistan are radically different cases to which Moscow takes varying approaches. Ukraine is unique, an existential challenge as much about Russian identity as geopolitics. "No one in Moscow speaks about sphere of influence vis-à-vis Ukraine anymore," says Lukyanov, adding that Russia has lost leverage in Kiev and can only sit by and watch as next month's elections take place. "There is no long-term vision about Ukraine in Moscow."
That doesn't mean it's over. Anyone who argues Ukraine is lost to Russia for good should look at history and the number of times Ukraine has switched allegiance from East to West and back again. A continuation of self-destructive oligarchic rule in Kiev would prevent it from fitting into any sphere of influence other than Russia's, Lukyanov says.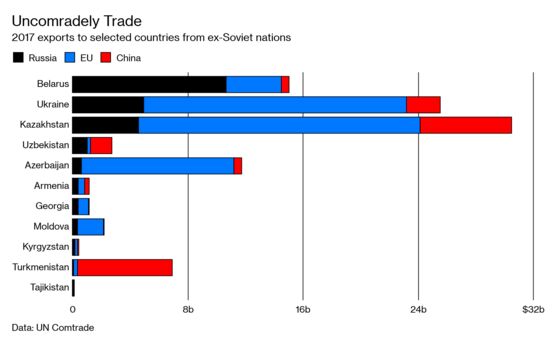 In the meantime, appetite matters. Moscow's interests in the region are rooted in centuries of history, as well as in Russia's deep self-identification as a great power. U.S. and European support for the spread of democracy and the right of countries such as Moldova and Ukraine to determine their own fate is, by contrast, fragile: Ukraine matters a lot more to Poland than to Italy, for example. With Donald Trump espousing a more transactional foreign policy and the EU struggling with its own nationalist demons, the project of Western integration could fade. Given time, says Lukyanov, "the whole mood can change."
By chance, Yeltsin's 20-year mark—2011—was also the year Putin got serious about building a stable security zone by keeping Russia's near abroad out of the EU's orbit, as well as out of NATO. Together with the presidents of Belarus and Kazakhstan, he founded a customs union that would soon develop into the EEU, a bloc with its own free-trade area, rules, and values.
Putin has since persuaded two more ex-republics, Armenia and Kyrgyzstan, to join. Armenia signed up in 2014 after abandoning plans (under pressure from Moscow) to sign a Deep and Comprehensive Free Trade Agreement with the EU. It had little choice; Armenia—embroiled in a territorial dispute with oil-rich Azerbaijan—relies on Russian military support for security. Putin also persuaded then-Ukrainian President Viktor Yanukovych not to sign an EU trade deal in 2013, but that sparked the Revolution of Dignity on Kiev's Maidan square, Yanukovych's ouster, and a retaliatory Russian military intervention in Ukraine that continues in the Donbass region.
The events in Ukraine were a severe blow to Russia's plans for the region. Before Crimea's annexation, popular support in Ukraine for joining NATO languished at around 20 percent, military neutrality was written into law, and NATO saw little if any threat from Russia. That situation has been reversed. NATO is beefing up its defenses in the Baltic states. Ukraine's new leaders went ahead and signed the EU trade deal, along with Moldova and Georgia. And on Feb. 7 the parliament in Kiev voted to write the goals of joining NATO and the EU into the constitution. With voters in Crimea and the Donbass no longer casting ballots, Russia-friendly parties aren't serious contenders in Ukraine's elections in March and October.
For the countries that joined the EEU, the results have been disappointing. That's mainly because of the impact of a decline in Russia's currency and economy, which have suffered under the weight of Western sanctions and weaker oil prices for most of the organization's existence. By 2017, Russia was the top export destination for just one ex-Soviet state, Belarus. All the rest sent more to the EU or China.
Moscow still has leverage over its neighbors, given its territorial breadth, energy supplies, military might, and the large Russian-speaking communities in some of these countries. It can also rely on corrupt elites, migration, and weakening Western support for the former republics to keep them in a kind of purgatory—neither democratizing to integrate with the West nor joining Russia's sphere. Moldova, preparing for a parliamentary vote, tells this murkier story.
Vladimir Cebotari, vice president of the ruling Democratic Party (PDM), says Putin could be close to a big victory on Feb. 24. Ten years after the small wine-producing nation made a clear choice to integrate with Europe, "that path is now in question, and it could be reversed" if the pro-Russian Socialist Party wins a majority, says Cebotari at his party's plate-glass headquarters in the capital, Chisinau. With young women in black dresses staffing desks and bustling through the corridors, the building has the improbable feel of a Bond movie.
A few blocks away, Socialist Party leader Zinaida Greceanii is as alarmist as her opponent: "At stake is nothing less than whether Moldova should exist as a country on the map," she says. She accuses Cebotari's party of conducting secret negotiations to merge the country with neighboring Romania, an EU member. (Most of Moldova was part of Romania before World War II. Both governments deny any plans to reunite.) Socialists already hold the presidency—Igor Dodon was elected in 2016—and the party leads in the polls for parliament. He has since signed Moldova up for EEU observer status and won a promise from Moscow to relax punitive trade restrictions—a clear signal of benefits to come if the country votes the right way.
Yet the West-vs.-Russia drama that the two parties are tapping into ahead of the vote looks tired. Moldova risks simply being stuck in an economically stagnant limbo. That could be in Ukraine's future, too, as disappointment rises over the slow pace of change—despite two pro-democracy revolutions. In both countries, oligarchs who captured economic and political power in the 1990s continue their hold on the political system, blocking reform. Ukrainian President Petro Poroshenko is worth $813 million, according to Bloomberg data. In Moldova, Vladimir Plahotniuc, chairman of the PDM, is the country's richest man; he also owns four of the five national TV channels, according to an official 2016 report.
Europe is losing patience with supposed champions of democracy who repeatedly turn out to be interested in holding on to power to enrich themselves and their supporters. A $1 billion Moldovan bank fraud exposed in 2014 landed a previous "pro-European" oligarch-cum-prime minister in jail. Last year the EU threw up its hands and suspended $113 million of planned aid. The European Parliament was infuriated by the passage of a law in Moldova that favored the PDM in the coming election, another law providing amnesty for officials with unexplained gains, and the voiding of a pro-democracy candidate's victory in Chisinau's mayoral election last year. In September the PDM changed its party branding from pro-Europe to pro-Moldova—the same as that of the Socialists.
"Russia wants us in this gray area," says Maia Sandu, a leader of the Acum movement that grew out of protests against the bank fraud. "So long as these countries are dirty and nontransparent, that's good enough for Moscow. So long as Moldova's government says it is pro-European, Putin can just point at us and say: 'See? That's what it means.' "
Sandu also thinks the elections are a potential watershed, although not because Moldova risks getting swallowed up by its neighbors. Any government that jeopardized Moldova's roughly 70 percent trade or visa-free travel with the EU to please Moscow would be committing political suicide. Russia's $1.6 trillion economy can't offer the same enticements as the EU's $17 trillion bloc. Rather, she says, the Socialists and PDM are in cahoots to keep true reformers—who'd threaten both parties with financial loss or prosecution—out of office. The vote, she says, is a last chance to get on a democratic path.
It wouldn't be the first such last chance for Moldova, but Sandu could be right. Voters are changing. An estimated quarter of the population has left the country—many to the EU, taking advantage of passports issued by Romania. Half-empty villages with mainly the elderly left behind are the result. A December poll found that 49 percent of Moldovans regret the fall of the Soviet Union, compared with 21 percent who don't.
Moldova's dysfunction may serve Russian interests for now, but it doesn't amount to victory. Moscow is steadily losing influence across the former Soviet Union, according to Thomas de Waal, a senior fellow at the Carnegie Endowment for International Peace. The emerging multipolar world has given governments in places such as Georgia, Moldova, and the Central Asian Republics more options to balance against the Kremlin, as China and Turkey enter their economies. Some countries are diversifying their energy supplies to reduce dependence on Russia. And younger generations aren't necessarily learning to speak Russian, once the lingua franca. "Ten or 15 years ago, someone in the Kremlin could pick up a phone and call a whole network of people they knew in these governments," says de Waal. Even in friendly, dependent Armenia, he says, "they don't have that anymore."
To contact the editor responsible for this story: Howard Chua-Eoan at hchuaeoan@bloomberg.net