When Brad Pitt Tried to Save the Lower Ninth Ward
(Bloomberg Businessweek) -- In the months that followed Hurricane Katrina in 2005, there was much ­discussion about how to rebuild the New Orleans neighborhoods devastated by flooding. Some even questioned whether certain areas should be rebuilt at all: The city's population would likely be smaller; perhaps its footprint should be revised? The Lower Ninth Ward, for instance—a working-class black neighborhood ravaged when a floodwall failed—might be a lost cause, some said, because it was so severely damaged.
Neighborhood residents and activists pushed back, insisting the Lower Nine deserved rebuilding. One of the most high-­profile efforts to do so came from an unlikely figure: Brad Pitt. In 2007 the actor founded the Make It Right Foundation, a nonprofit whose mission was to build affordable housing to help Lower Nine residents come home. Attracting designs from prize-­winning architects and committing to the highest energy-efficiency standards, Make It Right pledged to build 150 residences. As Pitt later wrote, the organization aimed to make "a human success story of how we can build in the future, how we can build with equality, how we can build for families."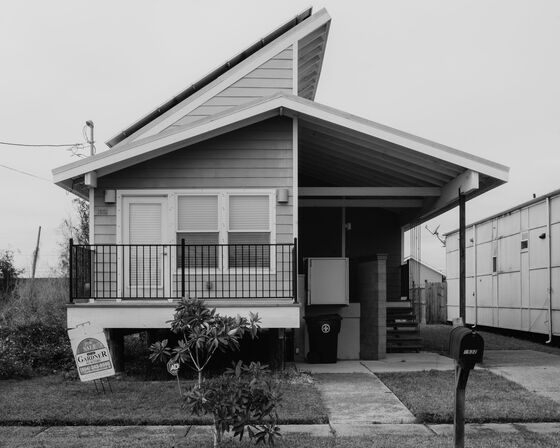 Over seven years, 106 houses were completed (three were duplexes, making the total number of residences 109). But somewhere around late 2015, new construction came to a standstill. Since then, little by little, the story of the project has changed. Residents have complained about flaws in design, construction, and materials; last summer a house had to be demolished. "Make It Right seems to have made it blight," a local investigative publication, the Lens, sneered. Even Architectural Digest, which years earlier had praised the project effusively, asked, "Where Did Brad Pitt's Make It Right Foundation Go Wrong?" The organization seemed to fall silent. A spokesman for Pitt declined to comment for this story. Attempts to get Make It Right officials, former executives, and various associated lawyers to comment on the record were unsuccessful.
In short, Make It Right has gradually evolved from a bold example of design's potential to solve problems into a cautionary tale. The lasting lesson of the project may be that the excitement that flows from flashy opening fanfare can only do so much. The test is everything that follows.
Pitt came to know New Orleans during shoots for movies such as The Curious Case of Benjamin Button; in 2007 he and Angelina Jolie bought a house in the French Quarter. After Katrina, Pitt decried the injustice of the Lower Ninth Ward suffering because a federally guaranteed floodwall had failed.
Floodwater from the industrial canal wiped out block after block of homes, many built between the 1920s and '70s. The "Lower" name refers not to the area's elevation, which at its lowest is still higher than low spots in the Gentilly and Lakeview neighborhoods, but rather to its orientation to the Mississippi: It's on the down­river side of the canal. Rebuilding in the area lagged, and when government programs proved inadequate, a slew of nonprofits emerged.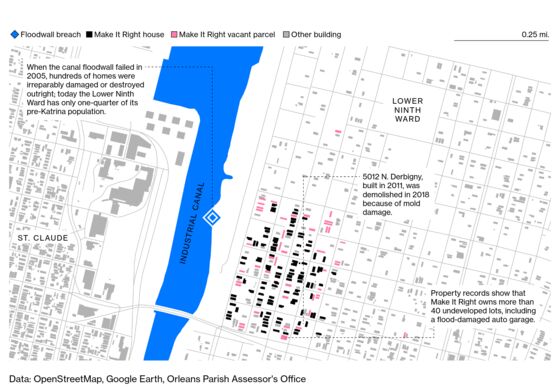 Pitt connected with green-focused initiatives to rebuild in the Lower Nine. With an evidently genuine interest in architecture, he was able to attract designs from both local architects and some of the field's best-known global names: David Adjaye, Shigeru Ban, Frank Gehry, Thom Mayne. He was also willing to listen, recalls Steven Bingler, of Concordia in New Orleans, one of the Louisiana architects brought in early on. Bingler helped organize community meetings that led Make It Right to prioritize former residents of the most devastated chunk of the neighborhood. Pitt, Bingler says, was "100 percent committed" and willing to make tough decisions.
The new houses weren't free, but at about $150,000 (and often generously financed), they were much less than they cost to build. Featuring solar ­panels and other energy-­efficient details, they promised low utility bills. The designs were modernistic, with idiosyncratic rooflines. Make It Right ­buyers could pick the model they wanted. Pitt committed $5 million of his own money, and his star power helped to draw big donations at ­celebrity-studded galas, plus financial support from the Clinton Global Initiative and other sources. By 2009, with millions in funding, the project had completed its first half-dozen homes.
At its founding, Make It Right worked with Cherokee Gives Back—a philanthropic offshoot of the Cherokee Fund, a North Carolina private equity company specializing in cleanup and redevelopment of contaminated sites—on construction planning, logistics, and back-end organizational support. Tom Darden, the son of Cherokee's founder, became Make It Right's executive director. Youthful and confident, Darden presented a charismatic face for the organization. Plenty of residents seemed to be fans: "He cared about us," says Kamaria Allen.
But multiple sources who worked with the organization say its early years were better intentioned than they were managed. Thom Pepper, executive director of Common Ground Relief Inc., a nonprofit formed shortly after Katrina that was a member of Make It Right's advisory committee, recalls the foundation spending lavishly on equipment rental and other overhead. "They would have us come to these brunches at Tipitina's," he says, referring to the New Orleans music venue. Common Ground built one Make It Right house, but the process was chaotic, with design specs that seemed to change daily. Pepper says the group chose not to build for Make It Right again.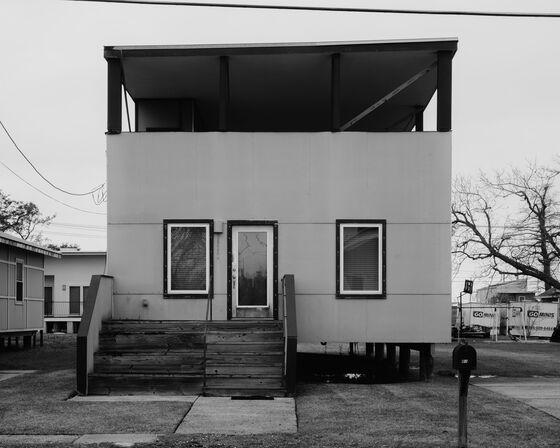 A confidential May 2014 Make It Right board report suggests the organization, which had so far taken in $48 million in gifts and grants, was grappling with money problems. Make It Right by then employed 27 staffers and eight independent contractors to manage work on 100 or so houses. The report noted that an upcoming fundraising gala, featuring Bruno Mars, Chris Rock, and other stars, was lagging financial expectations.
Back in the Lower Nine, five years after the first houses went up, "unexpected repair costs" totaled $1.8 million, the report said. Notably, 37 decks and porches had been "identified to have structural issues involving product failure." These were, the report said, mostly connected to an experimental lumber product called TimberSIL. At the time, 19 decks had been replaced at a cost of roughly $500,000. Make It Right later sued the maker of TimberSIL, then settled, though the details are confidential.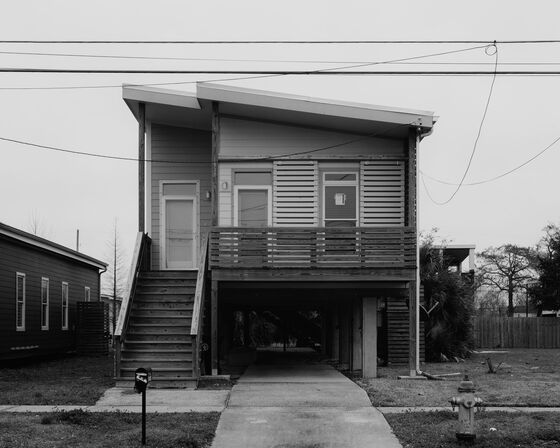 The problems weren't universal or insurmountable, one former Make It Right employee says, but the organization was focused on a happy public image. "They just didn't want to say: 'Sorry, we screwed some things up,' " this person says. Bus tours rumbled through the area, offering a peek at name-brand architecture in what had been a disaster zone. In August 2015, Pitt told the Times-Picayune, "I get this well of pride when I see this little oasis of color and the solar panels" and when residents tell him of their low utility bills. "It's a reminder of why we push like we push. It makes it all worthwhile." This seems to have been his last substantial public comment about Make It Right.
Multiple observers say 2016 marked a kind of turning point for Make It Right's relationship with the neighborhood. Darden left, with no public explanation. The neighborhood meetings Make It Right used to host petered out. The organization stopped talking to the press; residents say they were ignored. Its website fell out of date and is peppered with dead links, and the nonprofit doesn't appear to have made the requisite tax filings for a 501(c)(3) since 2015. In September 2016, Pitt and Jolie announced their divorce, and subsequently sold their New Orleans property. The foundation's staff dwindled to a handful. As Pepper, of Common Ground, recalls, "All of a sudden, nobody's there."
Allen now shares a Make It Right-built house with her ­parents and brother. It's on the same lot, she says, as the house she grew up in. She and her family are precisely the kind of Lower Nine residents the nonprofit was meant to help.
Allen bought a Make It Right house of her own in 2011 for $130,000, one of several in the neighborhood designed by Adjaye Associates of London that featured a top-floor deck covered by a flat roof. She loved it, but within months mold and mushrooms started cropping up inside. She says Make It Right didn't make the structural and material changes she believes were needed to fix the problem permanently. In 2013 the organization agreed to buy the house back from her. Almost six years later, it remains vacant, with the lawn neatly trimmed, but the flat roof notably bowed. Flat roofs feature in several of the most troubled Make It Right properties; critics say they're a bad idea in New Orleans, which endures much heavy rainfall. Adjaye Associates didn't respond to a request for comment.
Another owner, Constance Fowler, bought her Make It Right home in 2014, when the organization started making them available to teachers and first responders as well as former Lower Nine residents. She became concerned about a Make It Right home next door that was no longer occupied. An extensive repair process had stalled, and Fowler says the house stood half-complete for more than a year, its roof removed and replaced by a tarp. Convinced it was a mold-spawning health hazard, Fowler—who hasn't had serious problems with her own house—complained repeatedly to the city. Make It Right paid for the building's demolition.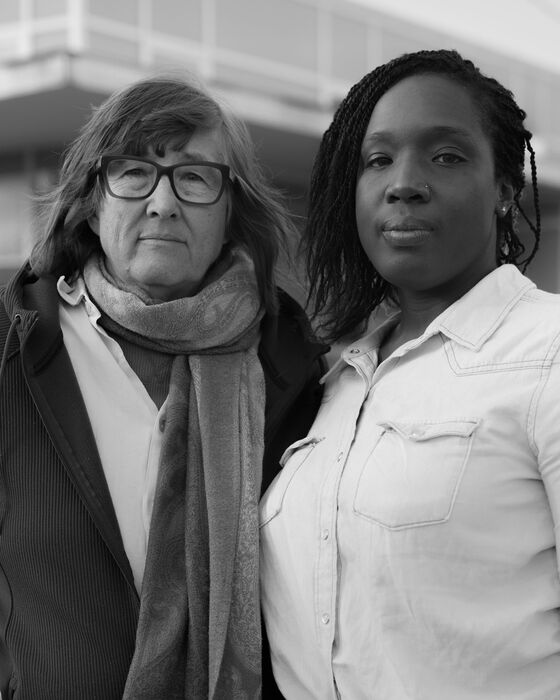 Fowler walked me around the neighborhood, pointing out potential problems and past repairs. Working with a visiting graduate student doing a thesis on Make It Right, she's compiled a spreadsheet detailing the problems. Of the 105 remaining Make It Right structures, she says, 44 have undergone notable renovation or repair—material replacement, flat-porch roofs remade at an angle. An additional 17 show evidence, in her judgment, of mold or rot. At least six are vacant. In 2016 and 2017, multiple residents say, Make It Right sent an engineering team to inspect its homes but never shared the results, even with residents who asked repeatedly.
In September attorneys filed a lawsuit seeking class-action status against Make It Right on behalf of two property owners. It argues that the nonprofit should be on the hook for full repairs under Louisiana's New Home Warranty Act, plus additional compensation for mental distress. Make It Right has filed to have the suit moved to federal court, and Pitt and other named defendants have introduced motions to have themselves removed from the case.
The same month the nonprofit did some finger-pointing of its own, filing a lawsuit against John C. Williams Architects, the New Orleans firm that, according to the complaint, served as the project's executive architect and was ultimately responsible for the final technical drawings used to build most of the Make It Right houses. "Moisture and water intrusion problems," among other issues, the suit alleged, were the result of "defective design work" by Williams. "Rectifying the problems for all impacted homes is estimated to cost at least $20 million," it claimed. The firm's namesake founder, who'd defended the project against critics in the past, issued a statement calling the suit "shocking and insulting" and has moved to have it dismissed on technical grounds.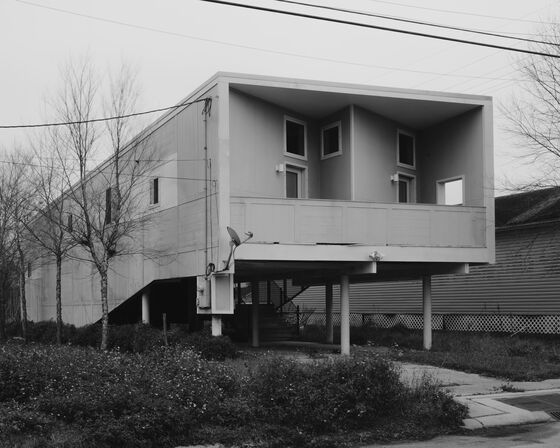 Neither Fowler nor Allen has joined the lawsuit, which they see as more beneficial to lawyers than residents. Fowler wants the city government to get involved. Allen wants Make It Right to address lingering problems. She cites a variety of mold and ventilation issues at her parents' house and health problems she and her family endure. The organization simply stopped returning her calls, she says. She's tried to persuade her parents to abandon the property. "We could rent something," she says. "I would just walk away."
If Make It Right's debut attracted oversize praise, maybe now it's attracting oversize criticism precisely because of its flashy origins. While it remains silent, some residents, steadfastly committed to the neighborhood, say criticism of Make It Right is overblown. Robert Green is one. Outspoken and energetic, he's become a kind of neighborhood figurehead. He grew up in the Lower Nine, lost his mother and a granddaughter in the flood, and lived in a Federal Emergency Management Agency trailer on his family's land when the area had been reduced to acres of rubble. He's a fierce advocate for what Make It Right has accomplished. Darting around his airy living room, he picks through memorabilia and press clippings. "They came in, and they built houses!" he says.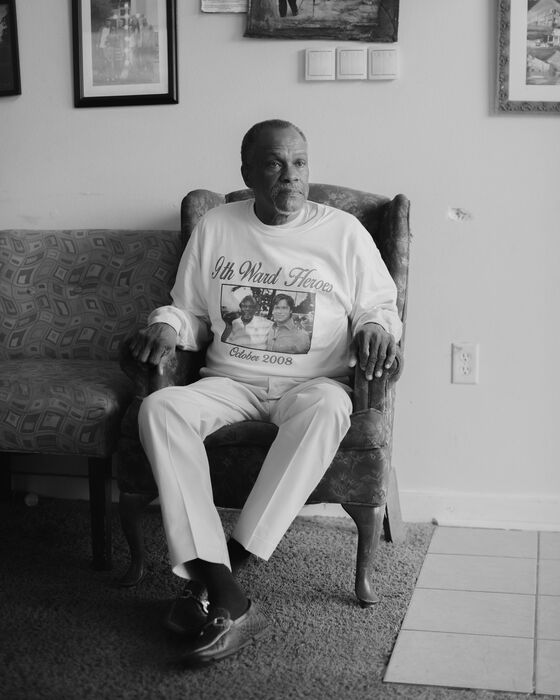 He points out a set of stone steps, the last remnant of the house his family owned for decades. "They were able to help us come back," he says. "It wouldn't have happened without Make It Right."
Pepper, of Common Ground, says most of the homes, reflecting homeowner pride, seem well-maintained. Bingler, whose Concordia architecture company was among the first asked to participate, hasn't been in touch with anyone from Make It Right in years. The 10 homes his company designed—with a pitched roof and prominent, New Orleans-style front porch—have had only routine maintenance issues.
More important than any problems with Make It Right's 100 or so houses, Green says, "are the 3,000 houses that are not here." Now there's at least a sense of a place coming back. "I would much rather have a house to complain about," he says, "than no house at all. And I'm not complaining."
New Orleans attracted a swarm of well-­intentioned charitable or quasi-­charitable efforts after Katrina, often involving people from outside the region. Many of these efforts sputtered out or flat-out failed. But some organizations have persisted.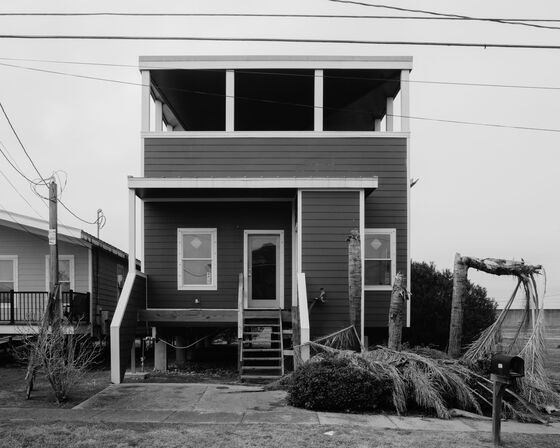 Right around the time Make It Right was getting under way, Barnes & Noble Inc. founder Leonard Riggio started Project Home Again to build houses for residents of Gentilly who'd lost their home. Riggio wasn't interested in fanfare; there were no galas and relatively little press. Home Again fulfilled its mission—building 101 houses—and kept going. Its designs were simpler and less conspicuous, and its structure and relationships made it possible to transition to a successor organization, Home by Hand, which builds affordable housing across the city. These efforts have resulted in 171 houses, with plans for dozens more and a pipeline of more than 130 qualified buyers.
Oji Alexander, Home by Hand's executive director, emphasizes that he has nothing critical to say about Make It Right, whose mission he admires. But he does note the importance of open communication, especially with the people his project means to serve. "Folks call us before they go to the paper," he says. And more to the point, someone answers.
To contact the editor responsible for this story: Max Chafkin at mchafkin@bloomberg.net, Dimitra Kessenides