What Democrats and Republicans Drink on Mardi Gras
(Bloomberg Businessweek) -- Today, millions of Americans—especially New Orleanians—will celebrate Mardi Gras by partaking of their favorite alcoholic beverage. In many cases, lots of beverages. As with so much else in American life these days, what people choose to drink on Mardi Gras has a lot to do with their political preferences.
In light of the holiday, Will Feltus, a senior vice president for research at National Media, a political ad-buying firm, crunched two years' worth of Scarborough Research data to examine the alcoholic polarization of the American electorate and figure out who drinks what.
The chart below illustrates the results, ranking drinkers according to their partisanship and proclivity to vote: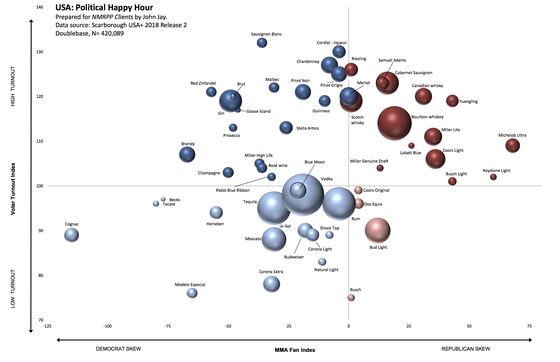 Democrats will be heavy consumers of cognac and brandy, both favored by African-American drinkers, who overwhelmingly lean left. Mexican beers such as Corona, Tecate, and Modelo Especial are also popular with Democrats, especially those who don't turn out regularly on Election Day—that is, they're popular with young people, whose turnout numbers lag behind older groups. And because Heineken drinkers are concentrated in the Northeast—not friendly territory for Republicans—they, too, skew Democratic.
Republicans have an entirely different alcoholic profile. "They're big bourbon drinkers," Feltus says, "and bourbon is most popular in the Republican South." GOP voters also tend to be older than Democrats and therefore more likely to be paying more attention to their expanding waistlines, which explains why a watery light beer like Michelob Ultra is the most Republican-skewing drink on the chart. Miller Lite, Coors Light, Bud Light, and Busch Light aren't far behind. (Feltus says this trend is also evident among nonalcoholic drinks: Republicans are also big consumers of diet sodas.)
I asked Feltus what stands out most to him about his research. "Well," he said, "based on the number of blue bubbles vs. red, it's clear that Democrats are drinking more than Republicans." Who could blame them?
If you're headed to a parade or the bar tonight to celebrate Mardi Gras, keep an eye on what folks are drinking and maybe you can meet some fellow partisans. Feltus's data could be the basis for a good party trick.
But it doesn't reveal everything. "The real question," says Feltus, "is what they'll be drinking tomorrow to get over their hangovers."
To contact the editor responsible for this story: Jillian Goodman at jgoodman74@bloomberg.net