Wall Street's Biggest Traders Are Building Their Own Exchange
(Bloomberg Businessweek) -- Does the U.S. need another stock exchange? There's no shortage of places to trade: Nasdaq, Cboe Global Markets, and Intercontinental Exchange Inc.'s NYSE division each run multiple public exchanges, and there are dozens of private markets housed inside banks. Even so, a group of Wall Street trading titans has announced plans for a platform that it's calling the Members Exchange. And despite the crowded field, there's a good chance it could take off—after all, the owners likely will be among the customers.
Like most exchanges these days, the Members Exchange will be largely invisible to everyday investors. Relatively few stocks are traded on the famed New York Stock Exchange floor. Almost all the action takes place on electronic markets housed in fortresslike data centers in New Jersey. Regulations require that brokerages and trading firms get the best possible prices for customers, which in practice gives them little choice but to connect to all 13 exchanges and pay any fees they charge for market data and other services. Traders would like this to cost less, and their proposal to open a new platform appears to be a salvo in that battle.
Among the nine companies behind the Members Exchange are Citadel Securities and Virtu Financial Inc., which probably handle about 40 percent of the market's trading volume, often on behalf of better-known retail brokers. Fidelity Investments, Charles Schwab, Morgan Stanley, and Bank of America are some of the other backers. The exchange still hasn't filed for regulatory approval, so it likely can't open until late this year or 2020. But if big players are able to direct trades its way, then "NYSE, Nasdaq, and Cboe will be in significant pain," says Bill Karsh, who once ran Direct Edge, an earlier upstart exchange.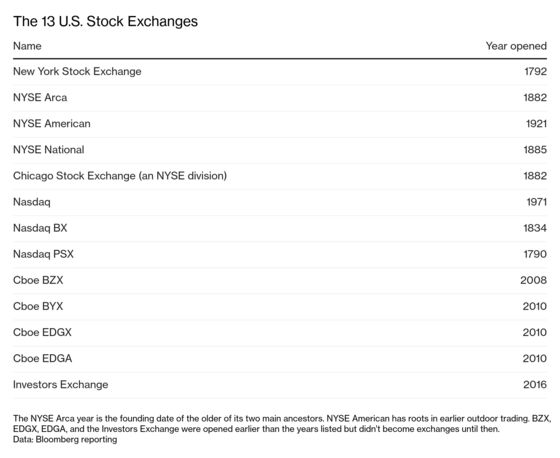 Banks, brokers, and traders have complained about the cost of getting data feeds from most of the exchanges. (Bloomberg LP, the parent company of Bloomberg Businessweek, has also contested some of these fees with regulators.) Virtu last year noted it can cost a trader $3.2 million a year for a single vital category of feeds from exchanges. Exchanges say they provide a lot of value for what they charge. Nasdaq Chief Executive Officer Adena Friedman said in October that exchanges, by fueling a shift toward automation, have helped bring down investors' costs dramatically. "The reality is that most Main Street investors pay nothing for quote and trade data, while the cost of retail commissions have been falling," she told analysts on a conference call.
The Members Exchange's backers have promised lower pricing on data and other fees. The threat of drawing away business could give its founders a bargaining chip in their efforts to get the incumbent exchanges to cut such costs. In that sense, the Members Exchange might succeed even if it never opens. But actually turning on the switch could give its backers a stronger voice in future debates about how exchanges work. "This really is a culmination of a lot of frustration that has been vocalized but fallen on deaf ears in the exchange world," says Joe Wald, the CEO of Clearpool, whose software designs trading algorithms for customers. A Members Exchange spokesman declined to comment.
Whatever happens in the fee dispute, the history of Cboe suggests that the Members Exchange could win market share. Cboe's stock exchange business stems from two startups that emerged in the mid-2000s, Direct Edge and Bats. Before they were part of Cboe, they were funded by some of the biggest trading firms in the country at the time.
Direct Edge was founded in 2005 by a predecessor company of Virtu. The business had captured less than 1.5 percent of U.S. trading by July 2007. Then it brought in two more big investors: Citadel and Goldman Sachs Group Inc. They flooded the business with volume, and its market share exploded, surpassing 10 percent in 2009. Today, Cboe's stock exchange business has almost a 20 percent market share.
If the Members Exchange replicates that model, it doesn't mean the big traders can just stick to their own exchange and ignore NYSE, Nasdaq, and Cboe. They'll still have to be connected to all these platforms. Mehmet Kinak, the global head of systematic trading and market structure at mutual fund company T. Rowe Price Group Inc., isn't convinced a new exchange is a good idea. By adding another place that big investors have to connect to, it makes the web of exchanges more complicated. "If it looks like any other venue but with lower operating costs, I don't know if that benefit outweighs the fragmentation concerns," he says.
To contact the editor responsible for this story: Eric Gelman at egelman3@bloomberg.net, Pat Regnier