Wall Street Is Desperate for Wonks Who Can Explain the Rise of Populism
(Bloomberg Businessweek) -- Better Markets, a left-leaning Washington think tank, describes itself as a watchdog over Wall Street. Nowadays, many of the people seeking its advice are Wall Streeters themselves.
There's been a "a very big uptick" in fund managers reaching out to talk, says Dennis Kelleher, co-founder and chief executive officer of the group, which advocates for financial-services reforms. He says his unanticipated visitors tend to have one thing in common. They're alarmed—very belatedly, in Kelleher's view—by the populist turn in U.S. politics, and they're struggling to figure out where things are headed next. Talking to groups with alternative views is one way to get a sense of that. "You have this ongoing economic insecurity that is eroding confidence in Wall Street and the American economy," says Kelleher.
For decades, there was broad agreement in Washington that prosperity is built on unfettered global commerce, restrained federal budgets, and central bank independence. Those certainties were shaken by the financial crisis—and they've been largely abandoned under President Donald Trump, who appears to disagree with them all. At the same time, more Democrats are embracing policies, such as universal, single-payer health care and wealth taxes, that were once regarded as radical.
Trumponomics has delivered decent returns for financial assets, so far. Trade war, an expanding national debt, and repeated sniping at the Federal Reserve have unnerved plenty of investors. Still, contrary to predictions by some economists, stocks have soared under the new regime. Populist policies cut both ways, say analysts at Oxford Economics in London. Looser budgets boost growth and could help lift inflation, something central banks have been unable to do. At the same time, institutions and global agreements are under threat. "Longer term," the analysts wrote, "we fear populist policies may spur decay rather than regeneration."
In the shorter term, there's a presidential election coming up, and investors who got blindsided in 2016 are starting to wonder if another, potentially less market-friendly phase of populism might be in store. There's a sense that the genie of economic change is now out of the bottle.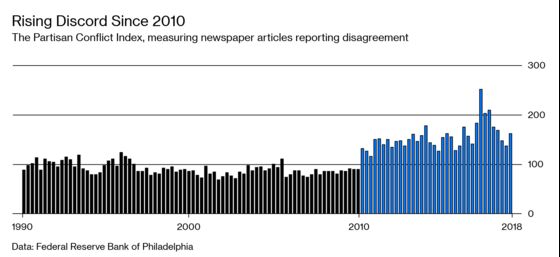 Think tanks aren't the only go-to source for investors worried about such matters. There's a small industry in Washington providing political analysis for investors, and they say they've been doing an unusually brisk business. Andy Laperriere, head of U.S. policy research at Cornerstone Macro LLC in Washington, says Wall Streeters typically wait until Labor Day in an election year—when the vote is a mere couple of months away—to start placing bets on ballot outcomes. Right now, they're running more than a year ahead of that schedule, says Laperriere. They're riveted by candidate proposals and hungry to know how in-party sentiment is swinging. "When I do a piece on 2020, people are all over it," he says. And health-care stocks have already been hammered, thanks to rising support among Democrats for Medicare for All.
To be sure, legislation for universal health care, even though it has about 100 House sponsors, may end up going nowhere. Plenty of investors are betting that the center will hold. They can point to early polling that shows former Vice President Joe Biden the clear frontrunner among Democrats. His association with the Obama administration, whose policy agenda is already a known quantity, is reassuring to some investors. "Many more ideas are likely to be aired," says Ellen Hazen at F.L.Putnam Investment Management in Wellesley, Mass. "But the ultimate path forward for policy may not be so different." Hedge funds expressed a similar view by snapping up battered health stocks.
But health care is just one of many electrified issues looming in 2020, from climate change and deepening income inequality to the debt burden on U.S. students. The Democrats' proposed fixes aren't all well-defined at this stage—but even the watered-down versions represent substantial changes. Elizabeth Warren supports a wealth tax, and on June 4 proposed replacing the Department of Commerce with a Department of Economic Development focused on jobs. Bernie Sanders backs a Green New Deal, and both of them—along with Kamala Harris and Cory Booker—have signed up to plans for loan-free college. Meanwhile, Trump is intensifying his war on immigration by slapping tariffs on Mexico, a move that immediately rattled markets.
The sense that something's shifting in capitalism isn't confined to American investors. At Deutsche Bank AG, Chief Economist Torsten Slok finds his number-crunching is regularly interrupted by clients from Copenhagen to Hong Kong asking about politics. Many of their questions are tough to answer because "we just don't know what form and what shape populism will come in," he says. "It's a new uncertainty, it's very uncomfortable, and it's everywhere."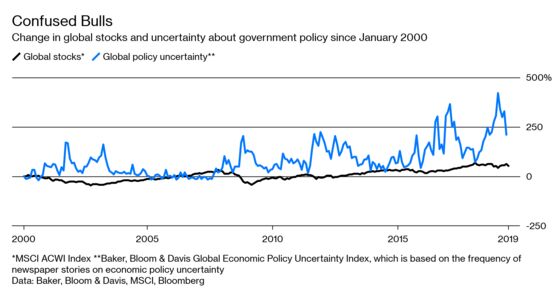 In the U.S., discomfort has deepened, even though the economy is about to break records for the longest expansion ever, with inflation subdued, unemployment rates near historic lows, and wages finally picking up. How else to explain the calls from champions of economic orthodoxy, such as Larry Summers and Olivier Blanchard, for closer cooperation between the politicians who draw up budgets and the central bankers who set interest rates—once a kind of taboo? Senator Marco Rubio, a Florida Republican, has even published a long white paper ripping shareholder capitalism. That ethos, which says that companies should act to maximize return to investors, has been dominant for decades. But Rubio says it "reduces investment in research and innovation, and undervalues American workers' contribution."
If investors have a nagging sense that all these problems will get addressed one way or another, and that business models will likely be upended in the process, Kelleher says they're right. He predicts the 2020 outcome will hinge on who can tap into the insecurities eating away at American capitalism. "The view on Main Street right now is the economic and political system works for the well-connected—epitomized by the lords of Wall Street," he says. "There are tectonic shifts going on this country."
To contact the editor responsible for this story: Margaret Collins "Peggy" at mcollins45@bloomberg.net, Ben HollandPat Regnier