U.S. Consumers Are the Economy's Best Hope Against Recession
Consumer spending makes up almost 70% of the U.S. economy—a higher percentage than almost every other country. (In China, it accounts for about 40%.) And while the propensity of Americans to shop has long been crucial for economic growth, it's particularly the case now.
That's because companies have pulled back, hiring at a slower pace and postponing long-term investments. In the second quarter, business spending declined for the first time since 2016. Manufacturing, which was booming two years ago, is constrained after contracting earlier this year. A good deal of the blame appears to fall on President Trump's trade wars, which have increased costs and created uncertainty for businesses. The strong dollar hasn't helped. Also, political risk is on the rise as the country heads into an election year with an incumbent facing possible impeachment.
Despite all that, the overwhelming majority of economists, including Bloomberg's own, aren't predicting a recession in the next 12 months. Forecasters are counting on Americans to keep spending—just like in 2015 and 2016 when they powered the economy through weakness in the energy and manufacturing sectors. Household consumption grew an annualized 4.6% from April to June, the fastest pace since the final quarter of 2017. That reflects a simple reality, according to James Sweeney, chief economist at Credit Suisse Group AG. "Households are employed, and their incomes are growing," he says. And inflation isn't eating away at those gains.
The unemployment rate, at 3.5%, is the lowest since 1969. And while job creation has slowed this year to an average of 161,000 a month, from 223,000 in 2018, it's still running above the rate of expansion in the working-age population. Some employers are finding it difficult to fill open positions, which now top 7 million. The upshot is that workers have more leverage: The number who are quitting for better-paying jobs is at near-record levels, a trend that's helping boost wages.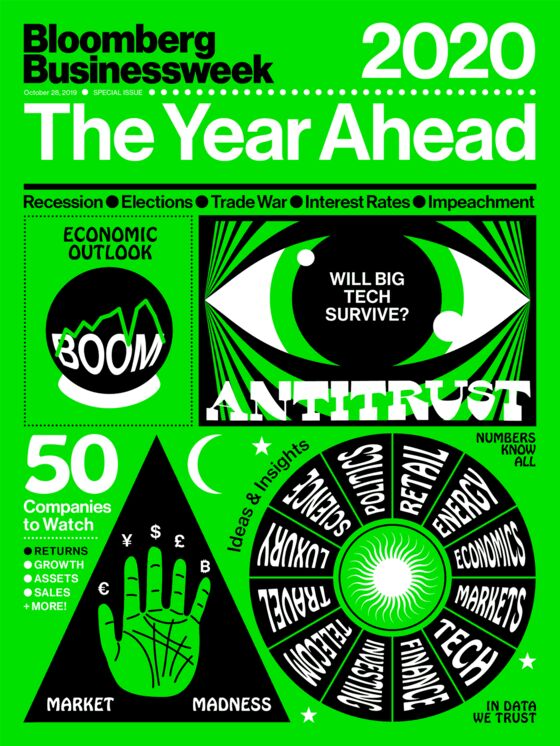 Consumer confidence, as measured by surveys, is near historic highs. The National Retail Federation has pegged this year's increase in holiday sales at 3.8% to 4.2%, up from an average of 3.7% over the last five years.
But peer closely and you'll see some cracks, says Seema Shah, a senior analyst at Bloomberg Intelligence. The strong earnings posted by Walmart Inc. and Target Corp. are a sign that more people are hunting for bargains, which could foreshadow a pullback. There's weakness across discretionary sectors such as luxury, furniture, and middle-tier apparel. Years of rising home values spurred Americans to splurge on remodeling, but those gains have decelerated for more than a year, and prices in once-hot markets such as Los Angeles and New York are stagnant or in decline.
Americans also have loaded up on credit card debt. "It's just a matter of time until it catches up with people," says Shah, who reckons that some 40% are on the edge of having to cut back on spending.
Stephen Gallagher, chief U.S. economist for Société Générale SA, is one of the few forecasters calling for a recession next year based on labor market dynamics. "The combination of fewer hires, possibly more layoffs, and a weakened confidence in the job outlook is very likely to cause the consumer to retrench," he says.
U.S. consumers may also bring on a recession if they begin to believe a downturn is coming and cut back, according to Bloomberg senior U.S. economist Yelena Shulyatyeva. Many Americans have no other reference point than the Great Recession. It's likely that the next downturn will be milder, but that won't stop people from fearing the worst. Says Shulyatyeva: "It could actually become a self-fulfilling prophecy."
To contact the editor responsible for this story: Cristina Lindblad at mlindblad1@bloomberg.net