Trump's Iran Policy Is Not Changing the Regime's Actions
(Bloomberg Businessweek) -- The U.S. struck yet another blow against Iran on April 22 when the White House announced it would end all sanctions exemptions for countries that import Iranian crude oil. "We're going to zero," Secretary of State Michael Pompeo said during a press conference on the policy change. Any nation that continues to buy oil from Iran, he said, will face its own sanctions. "We've made our demands very clear to the ayatollah and his cronies," he said. "End your pursuit of nuclear weapons, stop testing and proliferating ballistic missiles, stop sponsoring and committing terrorism."
The statements, coming almost a year after President Donald Trump pulled the U.S. out of the multinational nuclear accord with Iran reached in 2015, followed closely on the heels of an April 8 decision to label Iran's Islamic Revolutionary Guard Corps a terrorist organization—the first time the U.S. had given that designation to a government entity. Trump said the decision would "significantly expand the scope and scale" of the administration's campaign to weaken what it sees as one of the greatest threats to U.S. national security in the Middle East.
While Trump's predecessor, President Barack Obama, wanted to persuade Iran to change its policies by strengthening its links with the rest of the world, Trump's administration has followed the opposite tack, betting that economic isolation will force Iran to abandon ballistic missile development and change other behavior the president has called unacceptable.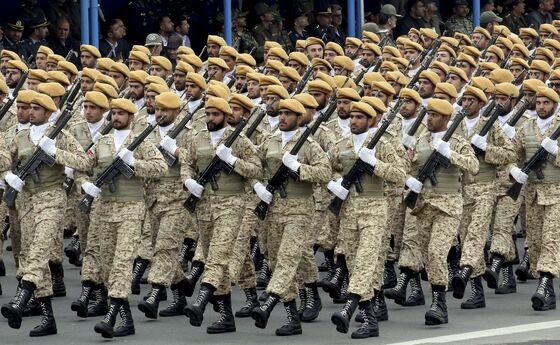 But the new policy isn't working. Iran provides Hezbollah with $700 million a year in funding, according to a U.S. official, and bolsters its military capabilities, furnishes financial and military aid to the Shiite Houthi rebels fighting the Saudi-led coalition in Yemen, and helps Syrian President Bashar al-Assad in his country's civil war. And despite assertions by U.S. officials in March that the sanctions against Iran's banking, energy, shipping, and aviation sectors were having their desired effect, Hezbollah is still the strongest force in Lebanon, the Houthis in Yemen regularly attack Saudi troops on the border, and the Assad regime is consolidating power.
"Iran is feeling a financial pinch, but there is no evidence the pinch has affected Tehran's ability or willingness to act as it does in the Middle East," says Paul Pillar, a former CIA officer who's now a professor at Georgetown University. "Iran does what it does in the Middle East not according to how much money it has, but instead according to what it sees as in its own security interests."
U.S. officials, including Pompeo on Monday, have demanded that Iran end support for groups like Hamas, which controls the Gaza Strip.
Relations with Shiite groups have become "one of the pillars" of Iran's regional policy, says Raffaelle Mauriello, a postdoctoral research fellow in world studies at the University of Tehran, and Iran is unlikely to give that up. Instead, the government is "trying to be resilient and wait for the storm to pass—and the storm is Trump," he says. "They are waiting for the next elections in the U.S."
The 100,000-strong IRGC, created after Iran's 1979 revolution, is deeply embedded in Iran's economy and is already under heavy sanctions imposed by the U.S. Iran's government has been on the U.S. list of state sponsors of terrorism since 1984, and the Guard's elite Quds Force has also been branded a terrorist supporter by the U.S. Widening the designation to encompass the entire army "gives the U.S. the ability to go after IRGC financial networks in a way that was off-limits before," says Theodore Karasik, a senior analyst at Gulf State Analytics in Washington.
Other U.S. policies in the Middle East, including the decision to move the U.S. Embassy in Israel to Jerusalem and to recognize Israeli sovereignty over the Golan Heights, have endeared Trump to Israel and brought only muted criticism from the Arab Gulf states, including Saudi Arabia, which view the Islamic republic as a threat to their regional ambitions. These countries have formed an unlikely, informal alliance in the region. Israeli Prime Minister Benjamin Netanyahu, who will serve as prime minister for a fifth term, backed Saudi Arabia after the killing of Washington Post columnist Jamal Khashoggi in October, and the U.S. administration has been reluctant to sanction the country over its dismal human-rights record under Crown Prince Mohammed bin Salman, its de facto leader.
U.S. sanctions are having an economic impact: Iranian oil exports are down, the currency has plummeted about 60 percent in the past 12 months, and foreign investors are steering clear—including China, which suspended investment in a natural gas project. The expiration of sanctions waivers will limit Iran's trade opportunities still further, which will make life more difficult for Iranians already experiencing shortages of meat, medicine, and gasoline.
Despite the economic hardship, Iranian conservatives are tightening their grip on power the way Iraq's former leader Saddam Hussein did when U.S.-backed United Nations sanctions crippled his economy for more than a decade. Less than two weeks after the terror designation, Iran's supreme leader, Ayatollah Ali Khamenei, appointed General Hossein Salami, a commander known for his bellicose rhetoric, as head of the Revolutionary Guard. In the wake of perceived threats, Iranian politicians are closing ranks and rallying behind the IRGC, and Iranian nationalism is also on the rise. Trump's maximum pressure policy "will mostly push Iran to translate its military power and influence into long-term economic cooperation to circumvent sanctions," says Heidarali Masoudi, assistant professor of international relations at Tehran's Shahid Beheshti University.
"The Guards are consolidating power because the national security environment in Iran justifies why they should take control of media, of intelligence, and the like," says Vali Nasr, dean of the Paul H. Nitze School of Advanced International Studies at Johns Hopkins University. "In an ironic way, Trump is achieving regime change in Iran, but not the one he wanted."
To contact the editor responsible for this story: Jillian Goodman at jgoodman74@bloomberg.net, Larry Liebert