Top Chef Judges Share Their Go-To Recipes for Pleasing Picky Eaters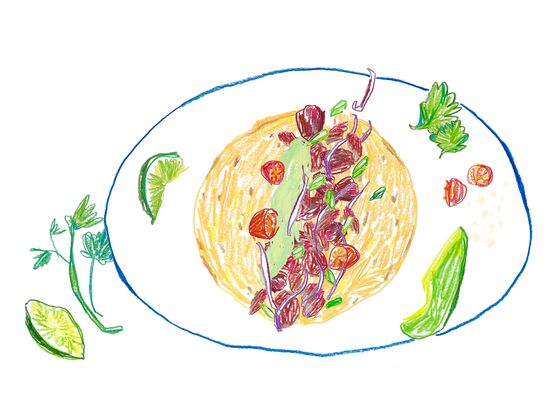 ¼ cup extra-virgin olive oil, plus more for grill
¼ cup chopped cilantro, plus more for garnish
2 garlic cloves, finely chopped
2 Tbsp very thinly sliced scallions
2 tsp coarsely cracked black peppercorns, plus more for seasoning
1½ lbs flank or hanger steak
Kosher salt
12 small corn tortillas, warmed
Avocado crema (recipe follows)
Toppings such as shredded cabbage, halved cherry tomatoes, crumbled queso fresco or shredded Monterey Jack cheese, thinly sliced radishes and scallions, pickled jalapeños, lime wedges, hot sauce
In a small baking dish, whisk oil, cilantro, garlic, scallions, and cracked pepper. Add steak, turn to coat, and let stand at room temperature for 30 minutes, turning once. Gently pat off most of the marinade, then season well with salt and pepper. Heat a grill or grill pan over medium-high heat and brush lightly with oil. Grill steak, turning once halfway through, until medium rare, about 5 minutes per side. Let rest for 10 minutes. Slice steak against the grain into ½-inch slices, then cut them crosswise into bite-size pieces. Serve with the tortillas, avocado crema, and toppings.
In a large bowl, mash 2 ripe avocados until creamy but with small chunks. Gently fold in ½ cup sour cream or plain Greek yogurt, the finely grated zest and juice from 1 lime, ¼ cup chopped red onion, ½ tsp cumin, and salt and pepper to taste.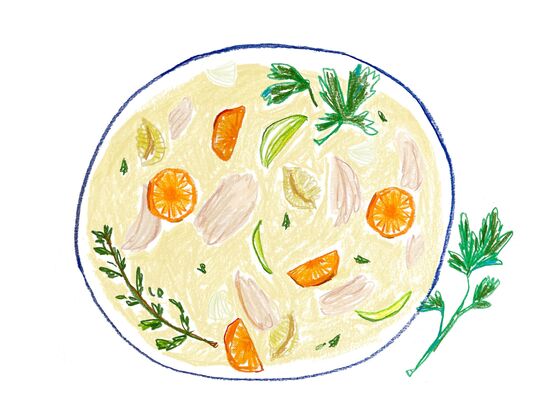 1 chicken, quartered, with bones intact, including necks and giblets
2 carrots, coarsely chopped
2 celery stalks, coarsely chopped
2 leeks, sliced into half moons
2 parsnips, coarsely chopped
1 onion, coarsely chopped
1 sprig fresh thyme
Kosher salt and freshly ground black pepper
1½ cups small shell pasta, cooked (optional)
Coarse sea salt
In a stockpot, combine 1 gallon water and the chicken and bring to a simmer over medium heat. Simmer gently, skimming regularly, until the broth is fragrant, about 30 minutes. Add vegetables and thyme and simmer another 20 minutes. Season with salt and pepper. Remove chicken from broth and shred the meat. Return to pot with vegetables. Add pasta shells if using. Ladle soup into bowls and season with more salt and pepper as desired.
Padma's Singapore Noodles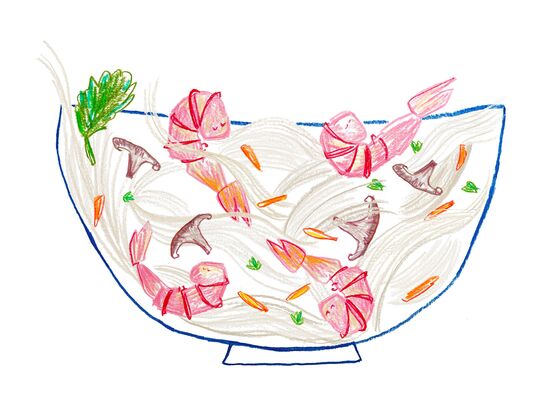 3 Tbsp sesame oil
1 cup diced onion
1 Tbsp freshly chopped ginger
1 tsp chopped garlic
1 tsp chopped fresh hot red chile
2 cups sliced shiitake mushrooms
1 cup shredded carrots
2 Tbsp soy sauce
1 Tbsp fish sauce
1 tsp curry powder
1 lb medium shrimp, peeled and deveined
4 oz cellophane rice noodles (vermicelli type), softened per package directions
1 cup chopped mint
In a large deep skillet, heat oil over medium-high heat to almost smoking. Add onion, ginger, and garlic and sauté 3 to 4 minutes. Add chile, reduce heat to medium, and cook 2 minutes. Add mushrooms and carrots and cook, stirring, for 2 minutes. Add soy sauce, fish sauce, and curry powder and cook 2 minutes. Add shrimp and stir 4 minutes, just until cooked through. Add noodles and toss well to combine. Right before serving, stir in mint.