The End of Tesla's Dominance May Be Closer Than It Appears
(Bloomberg Businessweek) -- He doesn't date a synth-pop star, publicly puff on blunts, or profess to want to die on Mars, but Herbert Diess is starting to look and sound an awful lot like Elon Musk.
The chief executive officer of Volkswagen AG kicked off a March 15 news conference modeled after Tesla Inc.'s "Battery Day"—Diess called his "Power Day"—by declaring that there's only one way to quickly reduce emissions from transportation: Go electric. Skeptics could be forgiven for raising their eyebrows at that message, coming as it was from the same carmaker that spent years gaslighting the world about "clean diesel." But VW is finally seeing the payoff from its five-year effort to create a standardized platform to underpin dozens of electric models. "Many in the industry questioned our approach," Diess said during the two-hour infomercial he led from VW's headquarters in the German city of Wolfsburg. "Today they are following suit, while we are reaping the fruit."
VW last year became the No. 1 electric-vehicle maker in Europe, where sales of battery-powered cars surged thanks to stricter carbon dioxide limits. After the introduction of the ID.3 hatchback in 2020, the ID.4 crossover—the first global model based on VW's electric platform—is starting to reach showrooms from Shanghai to Chicago. This year, VW plans to deliver 1 million plug-in hybrid and fully electric vehicles, and Diess aims to surpass Tesla in EV sales no later than 2025. Some analysts predict it will happen much sooner.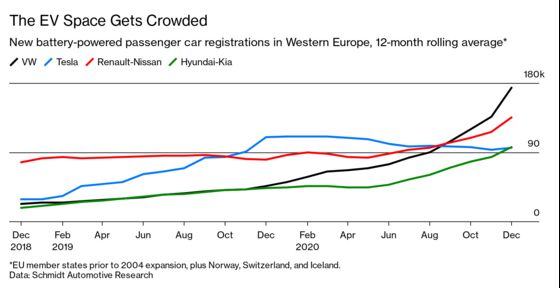 In addition to staging splashy events, mixing it up on Twitter, and spewing shameless bombast, Diess has something else in common with Musk lately: a stock price headed into the stratosphere. Sure, Tesla's sky-high valuation means Musk could afford to buy VW tomorrow if he so desired (he doesn't), but VW's common shares have jumped more than 80% this year. Musk has long said that he welcomes EV competition and that Tesla's mission was to accelerate the advent of sustainable energy. He got what he wanted.
EVs are shifting from what seemed like a one-man show to an extravaganza with an increasingly crowded stage. Although VW has as good a chance as anyone to share top billing with Tesla, what's less clear is the rest of the cast. General Motors Co. CEO Mary Barra sent her stock price soaring in January when she said she wanted to phase out gas and diesel cars by 2035. Many Chinese manufacturers are rolling out budget EVs, and Hyundai Motor Co. is planning almost two dozen models. Renault SA had a surprise hit in Europe last year with its Zoe, a battery-powered hatchback. In the U.S., Ford Motor's Mustang Mach-E is hitting showrooms, and Amazon.com-backed Rivian Automotive and Lucid Motors—a Tesla clone that's on track to raise $4.4 billion in funding—are seeking to replicate Musk's success.
Tesla has done to the auto industry what Netflix Inc. did to cable TV, speeding the shift away from internal combustion in much the same way easy access to Breaking Bad and hundreds of other shows spurred consumers to take the scissors to their Comcast contracts. But just as Netflix now sees a growing challenge from parts of the old guard—think Walt Disney Co. and HBO—incumbent automakers are starting to emulate the upstart. (Of course, cable TV companies also face a threat from the likes of Amazon.com Inc., Apple Inc., and Google, which in this analogy are … Amazon, Apple, and Google.)
Even though Disney+ was years behind Netflix, Disney's service has been a runaway success with new fare such as The Mandalorian offered alongside its deep catalog of classics like Pinocchio, Toy Story, and Mulan. Similarly, Diess has won over investors by making the case that VW can exploit something Tesla doesn't have much of yet: scale. With a dozen brands that fill every nook and cranny of the auto market—and sales last year of 9.3 million vehicles, compared with a half-million for Tesla—VW is uniquely positioned to pool resources and bear the cost of developing new technologies. By next year, VW will have 27 models based on its standardized platform. "Our transformation will be fast," Diess said at his event, "bigger than anything the industry has seen in the past century."
Like Musk, Diess is going big on batteries and charging stations. By 2025, VW and its partners will have more than 35,000 public chargers around the world. And one element of its legal agreement with the U.S. and California over cheating on emissions tests was a pledge to spend $2 billion promoting plug-ins and building charging infrastructure. VW in 2017 set up an affiliate called Electrify America that now boasts the largest fast-charging network in the U.S. Diess is also planning a half-dozen battery factories in Europe, which BloombergNEF estimates will require an investment of almost $18 billion. The energy researcher says improvements in cell design, battery chemistry, and manufacturing put VW on track to cut the cost of batteries in half by as early as 2025. That could make its EVs cheaper than similarly equipped combustion cars.
Some rivals insist VW's headlong charge into electric cars is imprudent because they remain a sliver of global sales—roughly 3% of vehicles delivered worldwide last year. Toyota Motor Corp., which narrowly surpassed VW as the world's largest automaker in 2020, has long argued hybrids are a more sensible intermediate solution. And BMW AG has embraced flexibility, building many of its models in various versions: gasoline-powered, hybrid, plug-in hybrid, and electric. "We think a one-propulsion strategy could be very dangerous," CEO Oliver Zipse told Bloomberg Television on March 17. "The likelihood that 150, 160 markets in a very short period of time—and one decade is a very short period of time—will converge fully into one drivetrain is highly unlikely."
Diess has no plans to hit the brakes. Even as the first models from the current platform start to roll out, VW is furiously developing a separate set of standard components for electric vehicles from Audi, Porsche, and its other upscale brands. That premium platform promises speedier charging times, greater range, and faster acceleration than the first-generation models. By the middle of the decade, VW says it will have a single scalable system to underpin all its battery-powered cars—no matter the brand or segment—as it aims to sell 26 million of them in the next 10 years. "They've got confidence that they can catch up with Tesla," says Michael Dean, an analyst at Bloomberg Intelligence, who expects VW to take the global EV crown by 2023. "Their foray into electrification is serious." —With Christoph Rauwald
 
Read next: What if the Perfect Climate Fix Can't Arrive in Time?