Boarding Schools for India's Outcasts Are Tearing Down Class Barriers
(Bloomberg Businessweek) -- Following a successful career as a regional police chief and a stint at Harvard's Kennedy School, Kumar began a second act as head of India's Telangana state residential schools for students from the lowest castes. He's now the Secretary of Telangana Social Welfare Residential Educational Institutions Society. His mission: to teach 200,000 marginalized kids that they can excel.
You changed careers after you left Harvard. What happened?
I came back to help liberate a community which was historically oppressed with no resources. I deeply believe education is the only weapon that can save the poorest of the poor from a life of victimhood. So I came to education.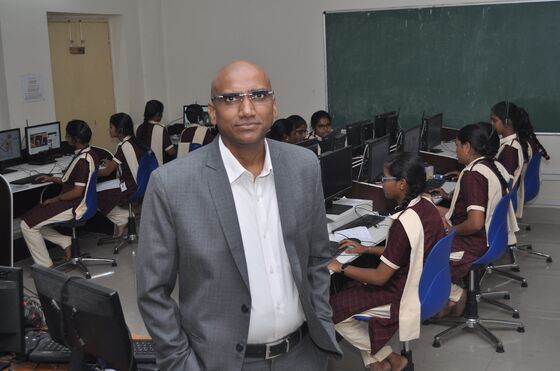 You manage about 400 schools where promising, poor village children go to live on residential campuses and complete their studies in English. That's a big societal change.
Historically, the marginalized people called untouchables or Dalit have been kept away from centers of knowledge. In the 19th century they weren't allowed to go to regular schools, and even as things slowly changed in the 20th century there was still discrimination. As a result, their dreams got buried, and many dropped out of the education system. So the boarding schools were started for the underprivileged but talented.
Why are the schools residential?
These children require more focused attention. And for many, their home setup is not very encouraging for a child learning. That's why the government thought that it is in the best interest of the child to create a very positive ecosystem within the school where the teachers play [some of] the role of the parents.
How successful has your new approach at the schools been?
We used to produce about six doctors a year [from graduates]. This year we have produced 189.
You've trained and sent some of your students to scale Mount Everest.
It was our out-of-the-box approach to capture the imagination of poor people, to tell them it's not just Tenzing Norgay or Edmund Hillary who have done that. Our children also can do it.
Will the impact of your programs go beyond your own state in India?
The kind of education that we are giving in Telangana to the marginalized people is going to change not just the fate of these communities in Telangana, but it is going to be the source of inspiration and hope for all the marginalized in this country. There are about 300 million-plus marginalized in this country. And all those people are going to get inspired by this Telangana model.
 
Read more: How Big Tech Is Importing India's Caste Legacy to Silicon Valley