Japan's Deflation Mindset Could Be Contagious
(Bloomberg Businessweek) -- When the maker of a popular Japanese popsicle decided to raise prices for the first time in 25 years, executives of Akagi Nyugyo Co.—which introduced the treat in 1981—felt a need to apologize to their customers. On the day of the hike, in April 2016, they ran a 60-second commercial showing the company's gray-haired chairman, backed by a phalanx of dark-suited workers, all bowing in deep contrition. Three years later, the Akagi Nyugyo manager who came up with the idea for the ad is still feeling contrite. "It's not like people have any extra spending money," Fumio Hagiwara says.
Japan is the only developed economy where wages have dropped year after year. Since 1996 inflation-adjusted pay has fallen about 13 percentage points—a big reason businesses are loath to raise prices or invest in a shrinking market. The downward spiral has led to a "deflationary mindset" that Bank of Japan Governor Haruhiko Kuroda blames for thwarting his efforts to revive the economy, using every trick in the central bankers' playbook.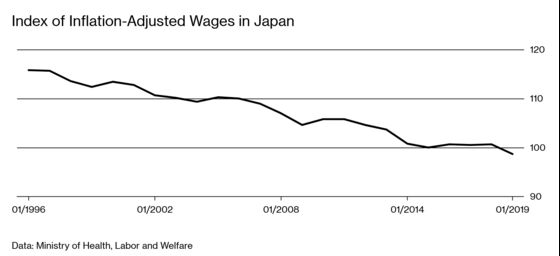 Thrift has become so deeply ingrained in the Japanese psyche that a rare bump in the most recent round of seasonal bonuses paid to workers ended up powering a savings surge instead of a shopping spree. "It's not surprising when people have had negative wages for so long," says Michael Causton, an expert on Japanese spending patterns and co-founder of research firm JapanConsuming.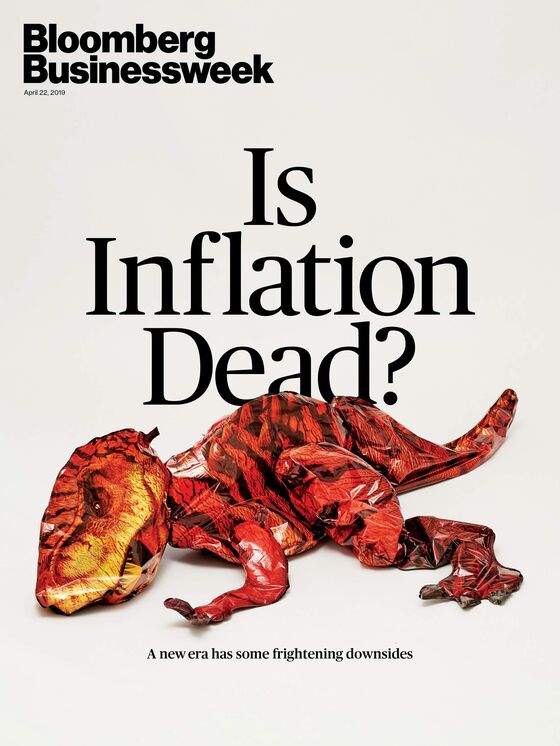 After six recessions in 30 years, figuring out ways to save money has turned into a national obsession. One television show, Cocorico Creates a Legend, scored a hit in the mid-aughts by challenging celebrities to survive for a month on a $3-a-day budget—black humor for a still-rich country where living standards are slowly eroding and the poverty rate has crept up to a more U.S.-like 16 percent.
Some ingenious savers have become minor stars, too. In recent months, blogger and life-hacker Miwa Komatsu has been making the rounds of Japan's TV talk show circuit, explaining how she managed to sock away $100,000 over 10 years, despite making only $1,300 a month as an office worker and raising four kids on her own. Her techniques, which she also describes in a 2017 memoir, include cutting tissue boxes in half so they last twice as long and using radish skins instead of paper towels to wipe down sinks. "It's a game to me," the 49-year-old says. "I still enjoy doing it even though money isn't that tight anymore."
Economist Andrea Ferrero, at the University of Oxford, was one of the first to argue that Japan's malaise is linked to something more inexorable than mindset, and that's demographics. In a 2014 paper, "What Explains Japan's Persistent Deflation?," he and co-author Carlos Carvalho showed that aging populations exert a drag on interest rates and, by extension, growth—which is partly why Japan was slow to recover after real estate and stock market bubbles burst in the early 1990s.
Five years on, there's a gathering consensus that this should be a warning for other advanced economies, which are also aging fast and struggling with less-than-stellar growth following the 2008 global financial meltdown. "For countries coming out of the crisis," Ferrero says, "this may be the moment when pressures stemming from demographics are more likely to emerge."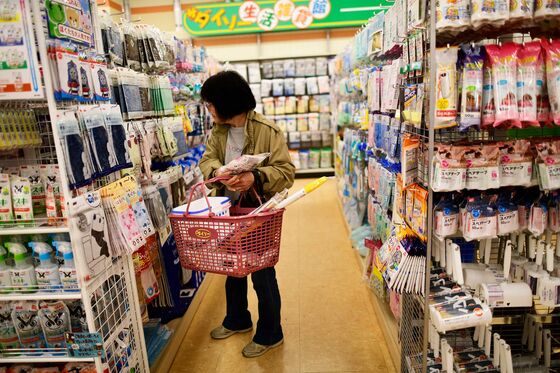 The tight budgets of retirees such as Makoto Miyakawa, a 71-year-old who lives near Yokohama, are a big part of the reason Japan's annual economic growth has averaged an anemic 0.9 percent since 2000, about a third of what it was in the previous two decades. Miyakawa says his wife controls the family purse strings, and after he retired she decided to cut his monthly allowance in half, to the equivalent of $10 a day. (She's quick to remind him, he says, that the neighbors' husbands get less.) The couple are careful about spending because they don't want to outlive their money or end up facing medical bills they can't afford. "Everybody wants to go out fast, but you have no control over that," he says.
If there are any winners in all of this, it's Japan's discount retailers, which are thriving. Nitori Holdings Co., a budget furniture store with the ubiquitous catchphrase "More than you paid for" (it's cooler in Japanese), has grown into one of the country's top 10 retailers, adding more than three stores a month for years. And Japan's 100-yen shops, the equivalent of dollar stores, which were mostly unheard of until the late 1990s, now have almost 7,000 outlets pulling in almost $7 billion in annual sales. "There's no reason," says one fan, 75-year-old Naoko Ishikawa, "to feel embarrassed about shopping at a 100-yen store anymore." 
--With assistance from Edward Gelband.
To contact the editor responsible for this story: Cristina Lindblad at mlindblad1@bloomberg.net