Iran's Response Doesn't Mean Trump Dodged All-Out War
(Bloomberg Businessweek) -- The drone killing on Jan. 3 of Iranian General Qassem Soleimani, the bloody-handed leader of Iran's elite Quds Force, was an expression of President Trump's lifelong philosophy: "Get even with people. If they screw you, screw them back 10 times as hard," as he said in a 2011 speech. The question is whether what works against other real estate developers will work as well against Iran.
Iran's immediate response to the killing of Soleimani—a Jan. 7 missile attack on joint U.S.-Iraqi military bases that caused no deaths or ­injuries—seemed symbolic. But that doesn't mean it won't strike again, and in the long run, the president's gambit could provoke escalation and ­damage America's standing in the region.
Trump is running into a dilemma other U.S. presidents have faced: How do you fight a foe who pokes and prods using asymmetric warfare, including guerrilla tactics, terrorism, and proxy forces, but against whom the use of catastrophic force would be reckless? President Nixon complained in 1970 that North Vietnam, an impoverished nation supplied militarily by the Soviet Union, stood to make the U.S. into a "pitiful, helpless giant" in Southeast Asia.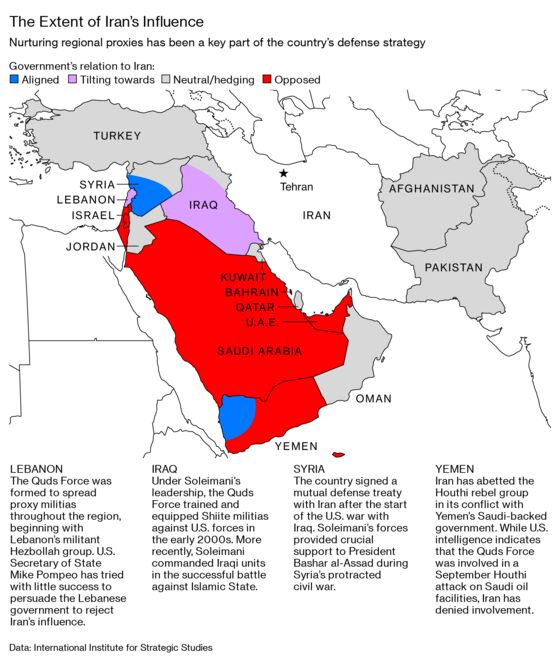 Like North Vietnam, Iran has played a weak hand expertly. The U.S. blames Soleimani for the deaths of 603 U.S. service members killed in Iraq since 2003. He's also suspected to be behind a drone attack on Saudi oil installations in September, a Dec. 27 drone attack in northeast Iraq that killed an American contractor and wounded four service members, and the invasion of the U.S. Embassy in Baghdad by Shiite militias on New Year's Eve. In addition, Iran has supplied money and weaponry to forces fighting against U.S. allies, including the Houthis in Yemen, Hezbollah in Lebanon and Syria, and the Popular Mobilization Forces in Iraq.
Soleimani seems to have crossed Trump's red line with the embassy invasion. It revived memories of the 444-day occupation of the U.S. Embassy in Tehran in 1979-81, which made Jimmy Carter a one-term president. By killing Soleimani, the U.S. signaled that Iran will face consequences for its actions even if it tries to cloak its responsibility for them.
Threatening to hit back hard, even to over­react, isn't always a bad idea. It can work against a foe who's perfected the art of "salami slicing," i.e., carry­ing out attacks and advances that always fall just short of the threshold for serious retaliation. Israel, Trump's favorite ally in the region, has made a practice of sending a message to its enemies by hitting back hard when attacked. Exasperated by repeated rocket attacks from Hamas fighters in Gaza, Prime Minister Benjamin Netanyahu ordered an invasion in December 2008 that killed more than 1,000 Palestinians. Tzipi Livni, then the foreign minister, said, "Israel is not a country upon which you fire missiles and it does not respond. It is a country that when you fire on its citizens it responds by going wild—and this is a good thing."
Ray Takeyh, an Iranian-born senior fellow at the Council on Foreign Relations, argued in a conference call with council members and journalists on Jan. 6—before Iran's retaliatory missile strike—that the hit on Soleimani will eventually work out well for Trump. "I think what the United States did was sensible and did restore American deterrent power," he said.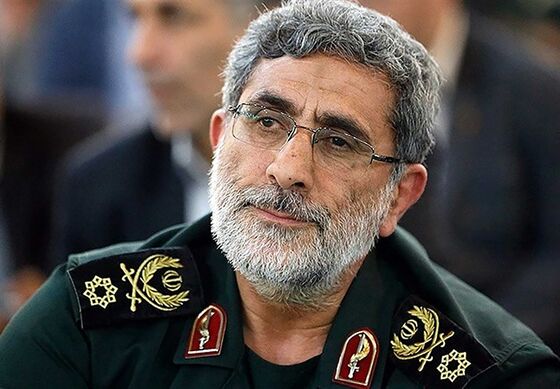 But the killing of Soleimani created new threats and revived old ones. Iran abandoned limits on the enrichment of uranium, one of the last vestiges of its 2015 nuclear agreement with the U.S. and other world powers. Iraqis who were only recently protesting Iran's presence in the country have pivoted to protesting the U.S. On Jan. 5, the parliament in Baghdad held a nonbinding vote calling on American troops to withdraw from the country. And the U.S.-led coalition against Islamic State paused its training and operations against the jihadi group in Iraq so it could redirect resources to protecting Iraqi bases hosting its troops.
Iran may find other ways to get back at the U.S., such as cyberattacks on American infrastructure. In 2016 the U.S. Department of Justice indicted seven Iranian hackers who it said had paralyzed some American banks and tried to seize control of a dam in the New York suburb of Rye.
Trump's one clear blunder was his Jan. 4 Twitter threat to attack sites important to Iranian culture. That would be a crime under the Law of Armed Conflict, which is based on international treaties and customs. While laws of war sometimes fall by the wayside when shooting starts, they benefit all combatants by making certain actions—such as harming prisoners of war—taboo. Attacking Iranian cultural sites would put the U.S. on the same level as the Taliban, which dynamited 1,700-year-old sandstone statues of Buddha, or the Islamic State group, which has blown up mosques, churches, Sufi shrines, and Roman monuments.
"Reckless and unprecedented words from a Commander-in-Chief," wrote Brett McGurk, the former U.S. special envoy for fighting Islamic State under Obama and Trump, on Twitter. After Secretary of State Mike Pompeo said the U.S. would not hit Iranian cultural treasures, Trump—in keeping with his "screw them back 10 times as hard" philosophy—insisted to reporters that he still considered cultural targets to be legitimate. That left Defense Secretary Mark Esper to reassert that the U.S. would indeed obey the laws of war.
But Trump may have done lasting harm simply by floating the idea. "The United States has spent decades building an international legal order and now risks being branded as a rogue nation," Jens David Ohlin, the vice dean of Cornell Law School, wrote in an email.
Trump rejects the notion that he's the one who's escalating. "We took action last night to stop a war. We did not take action to start a war," he told reporters shortly after the hit on Soleimani.
But escalating in order to de-escalate is risky business, because the foe may not fold. As game theory explains, escalatory strategies that succeed in convincing an opponent to back down once can fail when the combatants meet many times, giving the enemy time to absorb blows and mount a counter­offensive. The theocratic leadership of Iran, for one, is playing a long game.
"If you paid any attention to Iran in the last 40 years, you know they will never buckle to that kind of pressure. It's just the opposite," says retired Army Lieutenant Colonel Daniel Davis, a senior fellow at Defense Priorities. Soleimani's ­replacement—his longtime deputy, Esmail Qaani—was close to the general, and has been subject to U.S. sanctions for his own role in funding Iranian proxy forces.
It's impossible to predict how any given strategy will play out, says Anthony Cordesman, who's carried out diplomatic missions on the part of the U.S. in Iran and elsewhere in the region and now holds a chair in strategy at the Center for Strategic and International Studies in Washington. Trump's escalation may have worked. Or it may precipitate the exit of U.S. forces from Iraq, leaving a power vacuum that would likely be filled by Iran. "In that case," Cordesman says, "the people who were assassinated end up winning the biggest ­victory." —With Nick Wadhams
To contact the editor responsible for this story: Jillian Goodman at jgoodman74@bloomberg.net