Foxconn Struggles to Put Wisconsin First
(Bloomberg Businessweek) -- Since the Taiwanese electronics manufacturer Foxconn announced a plan in 2017 to develop a factory hub south of Milwaukee, it's promised to take a "Wisconsin First" approach to hiring local suppliers. While that phrase didn't make it into the final contract, that's how state officials and Foxconn have touted the deal, which involves about $4 billion in potential subsidies.
The effort is getting off to a slow start, according to a review by Bloomberg Businessweek of Foxconn supply chain and budget documents covering much of 2018. The internal documents, along with financial reports the manufacturer recently filed with the state agency overseeing the partnership, contain discrepancies with previous public statements by Foxconn executives. They provide a look at the early challenges Foxconn has faced in trying to deliver on its promises to the state. And they raise questions about public-investment returns on large-scale government incentive packages. Such incentives have become increasingly controversial as companies from Amazon.com Inc. to General Electric Co. have sought huge state subsidies.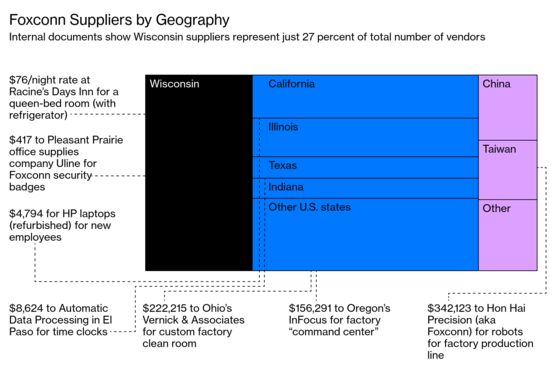 President Trump heralded the Wisconsin deal last June at a groundbreaking ceremony for the Mount Pleasant factory with Foxconn Technology Group Chairman Terry Gou, saying the company's presence in the state would transform local businesses.
The White House didn't respond to a request for comment, nor did a representative for Wisconsin State Assembly Speaker Robin Vos, a vocal supporter of the Foxconn deal.
In the 18 months since Foxconn signed its contract with the state, it's reduced the size and scope of the manufacturing center it committed to building and missed its maximum first-year hiring target by 82 percent. It more recently said publicly it would not build a factory because of high labor and manufacturing costs in the U.S. vs. Asia. (The company later reversed course and said it would build a factory, following a call from Trump.) The promise to create 13,000 jobs by 2032 has come into question after Alan Yeung, Foxconn's director of U.S. strategic initiatives, tweeted on April 24, "Who has the crystal ball to predict if 13,000 jobs will be created by the year 2032? Esp in April '19."
According to a January 2019 letter from Louis Woo, a special assistant to Gou, to the Wisconsin Economic Development Corp. (WEDC), the state agency that monitors Foxconn's progress, the company has "invested over $200 million to date in Wisconsin" and also has awarded "95% of all contracts" to Wisconsin companies. But a Foxconn capital expenditure report filed in March with the WEDC, obtained by Bloomberg Businessweek through a public records request, shows that Foxconn's capital investments in the Wisconsin project totaled $99.2 million in 2018, and that $92.7 million of that went toward land acquisition. Asked why its WEDC filing showed about half the $200 million investment that Woo said the company has spent in the state, a Foxconn spokeswoman says its financial reporting "does not include many of Foxconn's significant investments over and above the contractual requirements. Foxconn invests in Wisconsin beyond what is reported to WEDC under the contract." She also says that Woo's 95 percent statistic represents Wisconsin "construction" contracts—not overall supply chain contracts.
Asked about the figures, WEDC spokesman Kelly Lietz said in an email, "Analyzing Foxconn's contractually required reports does not require us to reconcile this information with any data provided in other formats at other times. Our responsibility is to make certain the information provided in the performance reports meets the requirements of the contract."
The internal budget documents, which include hundreds of pages of financial data, mostly cover investments in suppliers and factory equipment for Foxconn's electronics manufacturing operation in Mount Pleasant. They were shared by a source who claims Foxconn is failing to invest more in local businesses and the state's workers.
Foxconn has set up a 155,000-square-foot facility known as the Experimental Training Center (ETC) to make liquid-crystal display televisions for Sharp, the electronics brand Foxconn acquired in 2016. Early TV displays assembled at the training facility have been labeled "Made in Mexico" despite statements by Trump that the facility's output would be "Made in the USA."
The internal documents, which list more than 200 Foxconn vendors, indicate that about 58 percent of the suppliers for the ETC are from other states; an additional 15 percent are based abroad, many in China and Taiwan. Wisconsin vendors represent 27 percent of documented suppliers. A Foxconn spokeswoman says the ETC has been set up "to prepare our business for eventual full-scale production" (a larger factory is slated to open in late 2020). Any parts and components that have been brought into the state, the spokeswoman says, are "in no way indicative of future production." Lietz said, "Foxconn is not incentivized on supply chain and has no affirmative obligation to make a certain supply chain investment."
According to two people familiar with the situation, Foxconn has been slow to approve new vendors, and its managers have hesitated to expand their supplier network. "Foxconn built its empire by using a microscope on cost structure," says one of the people. Also, the people say, Wisconsin suppliers, particularly in the metal and plastics industries, don't have the capacity to support Foxconn's manufacturing scale. They say Foxconn sometimes chooses suppliers based on tiny differences in cost, and that it could take decades for the U.S. to set up a supply chain comparable to what Foxconn has long had in Asia.
In its March financial filing with the state development corporation, Foxconn listed 13 expenditures from February 2018, totaling $884,936, for factory machinery from an unnamed vendor. The internal budget documents list the supplier as "Hon Hai Precision," Foxconn's corporate name, suggesting the company was either transferring equipment from its overseas manufacturing operations to Wisconsin or including purchases on its state filing for items Foxconn bought from itself or its subsidiaries.
A Foxconn spokesperson acknowledges the company brought in equipment from China and other locations. According to WEDC's Lietz, any capital expenditures eligible for subsidy reimbursements will be audited independently.
In the filing, Foxconn included a section on its Wisconsin supply chain listing 26 purchases totaling $7.6 million from in-state vendors. Cross-referenced with the internal budget documents, one purchase listed on the state form, for $4.8 million (or approximately 63 percent of all in-state procurements), appears to match a string of production line machinery and installation purchases from ABB Group, an industrial robotics maker based in Switzerland with U.S. headquarters in Cary, N.C. ABB has several offices in Wisconsin, but the robotics unit that supplied the equipment for Foxconn's factory operates out of Michigan, according to more than a half-dozen sources familiar with the unit. (Foxconn's internal documents list an ABB address in Auburn Hills, Mich.—not in Wisconsin.) ABB declined to comment. A Foxconn spokeswoman says, "All companies designated as 'Wisconsin-based' are designated based on WEDC definitions." (WEDC says it doesn't have any "definitions" related to this issue. The Foxconn spokeswoman clarified that the "Wisconsin-based" designations were actually defined by Foxconn and its private construction partners, not the state.)
Two of these sources also say there were problems with Foxconn's payment to ABB. A Foxconn spokesperson says, "The settling of any payment is based on contractual terms as agreed between ABB Group and Foxconn." ABB declined to comment on its customers. When reached by phone, an ABB project manager described as overseeing the Foxconn account said she was not "confirming or denying" whether Foxconn paid ABB the $4.8 million for its services.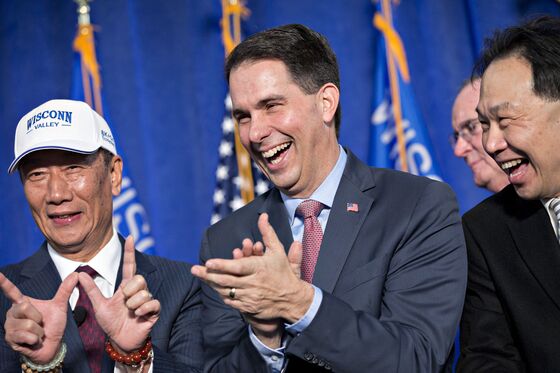 State Representative Gordon Hintz, the Democratic minority leader and a critic of the Foxconn deal, says: "Certainly the spirit of what has been sold to the public on this project was not about a supplier having a P.O. Box and Foxconn calling that a Wisconsin-based investment."
Without a viable supplier network in the state, the project likely won't yield the sustained economic ripple effect that government officials have hoped for beyond the one-time boost of constructing the rest of its factory operations. Wisconsin vendors listed in Foxconn's budget documents, such as Milwaukee's Capitol Stampings Corp. and Waukesha's Next Electric LLC, may benefit from Foxconn's manufacturing presence. Other suppliers featured in the internal documents include Racine's Days Inn and various Foxconn subsidiaries.
Wisconsin's deal with Foxconn has been politically fraught. Republican Governor Scott Walker, who helped strike the state's partnership along with Trump, lost his reelection bid in November in part because of the controversy surrounding the Foxconn project. In mid-April, Walker's successor, Democrat Tony Evers, who didn't respond to requests for comment, said he's working with Foxconn to renegotiate the deal.
To contact the editor responsible for this story: Dimitra Kessenides at dkessenides1@bloomberg.net