Tell Your Boss the Four-Day Week Is Coming Soon
(Bloomberg Businessweek) -- When the world went into lockdown last year, the 1,000 employees at Berlin-based tech company Awin did what millions of others did: They flipped open their laptops and started working from the kitchen or dining room. At the same time, Awin started running flat-out as its business with online retailers soared, putting intense pressure on the staff.
So last spring the company told everyone to sign off around lunchtime every Friday to ease into the weekend. The experiment was so successful—sales, employee engagement, and client satisfaction all rose—that in January, Awin decided to go a step further, rolling out a four-day week for the entire company with no cuts in salaries or benefits. "We firmly believe that happy, engaged, and well-balanced employees produce much better work," says Chief Executive Officer Adam Ross. They "find ways to work smarter, and they're just as productive."
Awin is in the vanguard of a trend that's getting increased attention worldwide. Jobs website ZipRecruiter says the share of postings that mention a four-day week has tripled in the past three years, to 62 per 10,000. Consumer-goods giant Unilever Plc in December started a yearlong trial of the idea for its New Zealand staff. Spain's government is considering a proposal to subsidize companies that offer a four-day week. And even in notoriously busy Japan, whose language includes the word karoshi—death from overwork—lawmakers are discussing a proposal to grant employees a day off every week to protect their well-being. "The four-day week is picking up momentum," says Will Stronge, director of research at Autonomy, a U.K. think tank. "For the large majority of firms, reducing working hours is an entirely realistic goal."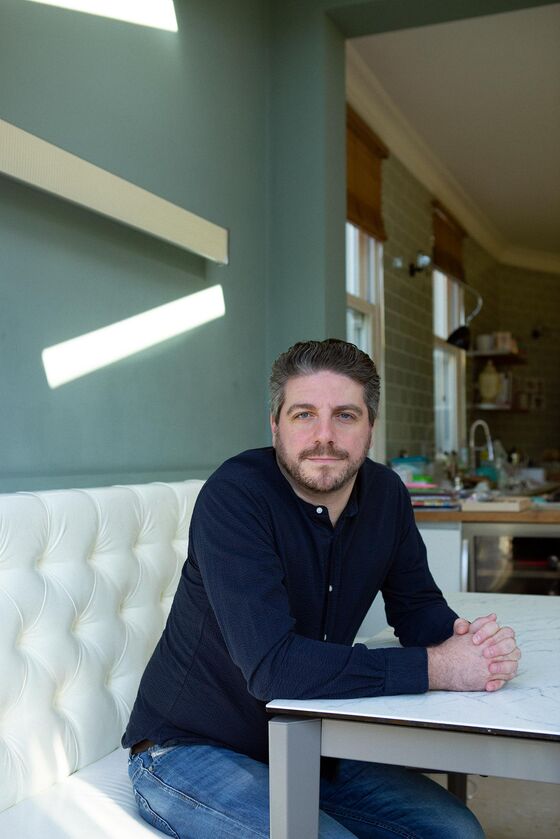 Laborers and even many office workers used to show up on the job six or seven days a week, though by the late 19th century most at least had Sunday off. In 1926, Henry Ford decided to give workers two free days every week, arguing they would buy more cars if they had more leisure time. They did, and by the end of the next decade most American manufacturers had followed his lead. It took a bit longer elsewhere, with Germany scrapping Saturday shifts only in the 1960s, after unions ran campaigns saying that kids need more time with their daddies. Over the past two decades, working time in developed countries has gradually decreased; France led the way in 2000 with its adoption of a 35-hour workweek. "Many developed economies face a shortage of skilled labor," says Terry Gregory, a researcher at the German Institute of Labor Economics. "That gives workers more power to demand shorter hours."
Broad acceptance of a four-day week may be harder. Jack Ma, the billionaire co-founder of Chinese e-commerce giant Alibaba Group Holding Ltd., frequently hails his country's grueling "996" work culture—9 a.m. to 9 p.m., six days a week—as vital for long-term success. In the U.K., the Labour Party lost the 2019 general election even as it campaigned on a pledge to trim the standard workweek to 32 hours within a decade. And bosses are reluctant to reduce hours without cutting pay, fearing output will drop. "Employees perform a task more efficiently the more they've done it," says Holger Schäfer, a labor market analyst at the German Economic Institute in Cologne. "I don't believe there are really going to be productivity gains coming from shorter working time."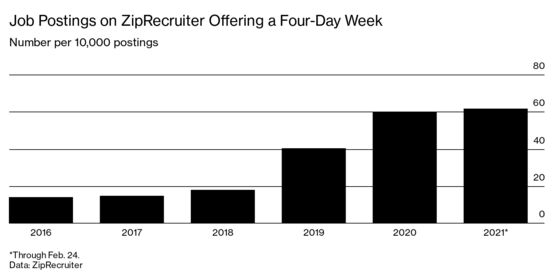 Yet as the pandemic has slowed growth and increased inequality, there's a new push to reengineer workplaces. Almost two-thirds of businesses with a four-day week report improved productivity, according to a study from the University of Reading. A group led by former U.K. Shadow Chancellor John McDonnell wrote a letter to leaders including Joe Biden, Boris Johnson, and Angela Merkel urging them to adopt a four-day week to save jobs, rethink working patterns, and reduce energy consumption. In August, Germany's 2.3-million-member IG Metall union proposed a shorter workweek in response to the health crisis and seismic changes in the auto industry, which will need fewer manufacturing hands as it shifts to electric vehicles. French carmaker Renault SA is giving about 13,000 staff Fridays off until mid-August while it seeks to cut costs as orders have slumped. (Workers will be paid the same, but only because their salaries are plumped up with state unemployment benefits.)
Awin CEO Ross says the four-day week is intended to retain the software engineers and account managers who help the likes of Asos, Nike, and Samsung connect with bloggers, influencers, and publishers. There have been some teething issues, such as deciding who will be off when (staff can choose the day they want to stay away or take two half-days), requiring the finance department to stick around five days a week during the January reporting period, and ensuring that client requests coming in on Fridays get prompt attention. About 80 employees volunteered to work in task forces to make the switch as smooth as possible, discussing potential contract changes, cutting hourlong meetings in half, and introducing software to ease collaboration.
Awin will assess the results of the trial program this summer, but Ross says the experience has been so positive that he can't imagine going back. The CEO has felt the change himself: After logging weekly commutes to Berlin from London for six years, he now enjoys a day every week with a clear diary, allowing him to spend time with his family or think about what's next. Companies used to "make provisions for people's physical health but never their mental health," Ross says. "I see that changing, and we want to be a driver for it." —With Carolynn Look and Jeannette Neumann