Facebook's Political Ad Business Is Lots of Pain and Little Gain
(Bloomberg Businessweek) -- When Elizabeth Warren wanted everyone to see her lie, she paid Facebook to spread it for her.
Warren, a Democratic senator from Massachusetts and a 2020 U.S. presidential hopeful, took out a series of Facebook ads in early October claiming that the company's chief executive officer, Mark Zuckerberg, had endorsed Donald Trump for president. That wasn't true, and Warren knew it. But she wanted to make a point: that Facebook Inc.'s policy, which states the company does not and will not fact-check political ads, is dangerous.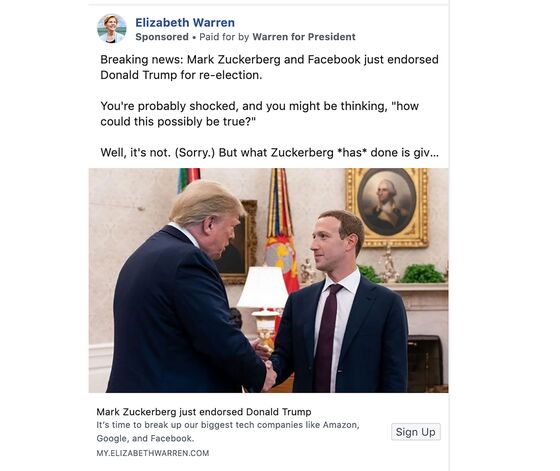 "If Trump tries to lie in a TV ad, most networks will refuse to air it," claimed the ad, which garnered at least half a million impressions on Facebook. "But Facebook just cashed Trump's checks."
The misleading, hurtful, and even damaging outcomes caused by political advertising are almost guaranteed to become a problem for Facebook in the runup to the 2020 U.S. presidential election. In fact, it's already happening. Warren may have lied to make a point, but President Donald Trump has been running video ads on Facebook claiming one of his key political rivals, Joe Biden, paid off Ukraine to fire a prosecutor investigating a company linked to his son, a claim that had already been debunked. CNN refused to run the ad. NBC and its various properties followed suit.
Facebook let it run. Twitter and YouTube have also allowed it, as have some TV networks. But Facebook's reach—almost 7 in 10 U.S. adults use the platform, according to the Pew Research Center—and history of propagating fake news ahead of the 2016 election mean it's subject to closer scrutiny. After Trump started running the ad, the Biden campaign requested Facebook remove it. That request was rejected. Warren soon piled on with her own campaign.
In Facebook's world, there aren't a lot of easy-to-fix problems. Regulators think it's too powerful. Conservatives think it's biased against them. Virtually nobody thinks it's trustworthy. But this is one rapidly spiraling PR problem that Facebook could solve quickly and simply: It could stop selling political ads.
No, the timing isn't ideal. Campaigns for the 2020 U.S. election are already in full swing, and letting candidates use Facebook to push out their message is a pretty surefire way to keep hundreds of millions of American eyeballs fixed on the platform. It's also argued that the public should be the arbiters of political information, responding to Warren on Twitter: "FCC doesn't want broadcast companies censoring candidates' speech. We agree it's better to let voters—not companies—decide."
But Facebook has already shown that it doesn't want to deal with the kinds of political posturing that inevitably follow. To catch damaging or dangerous misinformation spreading on Facebook in other forms, including in ads, the company has fact checkers whose job it is to review specious stories. When this happens, Facebook's algorithms show that post to fewer people and flash a warning to those who try to share it. It's an imperfect system, but a system nonetheless, meant to discourage fake-news creators while simultaneously alerting people that what they read may not be what it seems.
That system, however, doesn't apply to posts from politicians, paid or unpaid. It's a policy the company says was put in place more than a year ago, but has gotten newfound attention in recent weeks thanks to Trump and Warren. Facebook says it doesn't want to be seen taking sides. "At Facebook, our role is to make sure there is a level playing field," said Nick Clegg, Facebook's vice president for global affairs and communications, during a speech in September, "not to be a political participant ourselves."
It would be easier to understand Facebook's willingness to put up with misleading political ads and the opprobrium that comes with them if the company were getting a massive bottom-line boost from doing so. But it isn't. In 2016, Trump and Democratic presidential nominee Hillary Clinton spent a combined $81 million on Facebook ads during their campaigns. That accounted for about 0.3% of Facebook's revenue that year. It was about the same in 2018: U.S. politicians spent $284 million on Facebook political ads ahead of the midterms, or 0.5% of Facebook's annual revenue, according to an estimate from Tech for Campaigns. At one point in early 2018, Zuckerberg said Facebook would be spending so much to review political ads (even though the company doesn't fact-check ads, it still reviews them for other reasons) that it would lose money on them.
Facebook executives have preached time and again, both publicly and privately, that getting the 2020 U.S. election right is one of the company's very top priorities. When Facebook looks back in January 2021, it won't regret missing out on hundreds of millions in revenue. But if political ads remain unchecked, the company may very well look up in 2021 to find its platform was used to spread misinformation before yet another major U.S. election. What will be worse: This time, Facebook will have known about it.
To contact the editor responsible for this story: Jillian Goodman at jgoodman74@bloomberg.net