Silicon Valley's Worst Nightmare Is Ready for Her Next Act
(Bloomberg Businessweek) -- South by Southwest long ago ceased to be just an annual film, tech, and music festival. The Austin conference—so popular it's been known simply as SXSW for much of its 32 years—is now the haunt of ambitious politicians. This year, they've come to bash the tech giants. At one event was Democratic Senator Elizabeth Warren of Massachusetts, who promised legislation that could break up Facebook Inc. or Alphabet Co.'s Google. At another was Senator Amy Klobuchar (D-Minn.), who declared that she wants to make antitrust "cool again"—a clear swipe at the same companies. And then there was the European bureaucrat who's won global notoriety and who probably more than almost anyone else makes U.S. technology executives quake in fear and anger: Margrethe Vestager.
No. The European Union's commissioner for competition can't run for the White House—though Warren and Klobuchar may envy her accomplishments. They're only threatening to curb the internet titans; Vestager has already led an antitrust crackdown. But the Dane, whose five-year term is up this year, was clearly indicating that she wants to stay on the world stage. Usually a cautious speaker who keeps her own counsel, she was at a SXSW event on March 11 in a red satin dress and pale blue sneakers winning audiences with pointed humor. She said she eschews the kind of pantsuits that Hillary Clinton and Angela Merkel wear. "Men realize you're a woman even if you dress like a man with a suitlike jacket and a white blouse," she said. "So why bother? Better stay true to the value of diversity." (Cheers from the crowd.)
The EU's antitrust chief isn't pledging to string up Google and Amazon.com Inc. except as "a very, very last resort." But at another SXSW event, she admitted that she's "kind of running for office." She's about to gamble on a bid for a top EU post, building on the high-profile investigations that have made her a star of European politics. She is seen as "a warrior queen taking on the big tech might of the U.S.," says Dennis Abbott, a consultant at Burson Cohn Wolfe in Brussels. She topped a BCW popularity poll of 28 EU commissioners.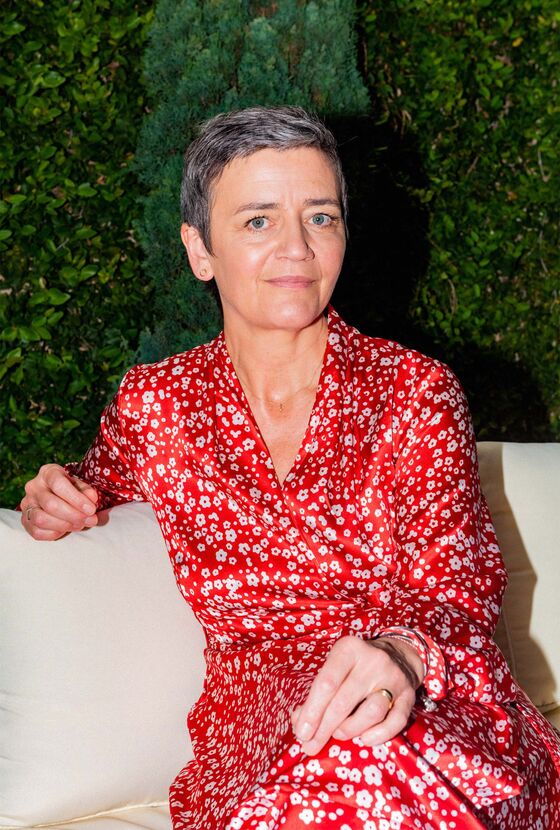 Vestager needs to leverage her fame into the next big step in her political career. She's set to be named on March 21 as one of several candidates on the slate for the center-left Alliance of Liberals and Democrats for Europe coalition, the third-biggest group in the European Parliament, which hopes to make big gains at the EU-wide elections in May when it's expected to merge with French President Emmanuel Macron's faction. "ALDE is going to do quite well, the only centrist, pro-European group which is going to increase its size after these elections," says Doru Peter Frantescu, chief executive officer of VoteWatch Europe, a Brussels-based think tank.
Macron, who's trying to counter populists and euroskeptics in the election, hopes allies such as Vestager can help spur support for the European project. "Europe is an amazing place. We've made it so far since the Second World War, when Europe was destroyed physically and spiritually," Vestager told a SXSW audience. "Europe is the best place to live ever in the history in the world, especially if you're a woman," she said. "If we lack something, it's confidence."
Vestager has confidence in spades—and many believe she may have her eye on the EU's most powerful post: president of the European Commission, a position held by Jean-Claude Juncker of Luxembourg. Nabbing that will be difficult, says Frantescu, because the bigger parties usually rotate the top jobs among themselves. A good showing for ALDE and big losses for the center-right may change that dynamic and at the very least give Vestager a chance to haggle for another top post. "There's a strong tradition for a man, 60ish," she said, downplaying her chances. "It would be a glitch in history if a woman from a rather small" European country "could end up" as president of the European Commission.
Being female is an advantage in a field of mostly middle-aged male candidates, says Nicholas Whyte, a Brussels-based senior director at consulting firm APCO Worldwide. "Gender balance becomes important when handing out the top jobs," he says.
That plus Vestager's history of challenging corporate tax arrangements and squeezing huge fines out of wealthy U.S. companies make her a viable candidate. Most European governments cheered her probes into multinationals' tax deals with smaller low-tax EU countries such as Ireland. Apple Inc. was ordered by the EU to pay Irish back taxes of more than €13 billion ($14.7 billion). Google was fined €6.7 billion for how it handled ads and phone apps.
Vestager isn't universally loved in the EU. French and German ministers—with notable silence from Macron—howled last month when she blocked their prized plans to merge Siemens AG's and Alstom SA's rail operations to create a "European champion" to battle a Chinese trainmaker. Vestager said she was just doing her job: preventing the creation of huge companies that could dominate the European market and gain the power to increase prices at will.
If all else fails, could she continue as the commission's antitrust chief? "Her chance of appointment in the next commission depends entirely on the whim of the Danish government," says Whyte. Copenhagen would have to nominate her as their representative, and Vestager isn't a member of the ruling party (she served as deputy prime minister in a previous government). Again, she will have to count on her popularity. A large majority of Danes want her to stay on as commissioner, according to a recent Danish poll for the Altinget newspaper. "It would be quite extraordinary if I could" stay, she said in Austin. "In my experience you never get something if you don't ask for it, not even a no. So I have said I would be more than happy to have another mandate as competition commissioner." (Applause.)
At SXSW, she was preaching to the converted. "Can we get a show of hands if you believe that these tech giants have become too powerful and need regulation?" CNN Digital editor-in-chief Meredith Artley asked an audience waiting to hear Vestager speak in a packed hotel ballroom. Almost every hand went up. Now, she has to get the EU's voters to be true believers, too.
To contact the editor responsible for this story: Howard Chua-Eoan at hchuaeoan@bloomberg.net