Dolce & Gabbana Is Still Paying for Insulting Chinese Women
(Bloomberg Businessweek) -- From the red carpets of Hollywood award shows to the catwalks of Paris and Milan, where throngs of photographers chase Instagram-worthy shots of actors, pop stars, and style bloggers sporting the latest look, winter is the season when Gucci, Louis Vuitton, Versace, and other luxury brands make a big business of being in the spotlight.
One name has been notably absent from this year's glamour parade: Dolce & Gabbana. The iconic Italian brand is still struggling to overcome a backlash that erupted in November over a tone-deaf marketing video and derogatory comments from co-founder Stefano Gabbana about the Chinese. What's followed is a boycott on the mainland that threatens to snuff out one of fashion's biggest names.
Online retailers such as Alibaba's TMall and JD.com Inc. still haven't reintroduced Dolce & Gabbana on their Chinese sites; Lane Crawford and other high-end department stores pulled the brand's wares from their stores on the mainland; and the spring issues of influential local magazines like Vogue China feature no D&G ads or products.
The damage hasn't been limited to China. At both the Golden Globes and the Oscars, where in previous years Sarah Jessica Parker, Scarlett Johansson, and other top talent stepped out in opulent Dolce & Gabbana gowns, no A-lister dared to risk alienating fans by donning the label. "They basically offended an entire country," says Leaf Greener, a stylist and fashion consultant based in Shanghai and Paris. "Who wants to associate with that?"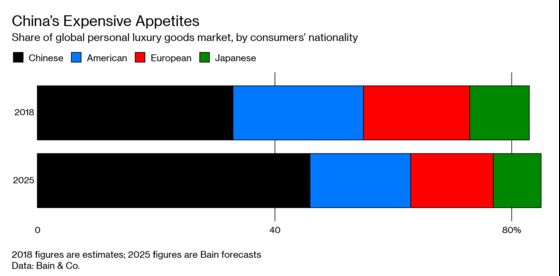 With Chinese shoppers estimated to account for at least a third of luxury sales and two-thirds of the industry's growth, the enduring controversy in this key market may pose an existential threat to closely held Dolce & Gabbana. The company doesn't disclose sales, but an Italian filing showed revenue of €1.3 billion ($1.47 billion) for the year ended March 2018, roughly twice the haul of rival Versace SpA.
Gabbana and his partner Domenico Dolce founded the brand in 1985 with a unique Italian blend—look-at-me dresses bursting with leopard prints and embroidered flowers, skimpy men's underwear, and advertising campaigns that celebrated a cartoonish version of their country: shouting families, nuns, and sexed-up ingénues arranged in kitschy restaurants, or Sicilian street scenes that looked straight out of The Godfather.
The duo has weathered—and even seemed to relish—previous controversies. In 2017, Gabbana punched back at detractors of its "Thin & Gorgeous" sneakers as "fat and full of cholesterol." The company even sold its own $245 "#Boycott D&G" T-shirts to lambaste Americans who denounced it for dressing first lady Melania Trump, a longtime fan. The pair did have to walk back remarks they made criticizing gay families to an Italian magazine in 2015, but that damage pales in comparison with the China meltdown. "It's gotten political now," Greener says. "I don't think people are going to forget."
Before a planned November runway show in Shanghai, Dolce & Gabbana posted a series of videos featuring a Chinese model awkwardly attempting to eat cannoli, pizza, and other Italian foods with chopsticks. The videos alone might have been forgiven as a crude joke made by a company known for poking fun at its own culture, but leaked messages by Gabbana insulting Chinese people and defending the video provoked a social media firestorm. Making matters worse, the company initially claimed it had been hacked and took days to remove the videos from its Instagram accounts and apologize. Amid the uproar, it was forced to hastily postpone the show.
Three months later, "I still am not seeing anyone wear Dolce," says Bryanboy, a Filipino fashion influencer and style blogger. While Burberry, Gucci, and Prada have also faced anger for releasing products seen as crude or culturally insensitive, those brands responded quickly to quell any controversy. "This was on another level," Bryanboy says.
At Dolce & Gabbana's February show in Milan, the front row was missing names like Stevie Wonder and Monica Bellucci, who've graced previous shows. Vogue China's editor-in-chief, Angelica Cheung, also sat out the event, as did many of the bloggers, stylists, and top models, whose online followers are key to attracting buyers for a collection. As a result, the show garnered only about $4.2 million worth of exposure on social media and in the press, vs. $12.2 million the year before, estimates fashion consultant Launchmetrics. The number of articles and posts about the show fell to a tenth of their previous level.
"The influencer economy is so powerful, and they are increasingly demanding that brands reflect their lifestyle and values," says Elspeth Cheung, a brand valuation director at Kantar Millward Brown's BrandZ unit. Cheung says young Chinese shoppers have become more and more proud of their country's recent prosperity. "Brands need to make sure that their communication either supports or at least doesn't go against the China dream," she says.
In the scandal's wake, social media comments have quipped that D&G now stands for "Dead and Gone." With the brand still absent from key wholesalers, e-commerce, and magazines in China, the misstep has become the luxury industry's most notorious incident since Christian Dior designer John Galliano was filmed delivering an anti-Semitic rant in a Paris bar in 2012. Dior quickly fired Galliano and replaced him with another designer, but the way out for Dolce & Gabbana is less clear—Gabbana's name is on the door, and he owns half of the company.
On a recent Sunday in Beijing, some shoppers had returned to the Dolce & Gabbana corner at the SKP luxury mall. While a few said they didn't care about the scandal, most of their peers preferred to line up to enter the nearby shops of rivals Louis Vuitton and Gucci.
Xia Li, a 40-year-old entrepreneur, says some Chinese customers will return to the brand once the memory of the incident fades, but she hopes the majority will resist: "They're not insulting us and making profits from us at the same time." —With Daniela Wei
To contact the editor responsible for this story: James Ellis at jellis27@bloomberg.net, Benedikt Kammel