Christine Lagarde, First Woman to Head the ECB, Faces Peril on All Sides
(Bloomberg Businessweek) -- Christine Lagarde will inherit two gifts when she takes over the presidency of the European Central Bank, both temporary and both from Mario Draghi. The first is a symbol that will be literally handed to her by the outgoing ECB president: a golden bell used to call the central bank's policymakers to order. It's an object that she will ceremonially pass on to her own successor in eight years. The second gift is a fresh round of monetary stimulus, pushed through by Draghi in his final weeks, that should put off the next decision to raise interest rates—always politically fraught—until at least 2022.
That may sound like the promise of a smooth transition, but it's not. Already, Lagarde's leadership skills are being tested by two other things Draghi's leaving behind: rifts among ECB policymakers brought on by unhappiness over his final round of pump priming; and their mounting concern that the central bank's efforts to revive the euro zone economy are being undermined by stingy national governments.
The 63-year-old starts in Frankfurt—at the ECB's headquarters overlooking the River Main—on Nov. 1 as the central bank's first female president. It's the latest step in a trailblazing career that includes being France's first female finance minister—significantly, through the global financial crisis—and the first woman to head the International Monetary Fund. Lagarde spent two decades as a lawyer, rising to become chairman of the Chicago-based firm Baker McKenzie. Now she'll oversee the world's second-biggest currency in a diverse, 19-nation economy for which a single monetary policy sometimes seems an ill fit. While members of the decision-making Governing Council attend as Europeans, not as representatives of their country, they inevitably bring views rooted in their cultural history.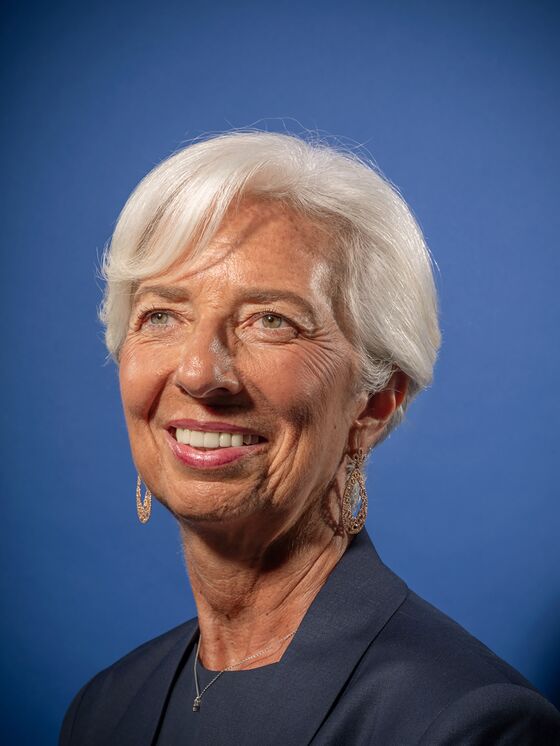 To this challenge, Lagarde brings a different skill set than her predecessors. She's the first ECB chief neither trained as an economist nor experienced as a central banker. Indeed, she's publicly admitted she hates math. Unlike Draghi, who studied under Nobel laureates to gain an economics Ph.D. from Massachusetts Institute of Technology and who used to run the Bank of Italy, Lagarde isn't likely to dig deep into monetary mechanics and neo-Keynesian theory. Instead, she'll probably rely heavily on the ECB's hordes of experts for advice while she crafts diplomatic solutions to vexing problems, according to multiple sources who spoke to Bloomberg on condition of anonymity so they could express themselves openly.
"Throughout her career, Lagarde has been a synthesizer, a moderator, and an arbiter in the way she acted in the international community, and that's how I'd see she would lead the ECB," says Nathan Sheets, a former undersecretary for international affairs at the U.S. Treasury. "She'll be good at finding common ground—also with the political leadership of Europe—and if past performance is any guide, she'll help the institution shine."
The ECB needs a bit of shine. A decade of crisis-fighting has pushed it to its limits, and for all Draghi has done to defend the single currency, he's leaving deep scars behind. Trillions of euros of stimulus failed to lift inflation, opening unprecedented dissent between those colleagues who backed his policies, from negative interest rates to bond purchases, and those losing faith that ever-more easing is the right solution. The policy rift is a good example. Governors from economically conservative economies such as Germany— home to the parsimonious Bundesbank and its hard-currency credentials—the Netherlands, and Austria opposed Draghi's stimulus package. Southern European nations supported it. The outgoing ECB president contributed to the divisions. His pledge in 2012 to do "whatever it takes" to defend the euro, quantitative easing in 2015, and a final easing push in September were all largely go-it-alone initiatives that irritated some of his peers.

Being the next Super Mario isn't going to be part of Lagarde's portfolio. Her style is to come to issues without preconceived ideas and then lean on colleagues to examine every angle of a problem, according to people who know her. Once she's convinced of an argument or a path by her staff, she goes all-out to defend the position. Her detractors, on the other hand, say she follows that advice to a fault.
Her negotiating virtues were evident during the Greek financial crisis, when Lagarde's IMF, the European Union, and the ECB formed the so-called troika that would set and enforce bailout terms for Athens. During an eleventh-hour crisis meeting in June 2015—when many participants had lost interest in Greek Prime Minister Alexis Tsipras's lengthy explications and were distracting themselves on their phones—Lagarde never stopped listening to the Greek side, diligently and determinedly asking questions and taking notes. On another occasion, she defused tensions by handing around bags of M&Ms.
Her willingness to listen isn't likely to include a tolerance for waffling and pointless long-windedness. "Lagarde runs a very tight and disciplined ship," says Mark Sobel, U.S. representative at the IMF from 2015-18. "She often told participants to put down their iPhones and pay attention. During her tenure, the Board adopted a presumption that interventions should be no longer than four minutes. She quickly sought to enforce the limit, and would begin to tap her microphone after the four minutes lapsed."
That kind of discipline and political dexterity could be crucial in persuading governments to do more to support the euro zone economy. She's built warm relationships with German Chancellor Angela Merkel and former Finance Minister Wolfgang Schaeuble, who has had occasional run-ins with the ECB. Schaeuble's successor, Olaf Scholz, has welcomed her appointment, and French President Emmanuel Macron is said to trust her.
It's a tricky balancing act. While the IMF has a remit to advise member states directly and publicly—for example, urging Germany this year to beef up its digital infrastructure—ECB presidents must be careful when stepping on policy terrain that governments are sensitive about. Irk too many member states and they may come back and threaten the independence of the ECB. Both Draghi and his predecessor Jean-Claude Trichet repeatedly urged politicians to deliver structural reforms and fiscal support, to no avail.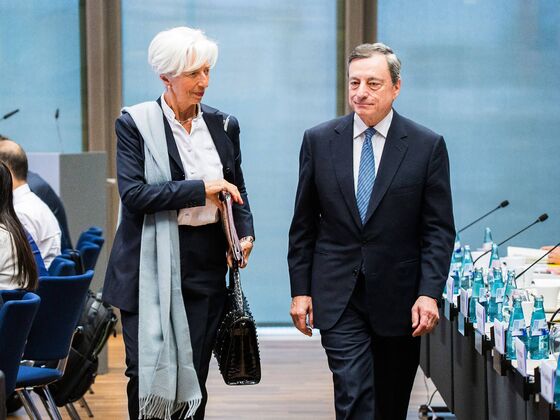 At Governing Council meetings, Lagarde will be one of 25 policymakers, each with an equal vote if consensus can't be reached, and most with far deeper monetary policy experience than she has. Some of her new colleagues were themselves candidates in the race to succeed Draghi. Lagarde told Bloomberg Television last month that she'll "start with teamwork" in her new role, allowing disagreements but, once a decision is made, moving together. She also said she had hesitated over taking the job but, after consulting people who knew the tasks well, felt she had the diplomatic skills, political sense, and understanding to do it.
If there's a clue to where she'll look for inspiration, it might be the leader she says most commands her respect: Pope Francis. The first Latin American to lead the Vatican has pursued a relatively modern papacy engaged with social issues and—perhaps also relevant to Lagarde—has to work with cardinals who see themselves as his rivals and as future pontiffs. The leader that disappoints her most is Aung San Suu Kyi of Myanmar, a Nobel Peace Prize winner who has presided over the persecution of minority Muslims in her predominantly Buddhist nation.
Lagarde is interested in issues like inequality and the economic impact of climate change, which are relevant to the ECB. However, these stray outside the central bank's narrow mandate of price stability. If Lagarde wants to update the organization, her first step may be to investigate why it's struggling to achieve even that goal; to that end, she may initiate the first comprehensive review since 2003 of how the organization operates.
While at the IMF, Lagarde went out of her way to bolster her profile and reputation for openness, writing a blog and speaking to all types of journalists, including giving a 2011 interview to Vogue, in which she declared a passion for Chanel. She was known for walking to work in Washington, complete with security detail. Sheets, the former U.S. Treasury undersecretary, says that she played a key role in bringing the IMF into the modern age. "The institution is no longer your father's IMF," he says. "It's more plugged in to the zeitgeist, which is absolutely essential for remaining relevant in the debate."
The one topic that Lagarde is expected to engage in loudly at the ECB is female empowerment. While the IMF's track record under her tenure isn't especially impressive, with women making up about a fifth of the 29 senior managers listed on its website, she did appoint its first female chief economist, Gita Gopinath, in 2018. Still, Lagarde likes to recount that her own interview upon joining the IMF in 2011 took place before an entirely male panel. Her arrival at the ECB will be déjà vu: She'll be the only woman on the Governing Council, at least until the arrival of Isabel Schnabel, a new German nominee for the Executive Board.
The men who will be her new colleagues, however, should be on notice. Not too long ago, when Lagarde was picked up at the airport during a visit to Europe, she gave one of her official greeters a once-over, inspecting him head-to-toe, and then grumbled that, while wearing jeans was probably acceptable on a Sunday, forgetting to shave was not. —With Viktoria Dendrinou and Helene Fouquet
To contact the editor responsible for this story: Howard Chua-Eoan at hchuaeoan@bloomberg.net, Paul Gordon