China's Churning Out Revolutionary Cancer Drugs Much Cheaper Than the U.S.
(Bloomberg Businessweek) -- Western companies last year began selling some of their hottest cancer drugs, called PD-1 inhibitors, with much fanfare in China. But rather than quickly conquering the mainland market, American drugmakers Merck & Co. and Bristol-Myers Squibb Co. have found themselves facing a surprising challenge: local competitors. Chinese companies are introducing patented cancer therapies in their home market based on PD-1 inhibitors, which use the body's immune system to fight tumors. They're doing it at far lower prices—sometimes a third of what U.S. drugmakers charge—which will likely give them a leg up at home. And their ambitions go far beyond the mainland, with several already preparing to sell their medicines in the U.S. and worldwide.
The push into PD-1 drugs marks one of the first forays by China's pharmaceutical industry into complex treatments. It's the coming of age for a local industry long focused on cheap generics and chemical ingredients, and it's being aided by Beijing's efforts to speed up drug approvals and channel more funding toward health care.
Developing a world-class pharmaceutical business is a priority for China's leaders. Beijing's Made in China 2025 plan identifies the drug industry as one of 10 sectors—along with aviation, electric vehicles, and advanced rail equipment—in which China will look for technological breakthroughs.
One way Chinese companies plan to elbow into the market is lower pricing. Shanghai Junshi Biosciences Co. began selling its drug, called Tuoyi in China, in December for 187,000 yuan ($27,105) for a year's dose for melanoma, a skin cancer. That's one-third the cost of using Merck's Keytruda in China for the same condition over the same period, according to data compiled by Guosen Securities Co. Junshi is conducting clinical trials to enter the U.S. market. (Merck does business as Merck Sharp & Dohme, or MSD, outside the U.S. and Canada.)
Chinese companies say their medicines are structurally different from what American companies offer. "We are very confident in our own patent around the world," says Wu Xiaobin, president of Beijing-based BeiGene, which has filed for approval for its PD-1 drug in China while it continues its international clinical trials, including in the U.S. "We have been well prepared on this because we've always planned to go global."
Jiangsu-based Innovent Biologics Inc., which also sells a PD-1 therapy in China that's cheaper than the two foreign brands, has a licensing agreement with Eli Lilly & Co. through which the U.S. pharma giant will also be responsible for clinical trials, further development work, and marketing the medicine overseas.
Other Chinese biotechnology companies are also preparing to enter local and overseas markets. Jiangsu Hengrui Medicine Co., one of China's biggest drugmakers, on May 31 said its PD-1 drug had received Chinese regulatory approval. "PD-1s are at the cutting edge of science and are transforming cancer care," says Brad Loncar, a biotech investor and chief executive officer at Loncar Investments in Lenexa, Kan. So the push by Chinese companies into these drugs won't just "transform care in China but also have global implications," he says.
Foreign companies are looking to license Chinese drugs globally, says Lin Lijun, founder of Shanghai-based Loyal Valley Capital, which invests in Chinese biotech companies including Junshi. China's health industry has benefited from increased funding and local scientists returning home after gaining experience overseas. Also, many new medicines made by local and foreign companies are now approved in a fraction of the time the process once took.
China is new to developing innovative drugs, so managing their safety and efficacy remains a risk, says Zhang Jialin, an analyst with ICBC International. Chinese companies say their trials show their medicines are safe, and some are following up with larger studies.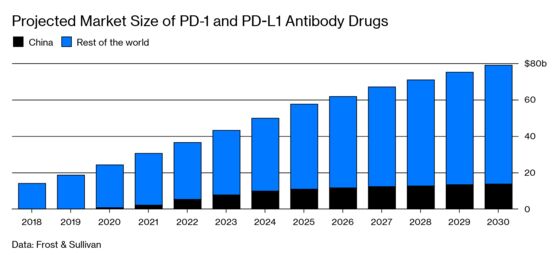 First approved in the U.S. in 2014, PD-1 drugs have boosted survival rates for many patients. Although China sees about 4 million new cancer patients annually, PD-1 drugs are much less prevalent there. Such medicines will bring in only $170 million in Chinese sales in 2019, market researcher Frost & Sullivan estimates. Global sales for these therapies will climb to $78.9 billion by 2030, it says, with China projected to account for about a fifth of the total.
So far no PD-1 drug, domestic or imported, has made it onto China's public health insurance list, so patients would have to pay out of pocket. That's difficult in a country with a per capita disposable income of 28,228 yuan, or $4,090. Companies are willing to cut prices to get on the government reimbursement list, says Junshi CEO Li Ning.
The competition also suggests fresh challenges for foreign drug companies in China, the world's second-largest pharmaceutical market. Bristol-Myers's and Merck's PD-1 drugs are already far cheaper in China than in the U.S. Global Oncology Express, a trade publication affiliated with one of China's top oncology centers, calculated that a vial of Keytruda sells for 17,918 yuan in China, compared with 33,000 yuan for the same amount in the U.S. And both companies say they have special programs to offer the medicines at discounts for low-income patients in China.
In a statement, Bristol-Myers said joint efforts by local and foreign companies will help address patients' unmet needs in China. MSD says Keytruda, now the only PD-1 therapy approved in China for both melanoma and lung cancer, is well-positioned, partly because later entrants will face more hurdles.
Ronald Ede, Innovent's chief financial officer, says he's seen local drugmakers grab as much as 85% of the market for a generic drug or medical device from global rivals within only a few years. "This will happen in the PD-1 market as well, and it'll come faster," he says.
Want more news about the future of health care? Sign up here for Bloomberg's Prognosis newsletter to get great stories delivered to your inbox every Thursday.
To contact the editor responsible for this story: James Ellis at jellis27@bloomberg.net, Anjali Cordeiro
With assistance from Bloomberg