Who's a Very Good Pandemic Business? Chewy Is. Oh, Yes It Is
(Bloomberg Businessweek) -- The usual suspects topped the list of the best-paid executives in the U.S. published by Bloomberg News in July. No. 1 was Tesla Inc.'s Elon Musk, with a 2019 payday of nearly $600 million, followed by Apple Inc.'s Tim Cook at $134 million. The top 10 also included bosses at Intel, Alphabet, and Blackstone Group.
The list did contain one surprise: At No. 5 stood one Sumit Singh, chief executive officer of Chewy Inc., an online retailer of food, toys, apparel, and medicine for pets. Singh joined Chewy in 2017, was elevated to CEO after seven months, and in 2019, his first full year on the job, earned $108.2 million in salary, bonus, and stock grants. That sum was even more remarkable given that Chewy, in nine years of existence, has yet to post a profitable quarter.
But Singh's haul is another indicator, among many, of the company's rise as a force in e-commerce. In the fiscal year ended Feb. 2, it sold products to 13.5 million customers, up 27% for the year, while revenue jumped 37% to $4.9 billion. Then came the coronavirus, and things for Chewy got even better.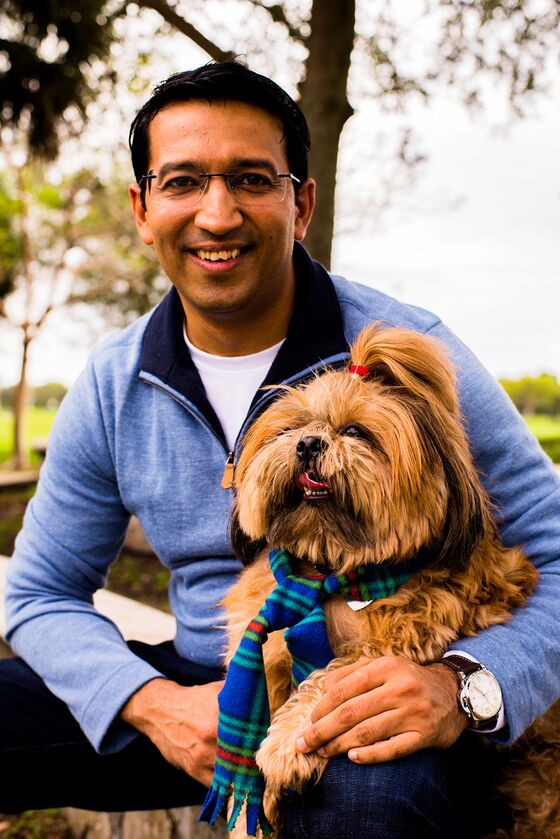 About two-thirds of U.S. households have pets, and their coddling owners—"pet parents," as Chewy calls them—will spend a record $99 billion on them this year, according to the American Pet Products Association. With these pet moms and pet dads avoiding walk-in stores and animal adoptions soaring, Chewy's business has boomed. From February to July, the company added more customers than in all of fiscal 2019. Its shares, which traded at about $30 early this year, shot up to $72 in October, valuing Chewy at almost $30 billion.
Even the most lovable pet can soil the carpet, though, and there's been a whiff of unpleasantness at Chewy. Since PetSmart Inc. bought it for $3.35 billion in 2017, the founders and several executives have departed, partly over disagreements about Chewy's culture and direction. A last-minute rewrite of pre-initial public offering equity awards rankled some at the company, who griped that Singh didn't deserve to stand with Musk and Cook.
In some ways, Chewy is reminiscent of a young Amazon.com Inc., with a ferocious focus on long-term growth at the expense of short-term profits. "To me, the story of Chewy is one of taking a beautiful startup and scaling it to become a world-class institution," says Singh, himself an Amazon alumnus. "I believe that we have a clear path to profitability in the not-so-distant future. So we're building something amazing here."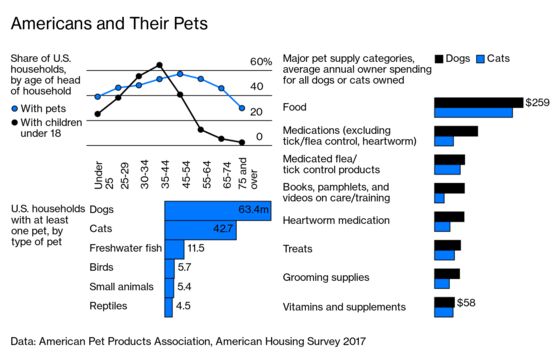 The New York Stock Exchange opening bell rattled Theo, the white labradoodle reluctantly occupying the exchange's famous podium on June 14, 2019. A Chewy executive cradled the dog and patted him on the back. The company's shares were about to start trading. Singh beamed as he clanged the bell.
Watching from the exchange floor were Ryan Cohen and Michael Day, friends who co-founded Chewy in a dingy North Miami Beach office in 2011. The night before the IPO, Cohen had sat on the street outside the exchange, talking on the phone with his father and weeping about his baby becoming such a success. Neither he nor Day were with the company or owned a single share anymore. "It was surreal," Cohen recalls. "It really was the American dream."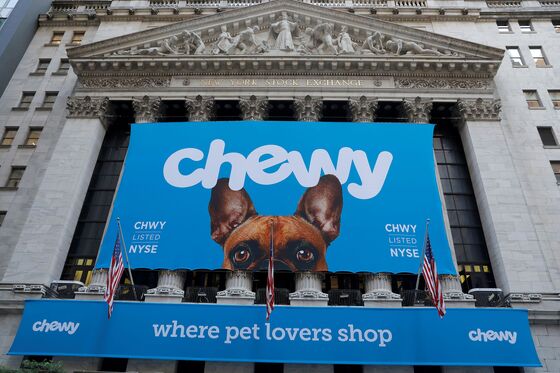 Ten years ago, he and Day were twentysomethings with a knack for writing code and using Google AdWords to sell stuff. They'd met in a chatroom and decided to start an e-commerce business. Teaming up with Alan Attal, a friend of Cohen's, they settled on jewelry.
Then, shortly before the launch, Cohen had an epiphany while shopping for his teacup poodle, Tylee, at his neighborhood pet store: They should ditch jewelry and start a pet food retailer that could marry low prices and fast shipping with the expert service offered in a local shop. Attal, who had a Chihuahua named Ruby, and Day concurred. In June 2011, they launched Chewy, a name Cohen had tested on pet owners in a PetSmart parking lot. Their inspiration and primary rival were one and the same: Amazon.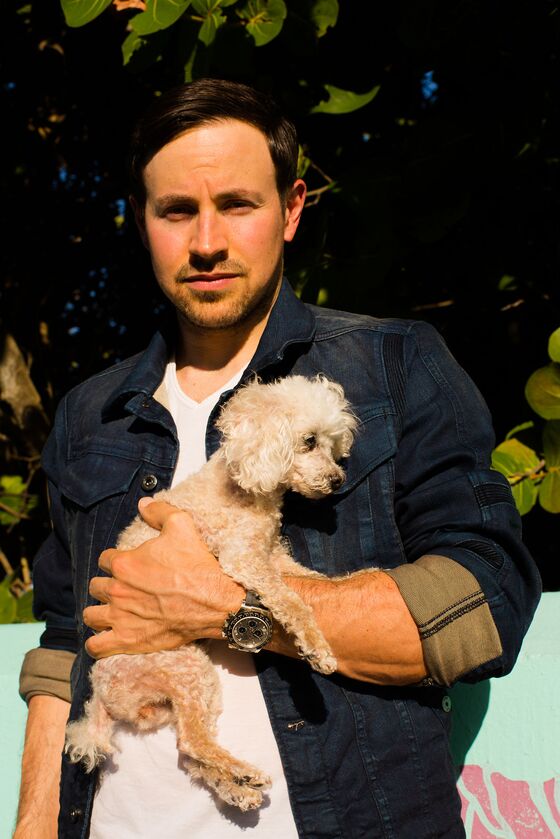 Skeptics asked whether Chewy wasn't just another Pets.com, the doomed startup that went public in early 2000 and shut down before the year was out. But by 2011 online shopping had become part of everyday American life. There were plug-and-play options for warehousing, shipping, and cloud computing. U.S. households were spending more on higher-quality food and veterinary visits for their pets, which they increasingly considered part of the family.
Chewy was determined to outdo Amazon in serving customers. When a customer phoned, a representative said hello within six seconds. Emails were answered within an hour. Messed-up orders were replaced without question or cost. Customers received greeting cards on their pets' birthday and flowers when their pets passed away. Those who emailed pet pictures were sent free hand-painted portraits. "It was all from the beginning about wowing customers," Cohen says. "We can surprise the customer with a portrait, and all of a sudden they're a customer for life."
By early 2012, Chewy was posting monthly sales in the range of $1 million, which would grow in under two years to more than $10 million. Still, investors remained dubious. Cohen went door-to-door in Silicon Valley without raising a penny of venture capital. Then, in September 2013, Larry Cheng, co-founder of Volition Capital and owner of a labradoodle named Coco, agreed to invest $15 million. "Chewy was the great untold story," Cheng says. "Back in that day, people were talking about Casper and Warby Parker, and we all knew Chewy was doing way better than all those companies."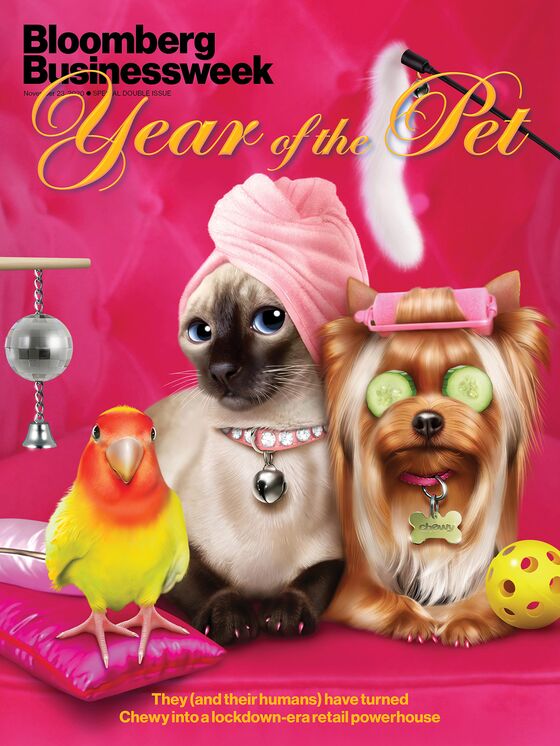 Chewy's path to success was all about scale: getting big as fast as possible. "If we were going to be able to survive Amazon, we needed to build a larger pet business than they did," Cohen says. Chewy spent heavily on AdWords and, later, on television and direct mail to attract customers. Some companies will pay suppliers upfront in exchange for a price discount; Chewy, following Amazon's lead, chose instead to pay full price a few weeks later—gaining, in effect, a short-term, interest-free loan it could plow into customer acquisition. As long as new customers kept shopping—and even, in many cases, subscribed to regular, periodic purchases of food and other staples—the model worked.
Chewy's existing customers generated a profit. But that income was funneled directly into attracting new customers, which consistently led to financial losses. The approach was a facsimile of Amazon's vaunted "flywheel" model for growing. By 2016, Chewy was averaging $2.5 million a day in sales, for an annual take of $900 million. Never mind that it lost $107 million that year. At any point, Cohen says, he could have turned off the marketing spigot, and Chewy would have become profitable. But it would be a smaller business today.
Early in 2017, Cohen became a father for the first time, and his own father suffered a major heart attack. The latter event "really shook me to my core," he says. Around the same time, he received an email from Raymond Svider, chairman of BC Partners, a private equity firm in London. Two years earlier, BC had bought PetSmart, which had 1,400 stores in the U.S. PetSmart executives had noticed Chewy eating into their market share, and Svider, who owns Siberian cats named Pearl and Cashmere, was now interested in buying the startup. Cohen told him he was plotting an IPO, but he'd consider an all-cash bid if it came fast. That April, BC and PetSmart agreed to buy Chewy in what was then the biggest e-commerce deal ever. Cohen and his co-founders each pocketed hundreds of millions of dollars.
As part of the deal, Chewy's executives and some senior employees got golden handcuffs: "profits interest units," a type of equity that was set to vest over five years. If a recipient left Chewy before the end of May 2019, BC could buy back his or her securities at a fraction of their value.
Late one evening in March 2018, Cohen sent an email announcing his immediate resignation. The news came as a surprise, though a few of his colleagues were aware that Cohen was frustrated with the new owner's questioning of some of his decisions, according to former executives.
Cohen later wrote in Harvard Business Review, "I felt I had done all I had set out to do … and I didn't want a boss." He did want to spend more time with his new son and with his father, who died last December. Singh, who'd been hired by Cohen as chief operating officer less than a year before, was named the new CEO.
 
When Singh, who owns a Shih Tzu named D, took over, the company counted 10,000 employees. Cohen had laid out a step-by-step plan for board members for achieving profitability in a few years, according to internal company documents reviewed by Bloomberg Businessweek. Sales of private-label products, which carry higher margins than third-party brands, were growing. A pet health-care and pharmacy business was almost ready for launch, and the company had laid groundwork for an IPO.
But as Singh saw it, Chewy needed more structure, better data analytics, a greater product assortment, and stronger inventory and supply chain management. Despite the plan prior management set out, Singh says, "there wasn't a road map for sustained growth. How do you take the company from $2 billion to $20 billion?"
Singh, who grew up in India, has a master's degree in engineering from the University of Texas and an MBA from the University of Chicago. After 10 years with Dell Technologies Inc., he helped build Amazon's grocery-delivery business in the U.S. and three other countries. Those who interviewed him to be Chewy's operating chief saw a brainy data geek with a strong background in operations and experience working at large organizations.
Singh improved Chewy's automated forecasting and supply chain management with machine learning, and expanded a tech-centric office in Boston. The company's product catalog increased by more than half, to 67,000 items. Again mimicking Amazon, Singh banned PowerPoints and told staff to argue their cases in narrative prose. He also identified key metrics and held executives to them during weekly, monthly, and quarterly reviews. "It's a relentless focus on data and experience that allows us to do hard things well," he says.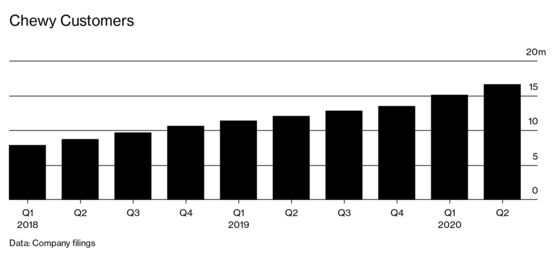 Last year, Singh learned that Chewy was getting a disproportionate number of complaints about cat litter boxes being damaged in delivery. Cat litter is heavy, and a small problem can make a big mess. But customers need to reorder it periodically, fitting with Chewy's focus on recurring purchases. A small team at Chewy gathered data and tracked down the warehouses, delivery routes, and ZIP codes with the most botched deliveries. The team worked with suppliers to create better packaging, set up fulfillment-center prep stations for packages prone to sustaining damage, and took other steps to reduce the likelihood of problems in transit. "If you're living in New York on the 36th floor, and your cat litter came open on your expensive hardwood floor, you're never going to order from me again," Singh says.
Some longtime employees struggled to get along with the new boss. The abundantly confident Singh struck a different chord than Cohen, an unassuming Canadian who'd never worked at a big company before founding Chewy. Singh personally involved himself in matters Cohen had delegated, and he encouraged executives to openly challenge each other during meetings, which some say created an atmosphere of competition that made some employees reluctant to speak up. His apparent obsession with data, big meetings, and Amazonian "six-pager" memos grated on some underlings, particularly those who'd joined Chewy because the founders' scrappy, just-get-it-done approach wasn't like that of a large corporation. "We all knew we were just a pet store, but we really believed we were making a big difference in the lives of pets and people," says Andrea Wolfe, Chewy's former vice president of marketing, who left in late 2017. "It was more than just meeting numbers and building efficiency. With Sumit, you could tell he was just a numbers guy."
In Singh's view, it's all a necessary part of getting bigger. "As Chewy continues to scale, it is critical to combine our spirit of innovation with data and insights," he says. "We believe that practices like metrics and data have made us better, faster, and more scrappy." This approach, Singh says, allows the company to automate routine tasks and shorten meetings, and promotes critical thinking.
Early in his CEO tenure, Singh questioned a number of practices that had been fundamental to Chewy's success. For instance, in the summer of 2018, Amazon rolled out a 40% discount for new customers placing subscription orders for pet products, besting Chewy's standard 20% markdown. Singh resisted immediately matching the deal, even as his lieutenants argued that the company's growth stemmed in part from its commitment to having the lowest prices. Singh suspected customers valued the subscription service enough that they didn't need a big price cut. After a weekslong analysis and debate, Chewy eventually installed a discount of 30%.
A year after Singh became CEO, Chewy prepared to go public. The profits interest units that senior employees had received when PetSmart bought Chewy were scheduled to be 40% vested at the end of May. But Singh told employees the units were being canceled because of the impending June IPO. The value of the units was tied to how much Chewy and PetSmart would have been worth if they went public together; that no longer applied, because PetSmart wasn't participating in the IPO. The employees instead received restricted shares in Chewy, only 10% of which would be vested when the company went public. Yet when Chewy's registration statement became public, it showed that Singh's award had its own vesting schedule: He could pocket 25% of his shares on the day of the IPO.
In an internal email reviewed by Bloomberg Businessweek, Singh told his team he'd fought "very hard" for them in negotiations with Chewy's controlling shareholder, BC Partners. He also said his own vesting was justified: The payout depended on factors beyond his control, such as the stock hitting certain price thresholds. But other executives' payouts were tied to the same benchmarks. The company says the new plan "has generated exponential returns" for shareholders and employees alike.
On the day of the offering, Chewy's shares jumped 59%, to $35, temporarily ballooning the paper value of Singh's equity award to $139 million. (Chewy says Bloomberg's calculation of Singh's 2019 compensation is inflated, because it includes shares that have yet to vest.) The shares slid back and hovered at about $30 until the coronavirus invaded the U.S.
 
Singh was attending his daughter's school fair on Feb. 29 when he took an urgent call from his chief supply chain officer. Customer demand had spiked over the past two days, even though Chewy wasn't running special deals. "OK," Singh says he thought. "Something is about to break loose."
Over the next few weeks, inventories that were normally 99% stocked suddenly declined by as much as 23%. It was like the holiday season had arrived unannounced. "Our backlog levels were higher," Singh says. "Our customer service levels started degrading."
Grooming products, for example, were in especially heavy demand, because groomers had closed their doors and owners were opting to wash and clip their pets themselves. Lucky for Chewy, it had stocked up in late 2019 to prepare for the Chinese New Year in January, when factories in China that supply those and other goods would shut down. Chewy also regularly reserves ample stocks for its subscription, or autoship, clients, which effectively shielded about two-thirds of the company's business from acute shortages. Algorithms were tweaked so customers could more easily find different brands and sizes if their preferred choices weren't available; that had the added benefit of attracting fresh eyes to Chewy's private-label offerings. The company also created a free online chat service that connected autoship customers with veterinarians.
Shipping was "the monster," Singh says. The company might have something a customer wanted, but in a warehouse on the other side of the country. During April and May, deliveries were taking as long as nine days. Chewy started splitting orders into multiple boxes, using express shipping, and taking other measures; the added cost was about $20 million. All of this was done to protect the company's relationships with customers, Singh says. It worked. When new ones complained on Facebook, long-time customers jumped to Chewy's defense.
Six thousand workers joined Chewy this spring. The company says it temporarily increased wages and benefits to attract new people, most of whom were deployed in the warehouses. Some shifts doubled in size.
Chewy projects its sales for the current fiscal year will approach $7 billion—up more than 40% from 2019 and about what Cohen forecast before he left. The obvious question is when Chewy will turn a bottom-line profit. In an email to Bloomberg Businessweek addressing that, Singh attached a photo of a diagram he'd drawn on a whiteboard with blue and red markers. A big circle labeled "growth and profit flywheel" illustrated the cycle of existing customers generating cash to lure new ones and expand offerings. An arrow pointed to a word in red: "PROFITABLE!!"
It doesn't indicate when, but Singh says the company is on its way. The cost of marketing relative to revenue has been falling, the private-label and pharmacy businesses are thriving, and Chewy has said it could post a profit for fiscal 2020 of as much as $20.4 million, albeit without counting charges for interest, taxes, depreciation, and amortization. That would presumably be good for shareholders, including Singh. As of Nov. 16, his equity award had swelled in value to $256 million.
 
Read next: How Robinhood's Addictive App Made Trading a Covid Pandemic Pastime