Businessweek at 90: Covering Business Through the Decades
(Bloomberg Businessweek) -- The first issue of this magazine appeared on Sept. 7, 1929. Its black, red, and gold art deco cover was free of news. It featured a big triangle pointing down at an inscrutable photo—an overhead, nighttime view of an intersection in an unidentified big city.
The editors obviously had no way to know that seven weeks later the stock market would crash, ushering in the Great Depression. They did observe that "the market is now almost wholly 'psychological'—irregular, unsteady, and properly apprehensive of the inevitable readjustment that draws near." But in the metaphorical style of the day, they also said, "There is no financial frost in the air as yet, and we look for a long stretch of Indian summer in industry before winter sets in." The first issue carried squibs on tariffs, railroads, farms, Palestine, and even this tech breakthrough: "Dry Ice Finds Many New Uses."
How we've survived, thrived, and evolved from 1929 to 2019 is a sprawling tale. We've been shaped by each of the thousands of journalists who've worked here over the past nine decades, sweating every sentence, photograph, illustration, chart, and cover. We've also been shaped by every story we've done, from World War II to WeWork. We are 90 years old but still a perpetual newborn, created anew each week.
To say "we" is presumptuous of today's staff, since of course no one from 1929 is here anymore. On the other hand, there's institutional memory. Jim Ellis, the editor of our Business section and one of the authors of this essay, has been with the magazine since 1980. He overlapped for a few years with John Cobbs, who started in 1942. Cobbs in turn overlapped with Ralph Smith, editor from 1937 to 1949, who'd been with The Business Week from its beginning. So, just three people span our entire history.
We've been through a lot of changes, right down to our name: first The Business Week, then Business Week, then BUSINESS WEEK, then BusinessWeek. And since 2009, Bloomberg Businessweek, as part of Bloomberg LP, which acquired us from the McGraw-Hill Cos.
Our decade inside Bloomberg is an echo of our eight inside McGraw-Hill. At "Mother McGraw," BusinessWeek was the flagship publication, drawing on reporting from a network of specialty trade publications ranging from Modern Plastics to Engineering News-Record. At Bloomberg, the magazine's staff harnesses its 2,700-plus journalists and analysts, who work in 120 countries.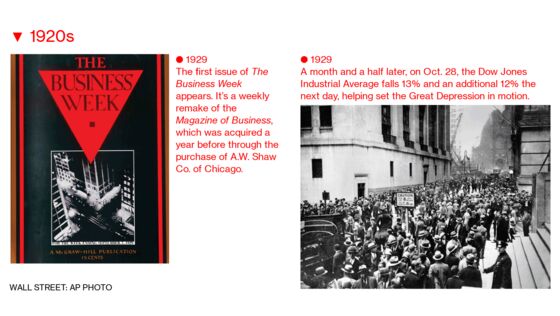 Something else has persisted: our mission. "Its ambition is to become indispensable," the editors wrote in the inaugural issue. "The Business Week never will be content to be a mere chronicle of events. It aims always to interpret their significance." That promise stands up pretty well today, as does our determination to serve you, our reader. If nothing else, our longevity suggests we've been doing something right on that score.
Not that we're always on the money. Even in the magazine's earliest days, the editors were slow to realize the economic carnage that was transpiring. As late as July 1930 we were still optimistically pointing to "a fistful of straw that show business winds have turned," including record June sales of Packard automobiles. McGraw-Hill went ahead with plans for a blue-green art deco headquarters on Manhattan's 42nd Street, moving into it in late 1931. (The landmarked building still stands, though it's half-enveloped by the Port Authority Bus Terminal.)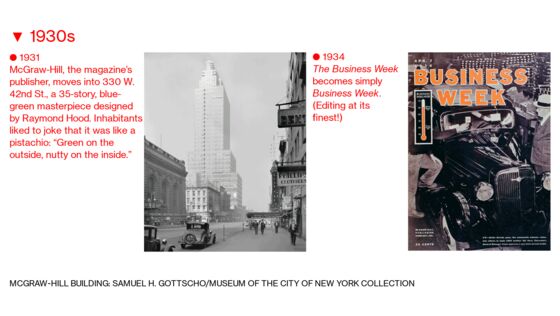 But as the Depression gathered force, the editors turned into strong advocates for aggressive action to revive the U.S. economy. At a time when the U.S. Chamber of Commerce and others urged the federal government to balance its budget, The Business Week understood that the economy was suffering from a shortage of demand and that government was the only player capable of filling the gap. In October 1930 the magazine complained that the Federal Reserve was "standing idly by." In March 1932 we condemned a consumption tax bill in the House as "fiscal suicide" that would cause "further deflation and contraction."
It was one of the magazine's finest hours. "Business Week's editorials offered perhaps the most sophisticated Keynesian-style economic analysis of any mass publication, and its influence may have been disproportionate to its circulation, as it targeted an elite audience of businessmen," wrote Ranjit Dighe, an economics professor at the State University of New York at Oswego, in a 2011 paper.
The probable author of those editorials, Virgil Jordan, was the first in a long line of brilliant economists and economic journalists to write for the magazine. Another was Leonard Silk, Ph.D., later a columnist for the New York Times, who wrote for the magazine from 1954 to 1969. Silk attempted to bolster readers' trust in economists, writing in 1959 that the profession "has moved a long way toward the realism and practicality sought by business and government." Silk hired William Wolman, a Stanford Ph.D. who continued to write and edit for the magazine until 2001. Wolman in turn hired Michael Mandel, a Harvard Ph.D. who became a theorist of the New Economy and stayed with the magazine until 2009.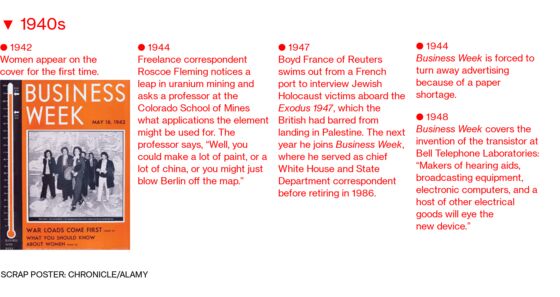 Aside from chronicling the lousy economy, the Business Week of the 1930s helped invent the modern role of the chief executive officer. Writing about management became a staple of the magazine as the postwar explosion of new businesses and technologies called for a shift toward professional managers who had the analytical skills to quickly assume responsibility in unfamiliar enterprises. The archetype of this new ubermanager was General Motors CEO Alfred P. Sloan, whose data-driven approach became one of the most influential business strategies of the 1950s.
Sloan in 1950 donated more than $5 million to launch the graduate business school at MIT, back when formal management education was a novelty. Business Week was quick to recognize the huge importance of the shift. From the article "Can You Teach Management?" in April 1952: "The day of the truly professional general management man isn't here yet, but it's not far away." (The acceptance of professional women managers would take quite a bit longer.) Indeed, the rise in incomes and the amount of leisure time enjoyed by an increasingly suburban middle class meant money was to be made in new industries such as entertainment and travel, and professional managers-without-portfolio became a prized commodity. The magazine would play a modest part in their development, especially after the introduction of our annual business school ranking in 1988.
Business Week's coverage continued to evolve. A November 1951 issue examined the potential impact of color television. In August 1952 the headline of the magazine's cover story on the airline industry's plan to shift to jets asked, "How Big Can It Get?" A July 1955 cover story detailed the $17 million—yes, $17 million—bet Walt Disney Productions was taking to open the original Disneyland in Anaheim, Calif.
And an August 1958 cover story predicted that American Express Co.'s new national credit card would be "perhaps the closest thing yet to a 'universal' card adequate for all the needs of a traveler or stay-at-home host." That was almost a decade before BankAmericard (now Visa) expanded outside California and the founding of Master Charge (now Mastercard), but Business Week readers were already well aware of the potential for plastic to change American consumption forever.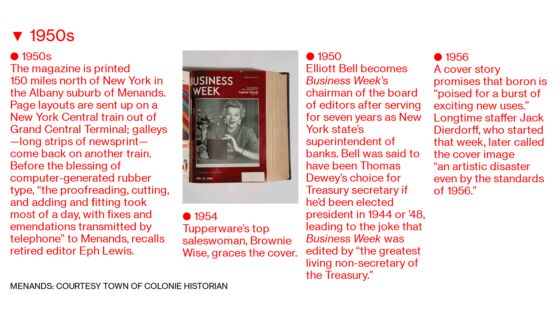 Meanwhile, our writers and editors increasingly spent time tracking broader societal shifts that would have an indelible impact on business. One of the most striking was the inclusion of women. The magazine had put a group of female workers on its cover in May 1942 to illustrate the phenomenon of women entering the workforce to fill in for men during World War II. Soon a few female entrepreneurs would appear on the cover, starting with Hazel Bishop, the chemist-turned-businesswoman who developed the first nonsmearable lipstick, in 1951 and Tupperware saleswoman Brownie Wise three years later.
Then came our 1975 cover "The Corporate Woman: Up the Ladder, Finally," showing a confident General Electric Co. vice president, Marion Kellogg, seated in a black chair. The 11-page package by our Corporate Women department editors provided an inside look at the discrimination and slights, overt and subtle, that women experienced as they climbed the ranks in male-dominated businesses. "In situations where men say, 'This is what I want and deserve' and get a yes or no, a woman's requests are treated as demands," Sandra Kresch, then a 30-year-old vice president at consultant Booz Allen & Hamilton, told us. "People are surprised and ask, 'Why is she such a hard-driving lady?' " And there was the male executive who said many women weren't willing to make the sacrifices of working extra hours or accepting the tension that comes with being a senior manager. There were also encouraging signs of progress. "The big news is that women are making headway—slowly in the executive suite, faster at the lower rungs of middle management."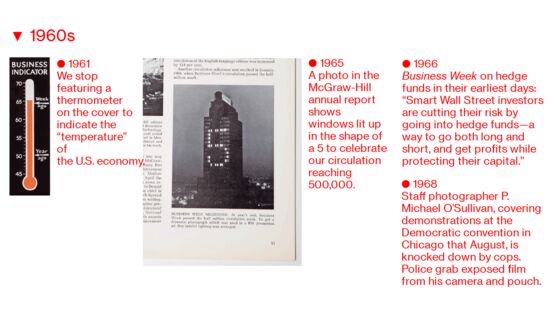 Business Week's coverage of African Americans' movement within corporations followed a similar fringe-to-mainstream arc. In the early days, coverage of black business was scant, and the magazine was at times painfully in step with the segregationist thinking of the era. A December 1944 story, "Negro Problem Worries Coast," said California cities were troubled by the large numbers of black workers who'd moved west to work in war plants and planned to stay: "There are Negroes who despise their 'ghetto' and others who like it—and profit by it," the story said.
In the 1960s, the civil rights movement and nationwide unrest cast a harsh light on the inequity of the American dream. Business Week changed alongside America's racial dialogue, publishing stories throughout the decade about government efforts to jump-start black capitalism—seen by some policymakers as a way to calm frustrated demonstrators who'd taken to the streets—and profiles of nascent black businesses. The magazine's tone remained a work in progress: An April 1969 marketing story noted that "Negro-owned, operated American Dream Soap hopes to clean up with products aimed for the ghetto."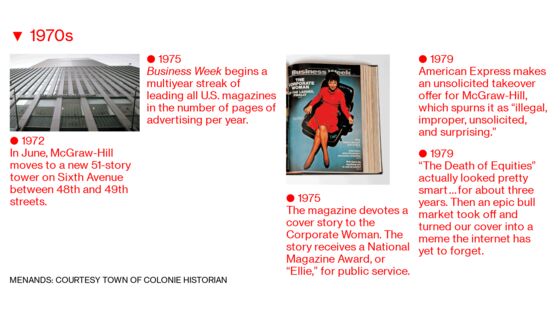 By the time Business Week published a September 1973 article about George E. Johnson and the success of his Chicago-based hair-care company, Johnson Products (headline: "When Black Is Beautiful"), the editors seemed intent on being more inclusive. Still, they were writing for an audience that was far from woke about the black experience. So when they quoted Johnson, whose company made Afro Sheen, joking, "I'd be shaking in my boots" if more blacks began adopting the hairstyle sported by singer Isaac Hayes Jr., Business Week had to explain to its mostly white readers: "Hayes is bald."
Change happens only so fast, however. When a Xerox Corp. executive, A. Barry Rand, was interviewed in 1988 for our cover story "The Black Middle Class," he was quick to note that discrimination wasn't going away. " 'The playing field has not been leveled,' argues Xerox's Rand, who runs a $4 billion unit with 30,000 employees. 'America is not color-blind. Race still matters.' " Rand, who left Xerox in 1999 to become CEO of Avis and later served as CEO of AARP before his death last year, could have said the same today.
While the 1960s and '70s expanded the economic pie and gave many people a political voice, the 1980s seemed to move in the opposite direction. Dozens of fights for corporate control were waged by a new class of business boogeyman or shareholder savior, depending on where you sat. These were "The Raiders"—junk-bond financiers and leveraged buyout kings—whom we personified with a March 1985 cover showing a pinstripe-suited executive wearing a red bandanna.
The 1988 fight over RJR Nabisco Inc. was era-defining. Henry Kravis's buyout firm Kohlberg Kravis Roberts & Co. mounted a $25 billion hostile takeover of the tobacco and food giant, then led by a cocksure F. Ross Johnson, who'd tried to take the company private in a sweetheart deal. KKR financed its counteroffer largely by borrowing against the company's assets, putting a little-known financial tactic known as the leveraged buyout on the map. Kravis landed on the Nov. 14, 1988, cover as "King Henry."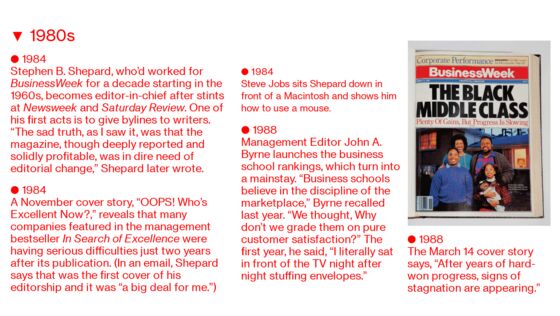 Possibly the most iconic character of the 1980s was Michael Milken, the wunderkind who led the junk-bond team at investment bank Drexel Burnham Lambert Inc. "Milken has devoted his career to a radical proposition: that the supposedly risky bonds of companies with low credit ratings actually are terrific investments. So far, he's been right," we wrote in 1985. (Many of his clients also became iconic figures, such as oilman T. Boone Pickens, casino operator Steve Wynn, and CNN founder Ted Turner.) Yet Milken's decade-long run as the most feared person in corporate boardrooms came to an end when he pleaded guilty to securities fraud, served 22 months in prison, and was barred for life from the securities business.
Elsewhere on Wall Street, Michael Bloomberg was "stirring up trouble," BusinessWeek wrote in its April 29, 1991, issue—the first time the magazine covered its future owner, whose namesake financial information service already had "estimated" sales of $140 million as well as some formidable competitors. "In contrast with his company's modest size," we wrote, "Bloomberg's aspirations might strike some as grandiose." And how about this kicker: "Bloomberg has already shown plenty of guts. Glory of the sort he craves may take a little longer."
Bloomberg's data wasn't the only thing changing Wall Street. With the end of fixed brokerage commissions in 1975, retail investors, driven by the replacement of traditional corporate pensions with self-directed 401(k) retirement plans, had become a phenomenon by the mid-'80s. The institutional investor "buy side" could finally go toe-to-toe with Wall Street's "sell side."
Online discount brokerages appeared, and mutual funds boomed. Charles Schwab Corp., through shrewd marketing and innovative technology, "lays out a sumptuous banquet of low-cost and imaginative investment programs, such as no-fee mutual funds, computerized stock trading, and specialized banking services," said a Dec. 19, 1994, cover story.
Consumer advocacy groups would also come into their own, many of them founded by "Naderites," people inspired by Ralph Nader's indictment of the auto industry in 1965's Unsafe at Any Speed. These advocates became the moral conscience of corporations, whether said corporations liked it or not. Meanwhile, environmentalism came of age with the passage of the Clean Air Act in 1990, forged by deals between congressional Democrats, who "don't want to face the voters empty-handed" in an election year, and a Republican president, George H.W. Bush, who "wants to burnish his reputation as an environmentalist," according to a March 5, 1990, story. How times have changed.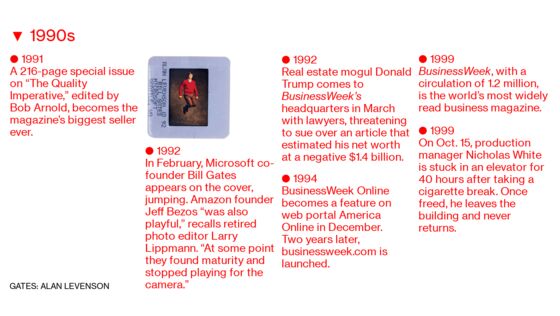 And yet, not. History does seem to repeat itself. As the magazine wrote just a few issues ago, 2020 could be "the year of the great antitrust reawakening." If so, it would arrive 36 years after the breakup of American Telephone & Telegraph Co. The U.S. had brought an antitrust case claiming that Ma Bell had abused its monopoly over long-distance service and equipment. After a decade-long court battle, AT&T agreed to settle the case by spinning off the regional telephone companies, the seven Baby Bells, in 1984.
The magazine closely chronicled how that breakup brought chaos yet paved the way for young visionaries who foresaw how the telephone could provide voice, video, and data in one handset. Fifteen years later, a Nov. 22, 1999, article said "companies created out of the Bell System, including those since swallowed up, are worth about $810 billion today, vs. $59 billion before the breakup."
The telecom upheaval would soon mesh with the digital revolution. The same year as Ma Bell's dissolution, a 28-year-old Steve Jobs would introduce the Apple Macintosh personal computer. "Stores cannot keep Macintosh in stock; the waiting lists of eager customers are growing at many retailers," the magazine wrote in March 1984.
During Ronald Reagan's presidency, "deregulation" and "tax cuts" were the watchwords. This lured many companies for the first time to open lobby shops and make campaign contributions to influence legislation and policy. BusinessWeek in 1985 also opened its first dedicated Washington bureau—just in time, too. A savings and loan scandal erupted out of a soupçon of regulatory failures, legislative bloopers, and unchecked campaign contributions. The fallout lasted to 1995 and involved the closure of some 800 S&Ls at a cost to taxpayers of about $125 billion.
That debacle fed a disenchantment with Washington that, by late 1992, had "deteriorated into something more malignant—a deep-seated loathing," the magazine wrote, hitting an all-too-familiar theme. "The public seems to distrust all politicians and is determined to shake up the established order." Sometimes, nothing seems to change.
The heady American economy also powered through a scary stock market crash on Black Monday in October 1987, when the Dow Jones Industrial Average plunged 23%. The culprit would prove to be so-called portfolio insurance, which institutional investors had purchased to protect the value of the stocks in their portfolios. "The problem," as a Nov. 9, 1987, cover story put it, "is that these markets were not designed for the large institutions, which now dominate trading—especially when they all want to sell at the same time." Fortunately the stock market quickly recovered and continued its upward march, defying our infamous "Death of Equities" cover from 1979. (Oops.)
Perhaps the most consequential development of the '80s and '90s was the export of American-style capitalism around the globe. BusinessWeek's European and Asian editions thrived on tales of peripatetic executives taking advantage of market-opening trade deals, delivering the message that free markets would yield good-paying jobs and higher living standards. The failure of communism as an economic and social model, made official by the fall of the Berlin Wall in 1989, gave U.S. companies a license to plant their flag in dozens of countries around the world. "New markets, rapid advances in communications, and new sources of brainpower and skilled labor are forcing businesses into their most fundamental reorganization since the multi-division corporation became standard in the 1950s," a Nov. 18, 1994, cover story said.
The U.S. economy entered and exited the 1990s with the wind at its back, interrupted by a brief recession in 1990-91, a brief war in the Persian Gulf in 1991, and not-so-brief spurts of corporate restructurings, downsizings, and mergers. The nascent digital revolution combined with healthy consumer spending, receding unemployment, and low inflation to produce what analysts called a Goldilocks economy. Foreign investors flocked to America. The European Union, partly in an attempt to mimic U.S. success, introduced the euro, its single currency. As the 21st century dawned, BusinessWeek sought to capture the new American prosperity and self-assuredness with a Feb. 14, 2000, cover story. It was titled, simply, "Boom."
Unfortunately, as in 1929, our timing wasn't so great: The dot-com bubble popped less than a month later. After a disastrous February initial public offering, Pets.com and its canine Sock Puppet mascot became memorable early casualties. By December, our body count was 75 "e-tailers." (One noteworthy exception was Amazon.com Inc. Jeff Bezos, we wrote that May, "isn't letting all the hand-wringing about Amazon's high-risk strategy get him down.") By the end of the year, the stock market had dropped almost 14% from its peak in March—and it had much further to fall, though there would be no moment lower than the tragedy of Sept. 11, 2001.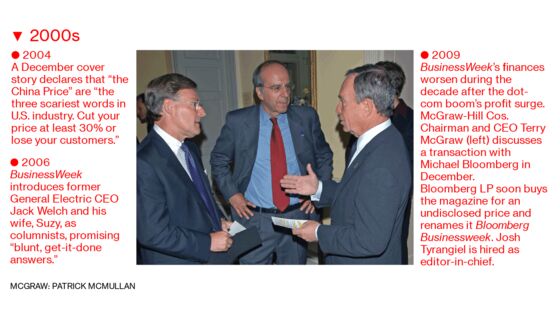 Yet barely a month after the Twin Towers fell, Jobs introduced the iPod, the digital music player that put thousands of songs in your pocket and synced with a computer program called iTunes, and Apple Computer Inc., whose shares were just $1.30 at the time, began its epic ascent. For a world still smoldering, here was a ray of hope, courtesy of a mock-turtlenecked entrepreneur-aesthete who knew a few things about second acts.
What followed is the stuff of legend: from iPod Shuffles to iPhones, Apple Stores to App Stores, Apple Watches to Apple TVs, Apple AirPods to, well, Apple AirPods Pro. "Jobs and his lieutenants parlayed their uncommon obsession with design and ease of use into an historic run," Bloomberg's Brad Stone wrote when Apple—by now just Apple Inc.—became the first U.S. company to pass a $1 trillion market capitalization in August 2018. (Another cover that makes us wince today: "The Fall of an American Icon," about Apple in 1996.)
It's easy to overlook the feat now, but the incredible evolution of technology since just the turn of this century has, in its finest moments, produced wonder. It's also produced anger, especially in the midst of Lehman Brothers' implosion and the ensuing financial crisis, which happened to hit especially close to home for the magazine. As we were to learn, Standard & Poor's was an enabler of the carnage that transpired and, like BusinessWeek, the rating company also happened to be a unit of McGraw-Hill. As our longtime owner's business turned dire, BusinessWeek changed hands—and proceeded to reinvent itself for the times with a dramatic redesign, becoming an early iteration of the magazine we are today.
From the beginning, Businessweek has covered the entire world. The earliest issues in 1929 warned that European employers were looking askance at Henry Ford's wage theories. The magazine covered the devastation of World War II and the miraculous postwar economic recoveries. It probed business opportunities in Latin America, Africa, and across Asia. It documented the rise of Japan and the even more dramatic rise of China. Hong Kong correspondent Joyce Barnathan and her co-authors even issued a prescient warning in "Rethinking China," a March 4, 1996, cover story. "A pattern of disturbing behavior—from saber-rattling over Taiwan to strong-arming Western business—is causing concern about China's swiftly growing power," the subhead read.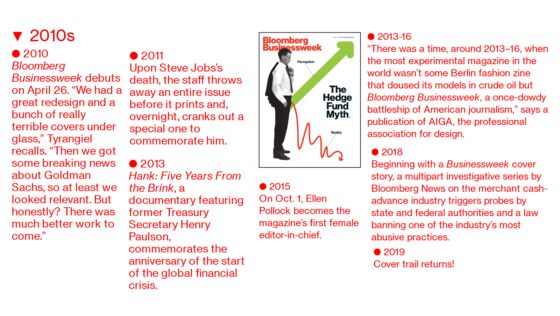 Having lived through a few decades, we've seen bull markets like the present one before and know that, at some point it will end and, as we wrote last year, "we'll start by describing its demise"—the crash of 2020-something. Or maybe we'll get really lucky, like the Australians, who've been waiting 30 years for the next recession. But we digress. (At 90, I guess we are allowed to.)
What's really been flowing through our veins all these decades, and something that's defined our coverage since the beginning of this century—especially during our time as Bloomberg Businessweek—is an obsession with innovation and change. It's why "Sooner Than You Think" became one of our favorite franchises, why our Emmy-nominated video series Hello World gets millions of hits on YouTube, and why we memorialized Jobs with a special ad-free issue upon his death. Ideas and insights—that's our currency.
The magazine has obviously long covered founders and CEOs, executives and management, industries and products. We've divided the staff into beats, and "the book" into corresponding sections. All of that was to organize the news, to tame the torrent of the times. We're first and foremost a U.S. magazine, yet we've also broadened ourselves into a global business publication, one with an American perspective that makes use of Bloomberg LP's best assets: valuable data and talented people. Beyond the print magazine, we're a big part of bloomberg.com; we also produce a TV show, a radio show, and a podcast; and we have millions of followers on social media.
We know we've been fortunate to live as long as we have. Which is why we want to say thank you—to you, our readers, as well as our staffers, contributors, advertisers, and anybody else we've ever touched. We value you and the time you give us, and we look forward to engaging with you for many more issues in the decades to come.
To contact the editor responsible for this story: Jim Aley at jaley@bloomberg.net