Britain's Small Businesses Aren't Prepared for Brexit
(Bloomberg Businessweek) -- Julianne Ponan doesn't run a gigantic corporation, but she hasn't been doing badly. When she bought Creative Nature, based in Surrey, about seven years ago, it was a money-losing maker of candles, among other things. In 2018 the company, which now produces and exports snacks for the booming health-and-wellness market around the world, about doubled its revenue from the year before, to £1.3 million ($1.7 million). The Federation of Small Businesses in the U.K. recognized Ponan with a best retail business award last year for her company's skill at turning ingredients from as far away as New Zealand into treats, dietary supplements, and cake mixes sold in Britain, Europe, and elsewhere. Ponan found the U.K.—with its banking system and easy access to larger export markets—to be the perfect hub.
With Brexit on the horizon, Creative Nature and hundreds of other small and midsize businesses must deal with an impending quagmire of financial and bureaucratic regulations, the kinds of delays that disrupt cash flow. The divorce from the European Union could cause liquidity problems and lead to innumerable loan defaults that some U.K.-based banks are trying to prevent, small business by small business.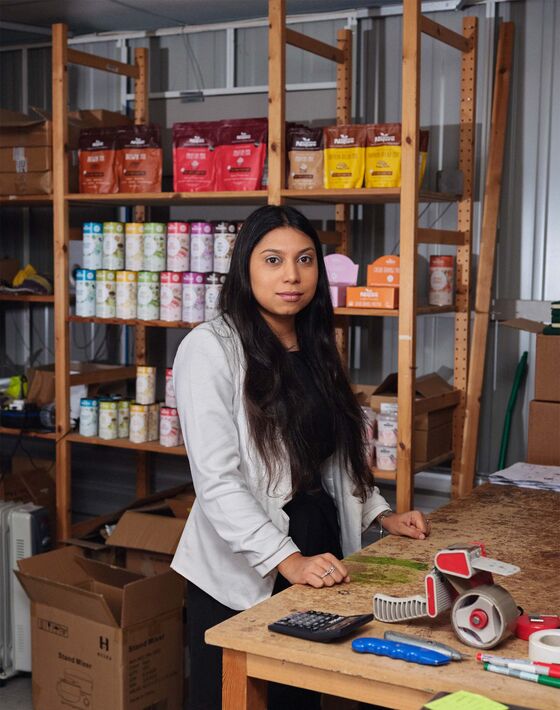 A much-feared hard Brexit, in which the U.K. leaves the EU without any agreement for the movement of people and goods, could erect trade barriers overnight. Things may be a little better with the softer Brexit that Prime Minister Theresa May is trying to negotiate with Brussels. That would provide for a two-year transition period. Still, as part of the EU, the U.K. enjoys relatively easy trade with 69 countries, and so far it's won post-Brexit agreements with only seven of those. "For small businesses, it's very difficult, because we can't just stop sending over goods," Ponan says. "I still feel we made the right decision of setting up in the U.K., but it's going to be a difficult time ahead."
If Parliament doesn't approve May's new deal, and if Brexit isn't delayed, export and import businesses will find themselves trading with Europe on March 29 under World Trade Organization rules. The U.K.'s 5.6 million small and midsize businesses, which employ 16.3 million people and generated $2.6 trillion in revenue in 2018, will most likely incur higher costs, delays, and a raft of new documentation requirements. "Small and medium enterprises have been relying too much on the assumptions that everything will be OK," says Mike Slevin, who leads the Brexit program for the commercial bank at Royal Bank of Scotland Group Plc, historically the U.K.'s largest provider for small and medium-size businesses. "The majority hasn't started to put contingency plans in action and execute them."
"If I could move my business somewhere else at zero costs, I would do it tomorrow," says Giambattista La Torre, general manager of an Italian boutique hotel and restaurant in Covent Garden that imports wine, salami, and other goods from Puglia. "Some have suggested to stockpile goods, but rarely does a restaurant in the heart of London have the space for that. We are living from one day to the next."
According to Banco Santander SA's U.K. unit, about 90 percent of small and midsize enterprises "have only traded with Europe, and therefore they don't know about issues like rules of origin," says John Carroll, head of product management and international business. With a hard Brexit, exporters will need rules-of-origin certificates to determine the duties and tariffs that products will incur as they cross borders. It remains unclear which authorities will issue the documents—those in the U.K., the EU, or each specific country on the Continent. "We are pointing them in the direction of local chambers to see how they can get help," Carroll says.
Banks such as Santander and RBS have been coaching businesses to make sure they have the right papers in place by the end of March. "We had one seminar that was focused on about 40 businesses at the smaller end, and there was a real lack of knowledge," Carroll says. Some banks have also asked the government to put aside emergency funds to backstop small businesses in case of chaos, according to a banker involved in the discussions.
Her Majesty's Revenue & Customs, the U.K.'s tax, payments, and customs authority, has already issued complicated import and export guidelines, including a recommendation to hire agents to help in case of a no-deal Brexit. Many companies, already suffering from anemic growth, aren't willing to take on more costs. "We will cross that bridge when we get to it," La Torre says. "We are not going to get ahead of ourselves and assuming extra costs unless strictly necessary."
Ponan is trying her best to bolster her organic-snacks business against all the uncertainty. "We are holding a lot more stock than what we would normally hold," she says. "We had to take more space in terms of external warehousing. But of course, with perishable products, you don't want to hold too much." Companies like hers usually set aside some funds. But that cash was meant to be invested to increase exports, not for crises such as Brexit. "Will goods be stopped at the borders?" Ponan asks. "Will there be limbo? We need to know if there will be deals in place that we can make use of."
To contact the editor responsible for this story: Howard Chua-Eoan at hchuaeoan@bloomberg.net