Black Limes May Be Ugly, But It's What's Inside That Counts
(Bloomberg Businessweek) -- Ugly fruits and vegetables are enjoying unprecedented ­attention as a way to fight food waste. But even among the most misshapen potatoes and bruised tomatoes, black limes stand out. They resemble pingpong balls that have been marinated in mud.
What they lack in looks they make up for in personality: a jolt of fragrant, pungent tang that evokes a Middle Eastern spice counter. "Black limes have that addictive, slightly sweet Sour Patch Kids tartness," says chef Timon Balloo. At his eponymous new Caribbean restaurant in Miami, he grates the dried fruit on chunks of roasted squash, then encourages diners to mix it all up. "If you don't have lime with every bite, you're missing out on the heart of the dish," he says.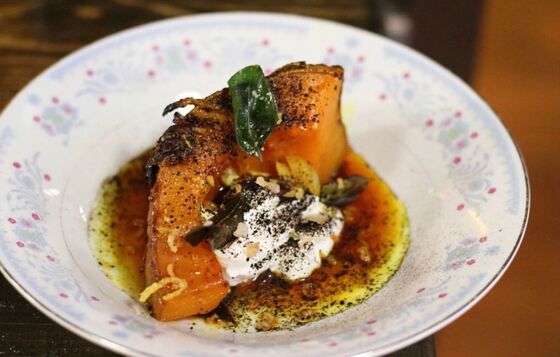 The limes, now sourced from places as diverse as Egypt and Guatemala, originated in Oman. The citrus is boiled in salt water and then sun-dried, making it rock-hard—there's no juice to squeeze, so they're often ground over a dish. The limes can vary in shades from black to "white," really more of a nut brown. The darker ones have spent more time drying out and have an earthier funkiness; the lighter ones are more bitter.
The limes started getting attention in the U.S. a decade ago, and momentum has built as interest in Middle Eastern ­ingredients such as za'atar increases. The New York luxury spice purveyor La Boîte sold around 1,750 pounds of the limes in 2019, about three times more than in the previous year. "It's a dramatic enough rise that my suppliers ask me, 'What's going on with black limes?' " says owner Lior Lev Sercarz, who sells them by mail order ($12 for a 3-ounce container) and supplies them to Eric Ripert, Michael Solomonov, and other chefs.
"Black limes throw in a surprise twist," Solomonov says. "They are not perishable, not super expensive, can travel really far, and are really delicious. The way that black garlic intensifies with age and heat—black limes do a similar thing, but add musk and funk."
Rodrick Markus has ­experienced a similar increase at his specialty ­ingredient store, Rare Tea Cellar, in Chicago. In 2019 he sold about 3,000 pounds of black limes to places such as Moody Tongue, a local brewery that uses them to flavor a wheat beer, and chefs, including Grant Achatz, who infuses them in a jet-black Korean-style sauce for octopus at his three-­Michelin-star Alinea. Achatz then treats the dried citrus like a pricey truffle, grating it tableside. "The aroma when they are microplaned tableside is explosive and super unique," he says. "Most guests are unfamiliar with them; it allows us to tell the story of how they are aged and why we chose to use them for this dish. We typically let them hold and smell them too."
The fruit has also become a favorite among ­bartenders, who like the way the citrus wakes up other flavors. Aaron Deary, who runs the bar at the Lebanese cafe Suraya in Philadelphia, makes a tea with the limes, then adds it to one of his best-selling drinks, the gin-based Poet. "A lot of people ask about it," he says. "We call it limon amani, because it sounds better than black limes."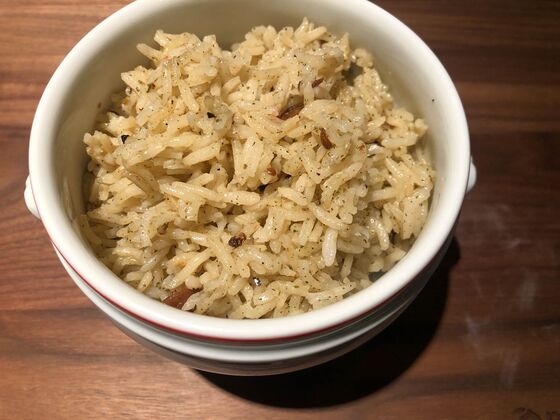 Recipe for Joon Spice Rice
Adapted from The Spice Companion, by Lior Lev Sercarz
1 tsp fennel seeds
4 small dried limes, preferably a mix of black and "white"
3 tbsp dried tarragon leaves
2 tbsp dried dill
Uncooked rice
Toast fennel seeds in a small skillet over medium heat, stirring until fragrant. Transfer to a bowl to cool. Grind all spices together. Use a teaspoon of the blend per cup of uncooked rice to season the liquid you use to boil it.
To contact the editor responsible for this story: James Gaddy at jgaddy@bloomberg.net, Justin Ocean