The Station Wagon That You Could Mistake for a Supercar
(Bloomberg Businessweek) -- It would be wrong to call the Audi RS 6 Avant a supercar.
With seating for five, enough space for a family of Saint Bernards, and that unmistakably long "shooting brake" roofline, it's a bona fide station wagon that will be offered in 2020 for the first time in the U.S. It joins the Mercedes-Benz AMG E 63 wagon and Porsche Panamera Sport Turismo in the scant group of luxury wagons Americans can buy without performing the bureaucratic gymnastics required to import one of the (many) such models offered in Europe.
But one could be forgiven for choosing Audi AG's roughly $120,000 grocery-getter instead of something more exotic. Driving it recently up that roller coaster known as Deer Creek Road in Malibu, Calif., I had the distinct impression that I'd somehow switched cars between the time I watched the RS 6 pull up and when I got inside.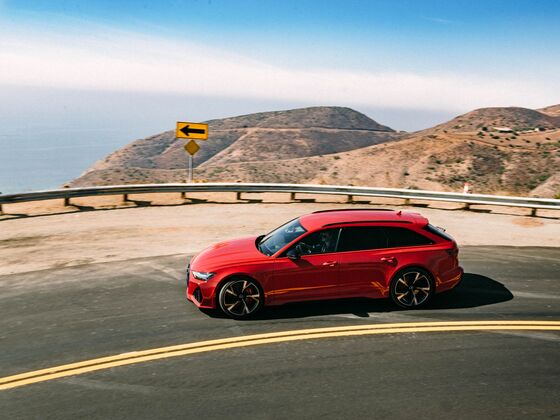 When I pushed the gas pedal, the car surged forward so fast that my abs clenched. I turned the steering wheel into hairpin curves, and the wagon dipped and glided around the corners with complete confidence, complete balance, complete contact with the road. Brush singed by wildfires went by in a blur as I whizzed past, the horizon bobbing as if in a mirage as I climbed higher. Soon, the Pacific slid into view. What automotive mischief was this? I wondered. My heart rate had almost tripled.
Here's the thing: The RS 6, with its 59.3 cubic feet of rear space, will dutifully carry your kids—and all their gear—to soccer practice, or take everyone for a camping weekend at Yosemite. Its more than 30 driver-safety systems, including lane tracking and lane assist, will protect you from reckless drivers. Its all-wheel steering, torque control, air suspension, and five drive modes, all of which come standard, can smooth out gravel paths and snowy trails.
But it doesn't want to. Trust me. This wagon's made-special-for-America exhaust system growls in a very R-rated way. It wants to go rough.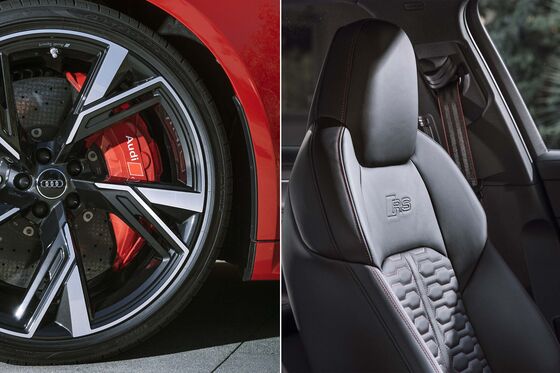 What the RS 6 really thirsts for is to run that 591-horsepower V-8 engine all the way up to 60 mph in 3.4 seconds and try to scare you silly in the process. It wants to launch-control you into oblivion—to 190 mph if you choose to add the massive ceramic brakes—until you can't see straight and can't take it anymore. (Yes, you read that right: This station wagon has one of those launch-control buttons that encourages you to rocket from a standstill. I still can't quite fathom it.)
The RS 6 wants to upend your expectation that a station wagon is simply a more practical sedan or smaller SUV. And on that lonely, twisting road in Southern California, eight-speed all-wheel drive was extremely convincing. Dynamic ride control is optional. Get it—you'll want the extra help.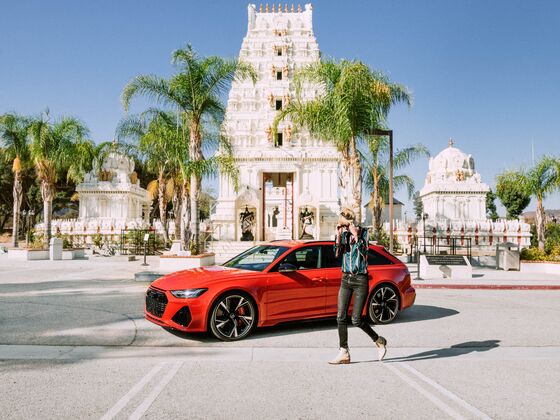 This sleek automobile, with its glowering front fascia and doors sculpted like those of a Lamborghini, can look even worthier of its power if you elect certain key options. I recommend the Nardo gray paint job, exclusive to the RS 6 Avant; the HD Matrix LED headlights with laser lights and darkened bezel; the Lamborghini Urus-size, 22-inch alloy wheels; and the glorious, perforated Valcona leather with "RS" embossing on the ergonomic seats.
Oh, and go for the motion-activated control that opens the tailgate when you swipe your foot underneath it. If you do decide to use this as a grocery-getter, the extra foot will come in, er, handy. Buy it to be a workhorse but also as a reminder that sometimes you like a thoroughbred.
Deliveries start this summer, so you'll want to start clearing a spot in your garage now.
To contact the editor responsible for this story: James Gaddy at jgaddy@bloomberg.net, Chris Rovzar