Aston Martin Has a Lot Riding on Its New, $189,000 SUV
(Bloomberg Businessweek) -- A year ago it looked like investors and supercar fans who'd missed out on Ferrari NV's blockbuster initial public offering in 2015 might get a second chance with Aston Martin Lagonda Global Holdings Plc. There was the rich British motoring heritage, aggressive performance, and Aston's movie star allure as James Bond's vehicle of choice. So what could possibly go wrong? Turns out, pretty much everything.
Aston Martin's stock has lost more than three-fourths of its value since the IPO. Once-coveted Vantage, DBS, and DB11 Volante cars have piled up at dealerships. Management has issued several financial warnings and has been forced to raise additional funds to stabilize the business. And Aston shares, which made their debut in October 2018 in the first IPO of a British carmaker, have earned the dubious honor of being the worst-performing among the U.K.'s 350 biggest companies this year. "We're not happy with the way the year has gone," says Chief Executive Officer Andy Palmer.
Now all hopes to pull Aston out of its rut rest on a new model: the DBX, a sport utility vehicle that will go on sale in December. With a starting price of $189,900, it joins a crowded field of high-performance SUVs that includes the more expensive Lamborghini Urus, cheaper Bentley Bentayga, and off-the-charts Rolls-Royce Cullinan (its sticker goes north from $325,000).
With the DBX's help, Aston Martin aims to lift annual production to 14,000 vehicles by 2023, more than double last year's output. It also wants to attract affluent buyers looking for an upgrade from their Range Rovers and Porsche Cayennes, according to Palmer.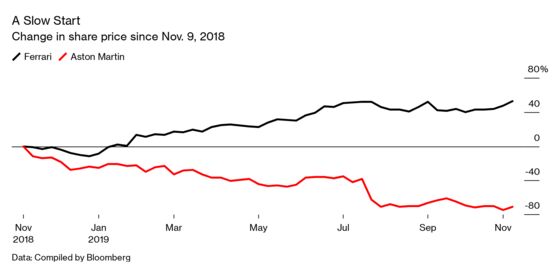 The company built a factory in St. Athan, Wales, for the DBX, which the U.K. government estimates could employ as many as 750 people. Even before the first DBX rolls off the line, there's immense pressure to hit specific sales targets. Aston signed a $100 million loan in September that's conditional on it winning orders for 1,400 DBXs by the middle of 2020.
For the luxury car industry, SUVs have become massive money-spinners. Porsche AG started the trend with the Cayenne more than a decade ago, and today established players such as BMW AG rely on them for almost half of sales. Even racing-bred Ferrari will join the club with its Purosangue in 2022.
SUVs are especially popular in markets such as China and Russia, where two-seat sports cars aren't as attractive for well-heeled buyers who are chauffeured around congested streets. It's no coincidence that Aston selected Beijing as the launch city for the DBX. Women are also a big target group for SUVs, and Aston, which estimates only 4% of the 85,000 cars sold in its 106-year-old history went to female customers, could use some help attracting them.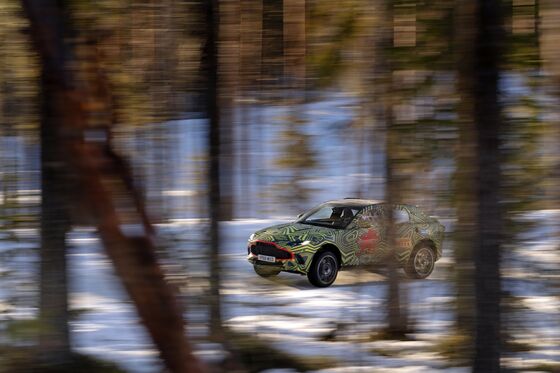 This month, Aston said its delivery goals for the year will fall below its previous guidance of as many as 6,500 cars, already lower than the 7,300 it had predicted at the start of the year. It also said the average selling price for its core models had fallen to £136,000 ($175,000) from about £140,000.
One of the few positive surprises in the company's most recent quarter was an unexpected boost from the sale of six DB4 GT Zagato Continuation supercar models, which may have contributed as much as £2 million each to profits. But, says Jefferies analyst Philippe Houchois, "Aston Martin sold the story of performance and growth and a kind of appeal, which they haven't delivered."
Palmer, who spent more than two decades with Nissan Motor Co., joined Aston Martin in 2014. Besides rejuvenating the model lineup and bringing back James Bond as an ambassador (Her Majesty's 007 had briefly wandered off to BMW), he sought to branch out into a lifestyle offering that includes cashmere scarves and leather key rings, as well as partnerships ranging from the luxurious ( a real estate development in Miami) to the ludicrous (a minisubmarine called Project Neptune).
In the pantheon of supercars, Aston occupies a difficult-to-define spot. It doesn't have the name recognition of Ferrari. It's a quirkier choice than Porsche, but it's more mass-market than ultraniche players such as a Pagani Zonda or Sweden's Koenigsegg. And, unlike Volkswagen AG's Bentley and Lamborghini and BMW's Rolls-Royce, Aston doesn't have the benefit of a deep-pocketed parent company, instead relying on Mercedes-Benz AG to supply its engines. It's almost like a high-end equivalent of Saab, the Swedish car brand that was as beloved among the think-different crowd as it was notoriously unprofitable before going under a decade ago. "Aston is being managed as a premium/mass-market rather than a luxury carmaker," says Giulio Pescatore, an analyst at HSBC. Still, he says, the new SUV may hold enough promise that, "after months of underperformance and the future of the company at stake, we believe the launch of the DBX is potentially game-changing."
Palmer also hopes to get a much-needed boost from the next movie in the Bond franchise, where Aston Martin has been the mainstay ride since 1964, when the fictional British superspy, played by Sean Connery, got his first DB5 in Goldfinger. An Aston starred in 11 Bond films after that, with the latest movie scheduled to feature the DB5 as well as the Valhalla. The title of the next movie, set to premiere in April, captures Palmer's likely mood as the executive races to secure financing, find buyers for the DBX, and reinvigorate the venerable car brand: No Time to Die.
To contact the editor responsible for this story: Benedikt Kammel at bkammel@bloomberg.net, James Ellis