Anonymous Cash Is Flooding India's $7 Billion Elections
(Bloomberg Businessweek) --
India's elections are among the world's most expensive. New Delhi's Centre for Media Studies projects that about $7 billion has been spent on this year's national races, putting the tally ahead of the $6.5 billion that OpenSecrets.org reported was spent on the 2016 U.S. presidential and congressional campaigns combined.
They're also among the most corrupt. Illegal donations known as "black money" are used to ferry supporters to rallies or buy drugs and alcohol to bribe voters, among other things. It's a vestige of the system that prevailed after a 1969 ruling barred companies from funding political parties; even though the ban was lifted in 1985, corporate donors had gotten used to making anonymous cash donations.
Prime Minister Narendra Modi's government rose to power in 2014 pledging to stamp out corruption, and last year it introduced a tool to help clean things up called electoral bonds. They're more like carnival tickets than the promissory notes traded in global markets. Basically, an individual or company can buy one at the government-owned State Bank of India in denominations from 1,000 rupees to 10 million rupees ($14 to $142,000). The donor—whose name isn't attached—delivers the piece of paper to a political party, and then the party exchanges it for cash. They were popular in the runup to this spring's national elections, with 39.7 billion rupees ($567 million) in bonds sold this year through April 30, almost quadrupling from 10.6 billion rupees for all of last year, according to website Factly and the Press Trust of India.
The administration says that because the money is channeled through the banking system, the process is more transparent than direct cash donations—which are still allowed but aren't tax-exempt for the donor, as electoral bonds are. It argues that anonymity is essential for donors who are wary of reprisals. Critics say the electoral bonds legalize black money laundering and increase the potential for graft given other restrictions on donations that Modi has lifted.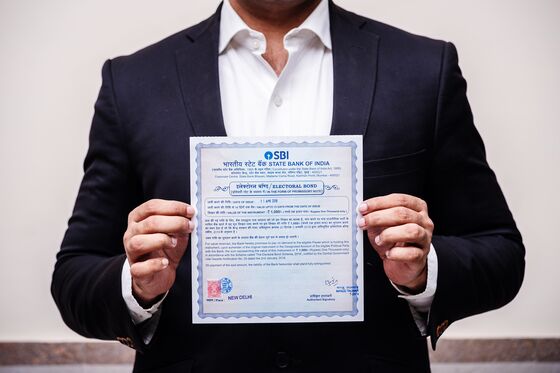 Combined, his actions "have opened doors to unlimited political donations, even from foreign companies, and thereby legitimize electoral corruption at a huge scale," the Association for Democratic Reforms (ADR), an election observer, wrote to the Supreme Court. It filed suit against the government to stop the sale of the bonds—or at least order that parties publicly disclose donors' identities—saying they increase "the opacity of funding of political parties, and the danger of quid pro quo" between companies and the government. In April the court directed India's parties to detail donations raised by the bonds only to the election regulator, not the public, by May 30. But with election results due on May 23, the order will likely have limited impact.
About 90% of electoral bonds sold last year were of the highest denomination available, according to Factly, evidence that they're being used as tools by wealthy people and companies, not average citizens. And roughly 95% of bonds sold in the financial year that ended in March 2018 went to the ruling Bharatiya Janata Party, according to Bloomberg calculations from its latest financial disclosures. The BJP declared a total fundraising revenue of 10.3 billion rupees for the period, compared with 2 billion rupees raised by the Indian National Congress, the main opposition party. Congress party leaders have said it will eliminate the instrument if it wins.
India's Election Commission told the Supreme Court in March that anonymous donations have negative repercussions on the transparency of political funding. "We are not against electoral bonds per se but are opposed to anonymity," said Rakesh Dwivedi, a lawyer who represented the commission in the ADR case. "Electoral bonds legalize anonymity. Anonymity must go."
To contact the editor responsible for this story: Bret Begun at bbegun@bloomberg.net