Maybe This Trend Really Is Your Friend When It Comes to Bitcoin
(Bloomberg) -- This technical indicator may show the world's largest cryptocurrency is bucking a selling trend and gearing up for a price increase.
Divergence Analysis Inc.'s (DVAN) Buying and Selling Pressure Indicator may be signaling positive times ahead for Bitcoin after the currency lost more than half its value this year. The DVAN indicator -- a proprietary analysis charting the coin's current price, trend line and ideal exit points -- suggests the selling trend that began May 14 could end shortly, giving way to a potential bull run.
Historically, data show that when the stop and trend lines cross, the price of Bitcoin may see a reverse in trajectory. The last time these lines met on April 13, the price of the coin surged almost 22 percent to more than $9,600 on May 4 from $7,903.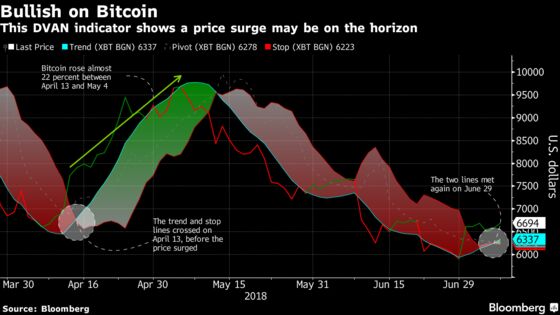 On Friday, the trend line crossed the exit point again, and the cryptocurrency rose almost 2 percent to $6,693 as of 2:25 p.m. in New York on Monday.