Bitcoin Approaches Lowest Level in More Than One Year
(Bloomberg) -- Bitcoin's slump accelerated, with the largest cryptocurrency approaching another fresh low for the year.
The digital token dropped as much as 4.7 percent to $3,549, and is flirting with the prior 2018 low of $3,522 set Nov. 26. It's trading around the lowest level since September 2017. Bitcoin reached a record high of almost $20,000 last December.
"We're seeing new lows in everything for the year," said David Tawil, co-founder and president of Maglan Capital. "It's a risk-off environment all around. No risk assets are safe." Cash and treasuries are the only things that will be up with this pervasive sentiment."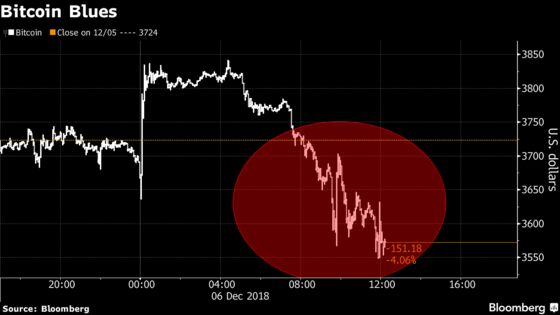 The Bloomberg Galaxy Crypto Index, which tracks many of the largest digital currencies, fell as much as 10 percent Thursday, hitting its lowest point since September 2017. XRP, the currency known as Ripple and one of the index's largest components, fell as much as 5 percent, and Ether is down as much as 7 percent, with its price dropping to around $94. Ether traded as high as $960 in February.
"Notable today is the breakdown in Ethereum below $100," said Mike McGlone, an analyst with Bloomberg Intelligence. "This is a key, mostly psychological level that appears to be giving way today after marking the bottom and holding support on the November downdraft."