Bitcoin Revival Has Enthusiasts Leaving Rival Coins In The Dust
(Bloomberg) -- Bitcoin put more distance between itself and smaller rivals such as Ethereum and Ripple on Monday by rallying as much as 5.8 percent, building on its biggest weekly gain in months.
The largest digital token pared some of its advance, but was still trading 4.7 percent higher at $7,693 as of 11:13 a.m. in New York, according to composite prices compiled by Bloomberg, poised for the highest close in two months. Bitcoin surged 19 percent last week, the biggest jump since December.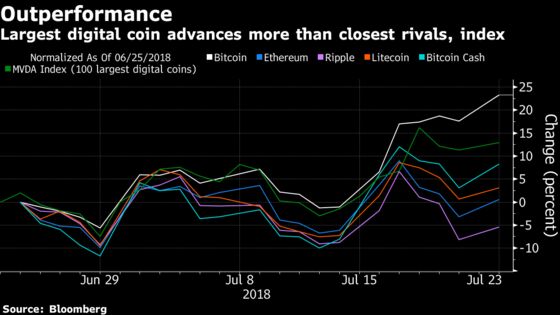 Major peers and the broader market have been unable to keep pace with Bitcoin's rally, and once again lagged the gain on Monday, when the MVIS CryptoCompare Digital Assets 100 Index rose just 0.7 percent.
Along with rivals like Ripple, Ethereum and Litecoin, Bitcoin had a torrid time in the two months through mid-July, under pressure from largely negative news flow that included more hackings and tougher regulatory moves. However the cryptocurrency has now spent a full week above its 50-day moving average, according to Bitstamp pricing. On Monday it also pierced the 100-day moving average.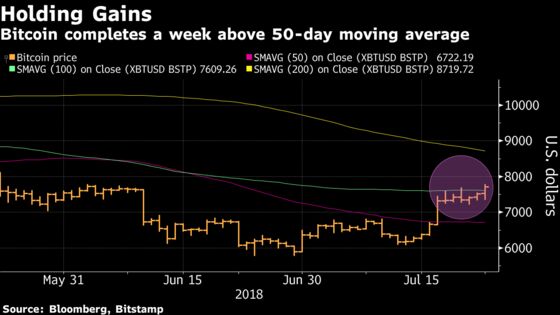 Some measures following by market technicians suggest the rally may just be getting started. The DVAN Buying/Selling Trend Line, a divergence analysis that measures market pressure, is signaling the strongest buying trend since May. The last time this trend flashed bullish, back in mid-April, Bitcoin gained as much as 23 percent before the rally cooled.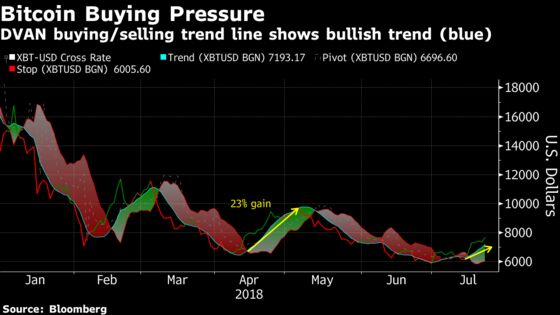 Bitcoin may simply be benefiting from its status as the biggest and most high-profile cryptocurrency as sentiment surrounding the industry continues to shift. Some traders will have been heartened after the Group of 20 nations' decided to only reiterate that crypto-assets lack attributes of sovereign currencies, without providing much detail on how member states should regulate them.
They said crypto-assets "do not at this point pose a global financial-stability risk," while asking an inter-government panel that combats money-laundering to "clarify in October 2018 how its standards apply to crypto-assets."
The entire market value of more than 1,600 cryptos tracked by Coinmarketcap.com is about $287 billion, roughly equal to the market cap of financial-payments company Visa Inc.